The Yorkshire and North Lincolnshire Branch was very pleased that Mark Kozak Holland was able to give a presentation from his Projects Lessons from History series; The Great Escape (Stalug Luft III), at the Health and Social Care Information Centre (HSCIC), Leeds, on November 20th.
This popular event was very well attended, with many attendees having been at Mark's past presentations which were about the Titanic disaster, Winston Churchill and the Battle of Britain. For many, their previous knowledge of The Great Escape was that of a 1963 film regularly shown on TV at Christmas. However in his talk Mark provided the reality of the events leading up to the breakout from the PoW Camp, Stalag Luft III near Sagan in Eastern Germany on March 24 and 25 1944 and examined from a project management perspective the successes and failures of the inmates as they prepared, planned and implemented their escape with limited resources, complex timelines and hostile conditions.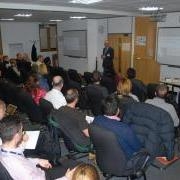 He began by describing how the RAF inmates struggled with their confinement, the hostile weather conditions and privations of the camp. In addition the German civilian population hated the prisoners for their bombing raids and the casualties inflicted. Despite this, many of the prisoners were determined to escape and set about planning how they would dig the three tunnels, dispose of the excavated soil, make the civilian clothes, forge the necessary documentation and learn the language in order to pass for civilians as they crossed Germany.
Mark used the project life cycle and its phase to illustrate how Roger Bushell, the principal escape officer and 'project manager' created and harnessed the project team utilising verbal planning and reporting only, nothing was written down.
As with any implementation there were last minute difficulties; in this case a frozen hatch, an air raid resulting in power loss, a tunnel cave in and worst of all, the tunnel was too short. While seventy six escaped only three made it home. Of the seventy six men recaptured, fifty (including Bushell) were executed by the Gestapo on the orders of Himmler.
The presentation concluded with an analysis of the perennial project question, 'was it a success?'
Did it meet its objectives? Mark highlighted the differences in the perspectives of the escapees in 1944 and the perspectives by which we judge projects today and concluded that in our risk-averse culture today it would probably never be started. Perhaps the most important project lesson for all of us from this presentation "is not to let the word "no" defeat you from the outset." (1)
Ken Platts
Yorkshire and North Lincolnshire branch committee member and HEI representative
(1) page 211, Project Lessons from the Great Escape (Stalag Luft III) , Mark Kozak Holland, Multi-Media Publications Inc 2007.