The Winter edition of Project has landed

Focused on borders and what it means to cross them,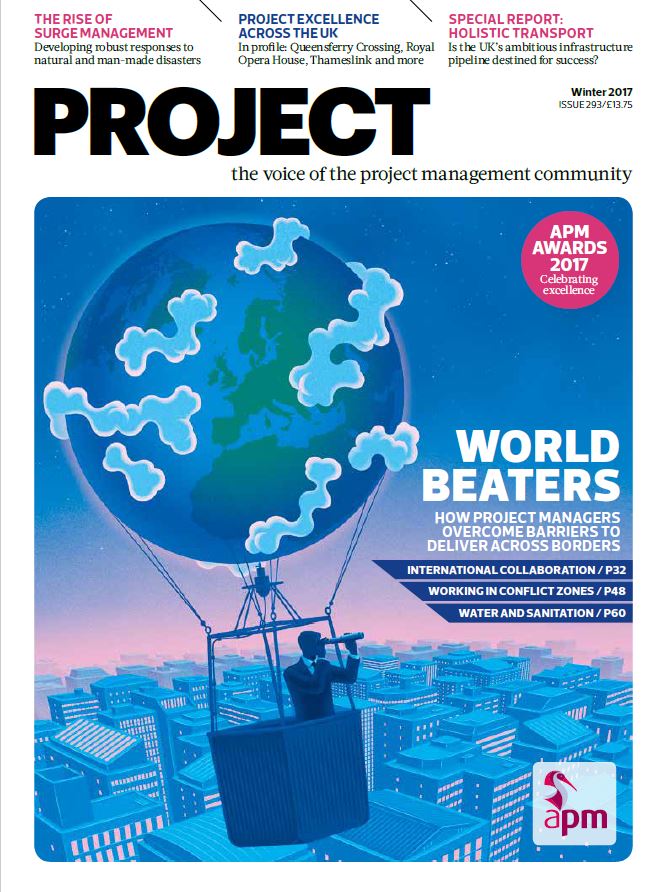 we talk to project managers across the profession on the challenges and rewards of working across national and cultural boundaries to deliver projects. 
From upgrading Tornado jets to designing and manufacturing equipment for the Airbus a350, working internationally poses special challenges.
In this issue, we also talk to this year's APM Project Management Award winners and lift the lid on what it takes to walk away with one of the most prestigious prizes in the profession.
Our special report focuses on holistic transport and the difficulties afflicting major infrastructure projects, such as the third runway at Heathrow and HS2. It questions how effectively national infrastructure planning and project management are carried out. Could such schemes be managed better at a national level?
You will also find:
Comment: Martin Paver – Why you can't afford to neglect data
Insight: APM's Royal Charter – What chartered status means to other professions
Interview: Project meets Osian Evens, principal consultant at Pcubed.
Technology: Is social media used effectively and often to disseminate learnings from projects? KARLENE AGARD takes a look
Career: Why you must harness the flexibility of a diverse skills pool.
Plus
Best of the blogs: We look at extracts from some of the most popular comment and extracts from APM.
Viewpoint: Why are capex projects so difficult?
As an APM member you will receive your free copy of Project journal. If you're not yet a member, join now.