Trailblazer leads the way for project management apprenticeships
APM and other leading employers came together to celebrate the launch of the new standard for project management apprenticeships in England, at an event hosted by Jamie Reed MP at the House of Commons.
Spearheaded by APM corporate member Sellafield Ltd, 'Trailblazer' is the latest step in the government's plans to deliver three million new apprenticeships by 2020. The scheme gives employers a leading role in designing apprenticeship standards specific to job roles in their sector.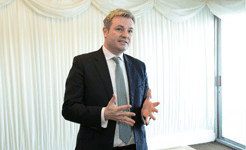 Speaking at the launch event, Jamie Reed MP (pictured right) for Copeland said:
"Sellafield Ltd has an excellent training programme, and is also playing an important role in developing new top-quality apprenticeships that will support the future skills requirements needed in the nuclear industry."
"Through the Trailblazers initiative, companies like Sellafield Ltd will give people the opportunity to develop their talents and skills they need to thrive."
The new Level 4 standard meets the needs of aspiring project managers in any industry sector and is aligned to APM's Project Management Qualification (PMQ).
Sara Drake, APM chief executive, commented:
"The Trailblazer is an excellent example of a pan-sector group of employers working together on this apprenticeship for the good of the project profession."
"I want to say thank you to all the employers in the steering group which made the Level 4 Trailblazer in Project Management happen."
Over the past year APM has been working alongside BEIS (the government department for Business, Energy and Industrial Strategy) and other employers including Rolls-Royce, Transport for London, Lloyds Banking Group, Balfour Beatty, together with training providers and education-awarding bodies to develop the new and improved national project management apprenticeship.