What can project managers learn about successful large-scale infrastructure projects? Crossrail's Simon Wright shares his lessons for all 
With the only two sources of funding for public rail infrastructure being taxation and user charging, project investment needs to be carefully managed. In recent years, the infrastructure industry has benefited from significant levels of investment. Taking a look at the National Infrastructure Plan, there are £411bn worth of projects allocated over the next five years. Interestingly, a significant 91 per cent of this has been allotted to the energy and transport sectors, and more than 60 per cent is said to be privately financed.
In the context of project-delivery management, there are a number of practical steps leaders can take to help bolster project outcomes and make the most of infrastructure investment.
Lay the foundations for success
Large, complex programmes should be delivered by a special project organisation with a clear organisational structure, which needs to be defined from the inception. This helps to isolate risk and allows the development of a purpose-built corporate culture, while also avoiding distractions from 'business as usual' departments when executing the project.
Process, process, process
The next step is to establish a comprehensive set of project processes. Start with the establishment of a clear vision and objectives. Comprehensive governance must be established to manage budget, schedule, quality, risk and change.
A project's success hangs on the relentless application of these processes.
Tell the story
A strong and authentic culture, led from the top, should be created and widely communicated throughout the client, delivery and supplier teams. This culture needs to be underpinned by a clear vision and a strong set of values, which can help empower managers at every level, inspiring loyalty and trust.
For instance, at Crossrail, we have the Little Pink Book, which is issued to all new starters and sets out our values of safety, inspiration, collaboration, integrity and respect. This approach will foster strong individual and team performance.
Support network
A project needs a collaborative environment, and this can be difficult in the rail industry, due to the sheer number of people and organisations involved.
Take Crossrail. We have more than 10,000 people on site, as well as more than 450 apprentices and many hundreds of organisations involved. The scale and complexity of the supply chain is often eye-watering, yet alignment must be achieved. Leadership qualities and proactive human resource management are crucial to ensure trust is built throughout the supply chain.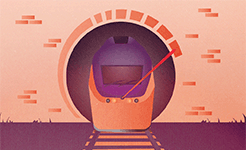 Learning from experience
Last but not least, it is important to consider the adoption of a formal lessons-learnt programme to capture what is learnt on every project. This knowledge needs to be made readily available going forward. During London 2012, we created the Olympic Delivery Authority's Learning Legacy website, which is still available to all. 
Data and conclusions can form part of the input into further generations of major programmes and projects. We are creating what we hope will be an even better knowledge platform at Crossrail, launched in February this year with APM as a legacy partner.
Ultimately, project success can never be guaranteed. However, giving attention to these key steps will significantly increase the chance of meeting the objectives and delivering benefits. 
The UK population is set to rise by 10 million by 2039, meaning there will be an urgent need for additional transport capacity. The launch of the National Infrastructure Commission should help foster detailed, evidence-based plans for us to prepare. This should allow for cross-party working and better integration between road and rail.
Investment has been lacking over many years, but the opportunity now exists to take a long-term approach to invest in skills development and new technology to improve safety and efficiency.
Indeed, we must take these steps to increase the probability of project success, improve value for money and ensure benefits are realised on our current projects so that this investment will continue. 
If we get it right, we could in the midst of a new golden age for infrastructure in the UK.
---
Simon Wright is programme director at Crossrail.