UK announces 1.1bn in defence projects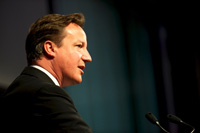 Prime Minister David Cameron has announced 1.1bn in defence spending projects, which will pay for intelligence gathering to help tackle global terrorism, drones and UK special forces.
Nigel Whitehead, group managing director of programmes and support at BAE Systems, described the announcement as brilliant adding: It was a strong message that was heard by industry and our international customers.
During the announcement at the Farnborough International Airport in July, the prime minister said that funding came from an underspend by the UK Ministry of Defence (MoD) in its previous years accounts.
The money had been reassigned back to the MoD rather than being automatically re-gathered by the UK Treasury.
Speaking to the Daily Telegraph, Mr Cameron (pictured) said: Since 2010 we have been engaged in fixing this mess (the so-called MoD budget black hole).
"Many difficult decisions had to be taken but we have now balanced the defence budget and set out a fully-funded equipment plan of more than 160bn over 10 years.
The so-called underspend can now be re-invested and, crucially, the money wasnt taken back to be used elsewhere, it was put back into kit for our Forces.
The prime minister also announced the creation of two new UK defence centres of excellence the first of which will be located at Farnborough and will focus on military aircraft.
The second will be located in Portsmouth and will focus on maritime systems. The flagship project of the Portsmouth centre of excellence will be on the creation of concepts for a new unmanned underwater maritime reconnaissance vessel.
Image: By DFID - UK Department for International Development [CC-BY-2.0], via Wikimedia Commons