Universal Credit suffered from 'poor project management'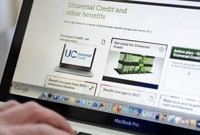 The government's flagship welfare reform has suffered from "poor project management" and a "lack of transparency", according to the man responsible for running the programme.
Howard Shiplee, former London 2012 construction director, was drafted in by Work and Pensions Secretary Iain Duncan Smith this summer to take over the running of Universal Credit. He became the fourth person to lead the programme in six months.
"It's clear to me there were examples of poor project management in the past, a lack of transparency where the focus was too much on what was going well and not enough on what wasn't and with suppliers not managed as they should have been," Howard told the Daily Telegraph.
The winner of the APM President's medal in 2011 does not have a habit of making excuses: "I think it's always important to acknowledge in any project where things may have gone wrong in order to ensure we learn as we go forward."
A key decision taken by the Secretary of State was to reset the programme to ensure its delivery on time and within budget has been critical. David Pitchford, who was drafted in from the Major Projects Authority earlier this year, began this process in line with those two key objectives.
Challenges are tackled not sidestepped
Howard has since built on David's early progress by reviewing the delivery plans and ensuring that there is a plan in place that is achievable and safe. "Through new processes and people, we have strengthened all the basics of sound project management – governance, leadership and financial management," he said.
"This includes establishing a clear plan for delivery and introducing more independent oversight, so the big challenges are tackled not sidestepped."
Under the government's plans, six key means-tested benefits - jobseeker's allowance, employment support allowance, housing benefit, working tax credit, income support and child tax credit - are to be combined into a single payment which ministers say will ensure that claimants are always better off in work and also reduce fraud.
Missteps have been put right
A report from the National Audit Office this week claims that the welfare reform is "overambitious" with IT systems possessing "limited functionality". A national rollout of the new benefit has been delayed following IT glitches.
Howard believes the focus should not be on the technology. He said: "Too many people think Universal Credit is just about IT. That's a big mistake.
"This is about changing the way we do business – and changing people's behaviour by ensuring there is always an incentive to be in work."
It's been 100 days since Howard took over the troubled programme, but he is confident it is now back on course and the challenges are being handled.
"There is no doubt there have been missteps along the way. But we've put that right," he said.