University Project Challenge: 2012/13 final
Bournemouth University hosted the finals of the annual Wessex Branch Student Project Challenge on 26 February. Fifty seven BA Business Studies Project Management students were involved in this, the 5th year of the challenge.
The challenge was launched at a business networking event in October 2012 that brought together businesses, public and voluntary sector organisations, students and academics with an interest in project management and sustainable development. Guest speakers included Gav Thompson, creator of Giffgaff; Aaron Gracey from Network Rail; Paul Summers of Portsmouth City Council; Steve Webster, Business Analyst at BU, our own committee member Russel Jamieson and support from the Association of Sustainability Practitioners and the British Computer Society. This year 13 teams of second year students took part in the APM challenge. For the first time each team had a professional project management mentor, providing an excellent opportunity for students to work alongside high-level practitioners.
Teams Apex, Dimension and Tenacity were selected at the semi-finals night in November 2012 to compete in the finals. On finals night each team gave a 10-minute presentation to the project board on the management of their project and then received a 5-minute grilling from the board. Trevor Marshall, Chairman of the Project Board, commented on the quality of all three teams' project management and the improvement they have noticed in performance and content over the years.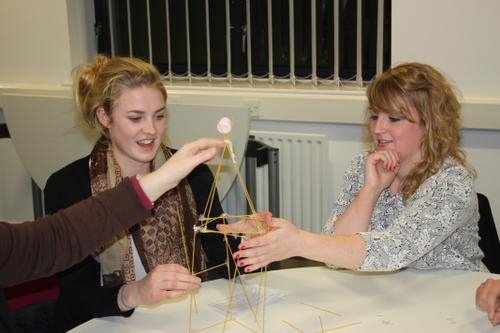 While the judges were deliberating, Russel Jamieson entertained and educated those present with an introduction to Post Implementation Reviews (PIR), Lessons Learned and Retrospectives using the Marshmallow Challenge as the 18-minute project to base the education on.

All participated well though, to be fair, with varying degrees of success!
Part of the debrief can be found in a TED talk with some interesting comments about the performance of CEOs and business
Graduates at http://www.ted.com/talks/tom_wujec_build_a_tower.html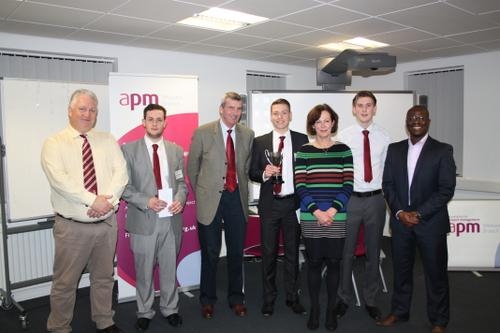 The winner of this year's Wessex Branch Student Project Challenge were Team Apex, with Dan Abberley, Chris Emmerson, Mitchell Hickman and Matthew Slater, who promoted Christchurch Community Partnership's Dial-a-Bus Service, achieving a 50% increase in usage congratulations to the lads who managed to get 2 of their key stakeholders to join them on the evening to provide first-hand support and evidence of success.
Team Tenacity held a 'Swapping for Shopping' event at BU and their model has been rolled out to a number of other organisations that have now run similar events. Team Dimension undertook charity fundraising for the Youth Cancer Trust and developed the charity's business links.
Congratulations to all 13 teams on completing the projects, to Karen Thompson from the Business School at Bournemouth University who continues to fly the flag within her curriculum and to all the mentors, clients, judges and many others who continue to help make the challenge possible.
Heres to the next Students Project Challenge with other universities participating.