Wasteful aid projects could be cut, minister warns
Andrew Mitchell, the development secretary, has threatened sweeping changes to aid programmes that are found to be wasteful.
Mr Mitchell spoke as he launched the Independent Commission on Aid Impact, a watchdog for Britain's growing aid budget.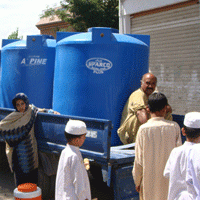 If the commission, staffed by accountants from KPMG, does not find that aid projects are worthwhile, their budgets could be cut.
According to Dr. V. Samwinga, senior lecturer, School of the Built and Natural Environment, University of Northumbria at Newcastle, one of the common reasons for project failure was a failure to enforce contract conditions.
Speaking in the latest issue of Project magazine Dr Samwinga said that while it was commendable to use local firms for these projects, only a third had had contractual penalties enforced.
This was ultimately putting UK public spending at risk.
He said: "For the parties involved, there is nothing at stake whether or not projects are completed on time."
With the Department of Health, the Department for International Development is one of only two Whitehall departments whose budgets will grow between 2011/12 and 2014/15.
Overall aid spending will rise from £7.8 billion this year to £11.5 billion under a coalition pledge to provide real increases in development funding.