What is NEC3?, 21st April 2015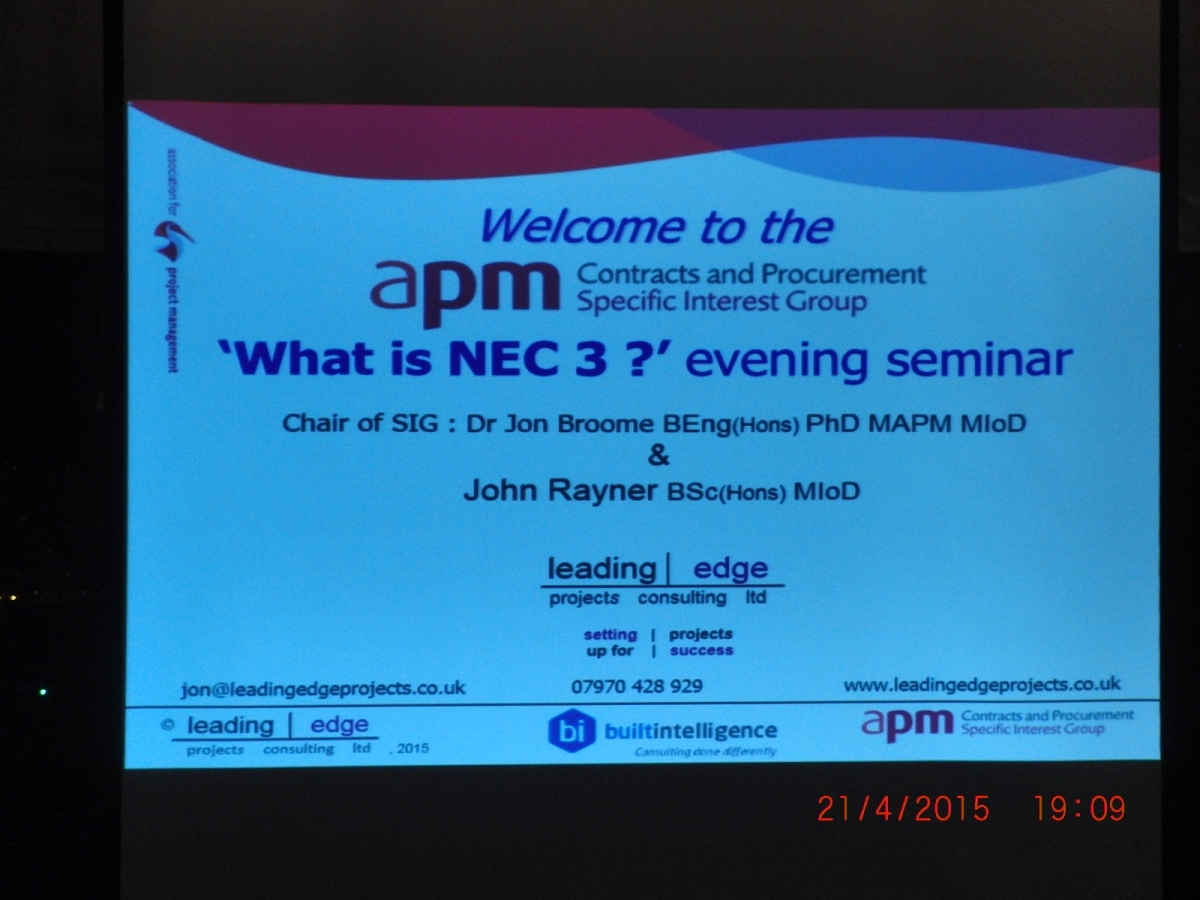 The April event of APMHK was held again at Royal Hong Kong Yacht Club, Kellett Island on Tuesday 21st April. The interesting topic entitled "What is NEC 3?" was presented by Dr Jon Broome, Chair APM Contracts and Procurement Specific Interest Group, supported with industry examples from John Rayner, Quantity Surveyor with Balfour Beatty. It was well attended by about 35 members and guests.

Dr Jon Broome is an acknowledged expert on New Engineering Contract (NEC) and started his career as a site-based civil engineer in 1990. In 1993, he returned to the University of Birmingham to research the application of the recently published NEC. He made significant contribution to the 2nd and 3rd editions of the Engineering & Construction Contract and was awarded his PhD degree in 1998. His first top-selling NEC User's Guide was published in 1999, amongst many other papers and articles on the subject.

John Rayner began his career as a quantity surveyor. He works now as an independent contractor with a focus on procurement and is currently engaged with London Underground on bringing them up to speed with NEC3 ways of working. He is an industry-recognised NEC3 specialist, providing clients with commercially sound NEC3 advice, expertise, knowledge and training. His extensive experience in NEC3 includes being a Commercial Manager with an Amey/Mouchel JV and an NEC3 Embedment Manager for Transport for London.
Dr Jon Broome first introduced the NEC family of contracts as a suitable form of contract that facilitates the implementation of sound project management principles and practices. Its collaborative approach has resulted in time and money being saved on some of the biggest projects in the public and private sectors around the world.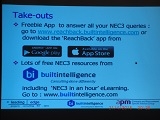 He then outlined the development of the complete family. Within the family, there are a number of NEC3 Engineering and Construction Contracts and Sub-contracts, outlined in the Black Book and the Purple Book, respectively. There are also the NEC3 Engineering & Construction Short Contract, and Short Sub-Contract, outlined in the Dark Blue Book and the Light Blue Book, respectively. He further introduced the NEC3 Professional Service Contract (PSC) – the Orange Book, and the NEC3 Professional Service Short Contract (PSSC) – the slightly darker Orange Book. Further down on the family tree are the NEC3 Adjudicator's Contract (AC) - the Green Book, the NEC3 Framework Contract (FC), 2005 – the Brown Book, the NEC3 Term Services Contract (TSC), 2005 – the Light Grey Book, the NEC3 Term Services Short Contract (TSSC), 2008 – the Dark Grey Book, the NEC3 Supply Contract (SC), 2010 – the Cherry Red Book, and the NEC3 Supply Short Contract (SSC), 2010 – the sort of maroon Brown Book.
NEC3 is the form of contract that can offer an integrated and complete procurement solution for works, goods and services. It has always been a forward-thinking contract adopting a collaborative and straightforward approach. In the alliance contractual framework, the principal consultants, principal contractors and principal suppliers are collaborating horizontally. There are contract strategies and payment options available within each contract. The characteristics of the family of standard contracts were then highlighted.
Each contract is characterized by its flexibility to promote easy selection of the "best fit" contracting strategy for project circumstances. It can be used in a wide variety of commercial situations in any location. The modular structure within each contract can assemble the "best fit" procurement arrangement without the expensive legal input. But sometimes the critics say that it does not cover the particular needs of that sector. It is argued that "it is easily(ish) adaptable if you want to cover it in the same way or you can choose to do it differently."
Each contract is a clear and simple document, using simple language with short sentences and bullet points. (Note: the Engineering and Construction Contract is about a third of the length of traditional contracts.) Its purpose is to promote ease of understanding at "doer" level, hence reducing disputes due to misunderstanding or omissions. Referring to its clarity and simplicity, some critics have said that it is written in "Janet and John" language, not legalese. The response may be "Yes. That is so that doers can understand it, without referring to lawyers and text books."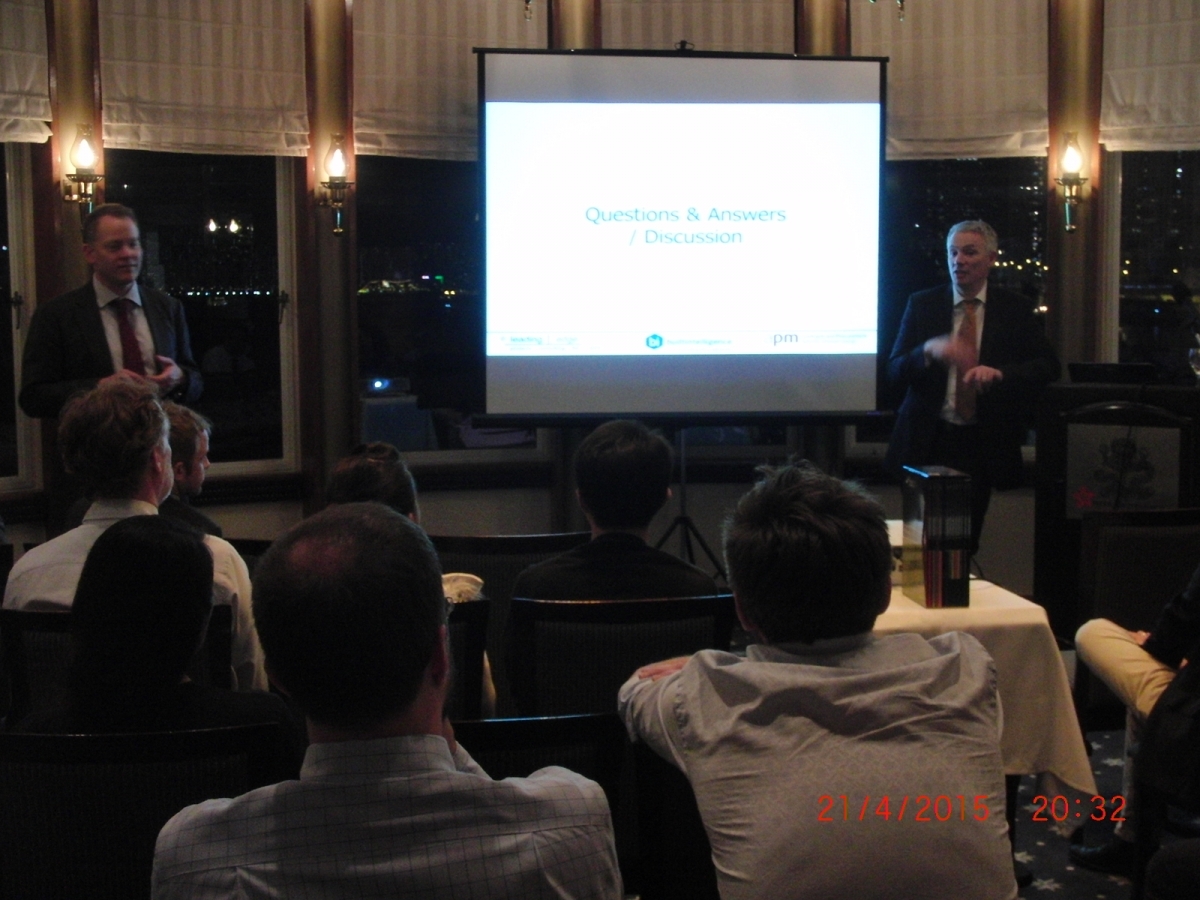 Each contract stimulates good management of the relationship between the two parties to the contract. Its purpose is to promote collaborative project management, thereby increasing predictability of time, cost and quality being delivered. Some may criticize that it is people who make projects work, not contracts. In response, "It is a combination of people, systems and good project practices plus, in a multi-party contract, commercial alignment, clear obligation and remedies, R&R's and risk allocation etc. NEC addresses these later aspects."
The presentation ended with challenging "Criticism" and "Response" of the characteristics of the NEC3 family of contracts.

Joe Wong
Hong Kong branch committee member
Dr Jon Broome and John Rayner have kindly shared their presentation material.