World Cup 2014: was it worth it?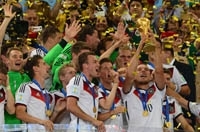 This summer's World Cup in Brazil was the most expensive since the tournament began more than 84 years ago, with roughly £7bn being spent on infrastructure in total.
As the most-watched sporting event on earth drew to a close yesterday, what legacy will this investment leave behind?
The month-long international football tournament was subject to numerous protests and demonstrations during its run-up. Locals claim the money needed to host the event should have been spent on schools, housing and other vital infrastructure.
Concerns were raised over the country's preparations at the end of last year after it missed a 31 December deadline for all 12 stadiums to be completed. There were genuine fears that some of the stadiums may not be ready with the risk of it being the first World Cup to drop a ground from the venue list.
The Arena da Amazonia stadium in Manaus received particular criticism pre-tournament, costing more than £161m to build – £53m over budget – using 75% federal government funding which must be paid back within 20 years.
The 46,000-seater stadium has been built in a region where the average capacity of local matches is 4,000. So the question is simple: will this huge investment be put to good use after the tournament?
The Mayor of Manaus, Artur Vigilio Neto, believes that the potential of the stadium is endless, claiming that it's set to host a string of concerts as well as Ultimate Fighting Championship (UFC) events – the second most popular televised sport in Brazil after football.
The state's Extraordinary Secretariat for World Cup Matters (Secopa) also backed these claims, saying there is "no risk of the arena becoming a white elephant" as it's expected to host concerts, fairs and other major events as well as football matches.
What's more, the 2016 Olympics is to be held in Brazil, and the Mayor says the stadium will be used to good effect. He said: "We'll have a lot of Olympic Games here. We're preparing our Olympic villa to receive people who want to train here.
"I don't want the World Cup to finish and everything to finish with it – I have a lot of ideas which are consistent."
Meanwhile, Vasco da Gama, one of Brazil's most successful football clubs, have already requested to play at the stadium in July, while Sao Paulo-based Corinthians drew a capacity crowd when they played in Manaus before the World Cup.
And according to Aldo Rebelo, Brazilian sport minister, it's the local passion for football and sport in general that will guarantee good use of the stadium in the future. He points to the fact that Manaus has hosted the national team and big club matches since the 1970s.
The Brazilian Service for the Support of Small and Micro Enterprises said that 400 local businesses enjoyed more than $7.25m in sales during the tournament – and with the Eduardo Gomes International Airport now modernised and able to handle 13.5m passengers per year – the city is ready to welcome the world.
It's a similar story in all of the World Cup's 12 host cities, where huge amounts of money have been spent on infrastructure with no guarantees over legacy.
Will it be worth it? Only time will tell.
Image: "Germany lifts the 2014 FIFA World Cup" by Agncia Brasil - [1]. Licensed under CC-BY-3.0-br via Wikimedia Commons.