Detect, reflect and adapt: factors influencing critical project decisions
Why was the research undertaken? 
Effective decision-making is deemed to be integral to the successful management of projects and is considered to be a core project management competency. however, research demonstrates that nearly half of unsuccessful projects are impacted by poor decision-making. Psychological and behavioural aspects of project decision-making have been identified as one of six themes associated with poor project performance (Denicol et al, 2020).
A significant body of research also demonstrates that decisionmakers systematically deviate from recommendations produced by decision models and perform very differently to rational optimising decision models. Project research suggests that patterns of decision-making behaviour are often taken for granted and habitual, taking practitioners along an unconscious path of action (Nutt, 1990; Ison, 2017).
There is significant evidence reinforcing a need to pay more attention to the ways that project decisions are made, and the importance of further research focused on individuals and social forces that impact project decisions. In response, the research findings summarised in this report shed light on the ways project decisions are made in practice, with a focus on improving decision-making effectiveness. This study draws insights from several theories, explores project decisions as complex social phenomena and proposes an alternative but complementary perspective to linear and rational decision-making practice.
What did the study seek to achieve and how was it carried out?
This report takes the first step in building a clear picture of the ways that critical project decisions are made in practice. The intention is to suggest ways to enhance practitioner understanding of how decision-making effectiveness can be improved through simple techniques that can be embedded into daily practices. The study asks: what are the factors that influence decision-making in practice and how can project professionals ensure that critical project decisions are as effective as they can be.
The research results from several data collection methods that sought to understand how decisions are made in practice from the perspective of project professionals these include: a survey of 430 responses that captured decision-making styles and perceptions of UK project professionals, 30 semi-structured interviews to further understand the experiences of project professionals and three simulation workshops to validate the previous findings and provide in-depth practical insights.
Intended audience
The primary audience for this report is project professionals with responsibility for making decisions about or within projects. The secondary audience includes trainers and academics responsible for advancing project management theory and practice, especially those concerned with decision-making.
Findings and recommendations
Three levels of decision-making practice were found: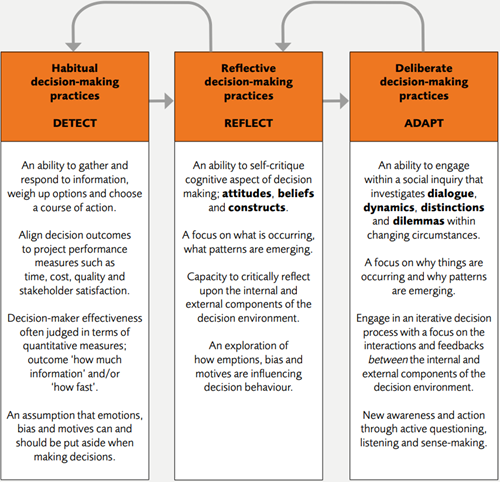 Based on the exploratory research undertaken, four simple practices are proposed that assist project professionals in improving the effectiveness of their decision-making.
They are as follows:
Project decisions are dynamic, therefore it is essential to consider the cognitive and situational factors that influence project decisions.
Structured reflective practices enable project professionals to learn from their experiences and enhance how they make decisions.
Embedding structured debriefs into decision processes provides opportunities to make sense of the decision situations and assess appropriate styles and strategies of decision-making.
Timely feedback must be incorporated within an iterative decision process that is broader than performance-related aspects of project decisions.