Our Salary and Market Trends Survey took place in November 2020 against a backdrop that few could have predicted 12 months before. Working with YouGov, the survey captured not only the facts and figures shaping the project profession, but also created a snapshot of a profession dealing with the impact of a global pandemic.
We are able to better understand how the longer-term trends of a younger, more diverse profession were combining with the short-term shock brought about by coronavirus. The result is a useful picture of a profession holding steady in the face of some serious adversity. For most the impact has not been as bad as some may have feared and that the profession as a whole remains optimistic about its ability to navigate a difficult time.
While expectations for growth may have been tempered, a strong sense of resilience and steadfastness shines through the 2,626 responses. Please note, whole numbers are used for the report, so some figures may not add up to 100 per cent due to rounding. The median has been used as the average for salaries, unless stated.
Please try our salary calculator. Do note that the mean is used for the average salaries in the calculator.
<% formattedSalary %> Average salary
There is minimal data available for the criteria selected. This may affect accuracy of results.
We were unable to load the calculator.
Try refreshing the page to try again.
Salary
In these challenging times, project professionals have responded in the way we would expect: with hard work, resilience and optimism. Their commitment to delivering projects under tremendous stress is reflected in the rewarding salaries that remain on offer.
With the twin challenges of the coronavirus pandemic and Brexit throwing many project plans into doubt, it has been a difficult year. But it's a testament to the enduring strength and broad appeal of project work that the profession still offers competitive salaries.
Certainly, taking into account the challenges we've all faced, the salary data illustrates why project management remains an attractive career. Starting salaries remain strong, while those in a variety of sectors can point to increased pay levels even in a year as tough as this one. Ultimately the profession has maintained healthy salary levels across the board despite the disruption.
It's also encouraging to see that the gender pay gap has shrunk back to how it was in 2019. We are committed to understanding the drivers behind that, and while progress is happening in some areas, the continued existence of a gap is also a reminder that everyone involved in project delivery still has work to do.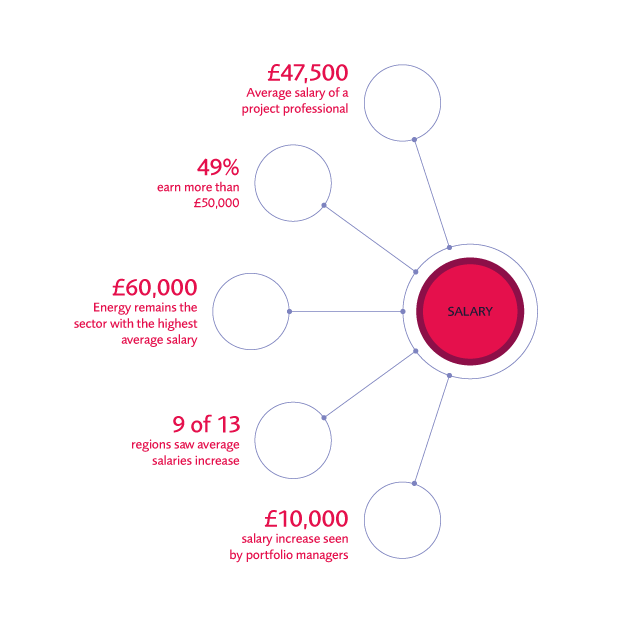 Interactive chart - make your selection to view the data and compare results
Average base salary of project professionals
The average salary for a project professional has not changed since 2017, and salaries remain highest in London and outside the UK. For the fourth year in a row the average salary remains at £47,500, a remarkable stat considering the double impact of a global pandemic and Brexit. And while it's still early days, the stability of salaries in the profession does suggest it remains an attractive career for those either starting out or looking to switch.
That's demonstrated by the fact that almost half (49 per cent) of professionals now earn over £50,000, up from 42 per cent in 2020. Further up the scale, 20 per cent now earn over £70,000, up from 16 per cent last year. The impact of different work arrangements is also visible in the salary data, with freelancers, consultants and the self-employed commanding an average salary of £72,500, with 61 per cent of that cohort earning over £50,000.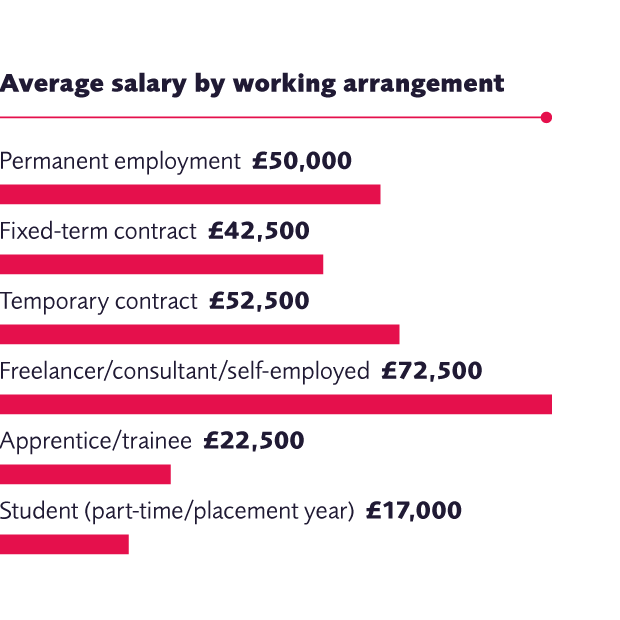 Salary by role
Even during a challenging 12 months, we have seen average salaries go up and down for certain roles. The average salary for portfolio managers has increased from £57,500 to £67,500. Meanwhile, programme managers are clearly seeing their value increase, with average salary levels rising from £57,500 to £62,500 and project planners seeing an uplift of £10,000 in their average salaries, reaching £47,500.
Consultants continue to enjoy an average salary of £57,500, while heads of projects/programmes (£72,500), assistant project managers (£32,500), senior project managers (£57,500) and project engineers (£42,500) saw no change in their salary levels at all.
Salary by region
With a few exceptions, regional salary levels increased across the board, with a number recording significant jumps. From the East Midlands and East of England, to the North East and Wales, average salaries all increased by at least £5,000 per year, while Northern Ireland and the West Midlands increased by £2,500.
Meanwhile, salaries in London remained unchanged, a trend mirrored in Scotland, Yorkshire and the North West. There were some other notable changes at the higher earning brackets: while the overall figures showed that 20 per cent of project professionals now earn over £70,000, East Midlands, the North East and the South West all saw increases in their proportion of higher earners.
In fact, the general increase in salary levels across much of the UK may go some way to explaining why the gap between London and the regions has narrowed, with the average salary in the capital holding steady at £52,500.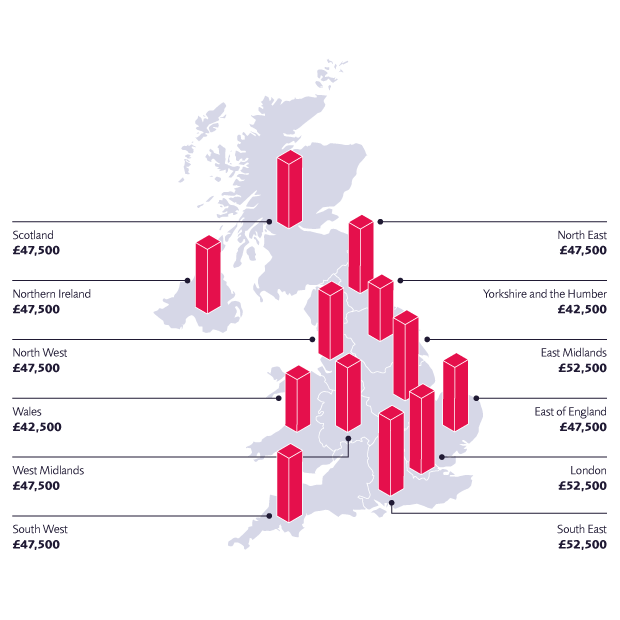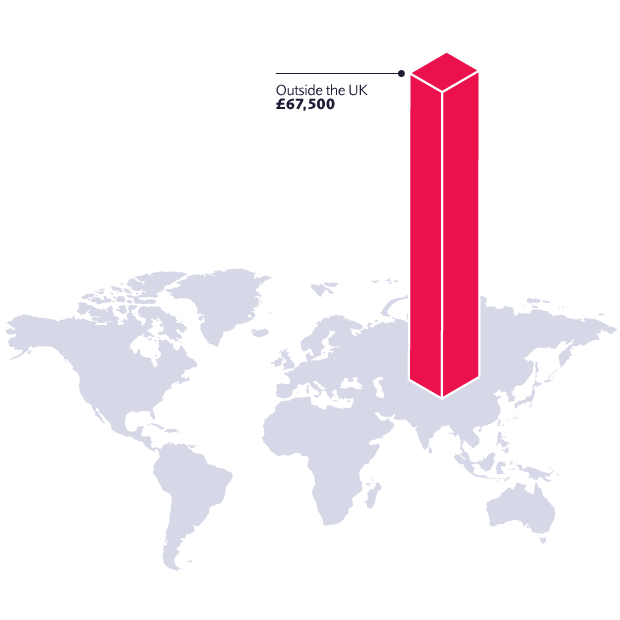 Outside the UK
For those working outside the UK, salaries continue to grow strongly. Professionals working overseas saw their average salaries jump from £57,500 to £67,500, with more than four in ten (43 per cent) now earning salaries over £70,000.
Salary by age
Despite the widespread disruption caused by the coronavirus pandemic, salaries for those in the early stages of their career have remained strong, with the average salary in the 25-to-34-year-old bracket rising from £37,500 to £42,500. For those in the younger age group, 18-to-24-years-old, the average salary remains at £27,500.
This underpins the notion of the project profession's attractiveness to younger graduates in comparison to other sectors. While there is no definitive figure for the average starting salary for graduates in the UK, most estimates put the mean between £25,000 and £30,000, which suggests that a career in project management remains a rewarding and attractive once.
Looking at those further into their careers, there has been no change to average salary levels, which perhaps reflects the reluctance of many professionals to change jobs during a time of such significant uncertainty.

Salary by gender
A look at the salary figures for men and women reveals that the gender pay gap has returned to the 2019 level of 24 per cent. This year the average salary for men remains unchanged at £52,500, while the average salary for women has bounced back up to £42,500.
Understanding the structural issues behind the gender pay gap is not easy and it defies simple solutions. However, the more data we have the more likely we are to improve the profession's performance in this important metric.
There has been some positive change, however: women make up a growing proportion of those earning between £50,000 and £69,999 – up from 20 per cent last year to 24 per cent this year.
But women are still over-represented in roles and arrangements where lower salaries are the norm: they account for four out of five project administrators (79 per cent), while representing 57 per cent of part-time workers. By contrast only 22 per cent of consultants, who enjoy higher average salaries, are women.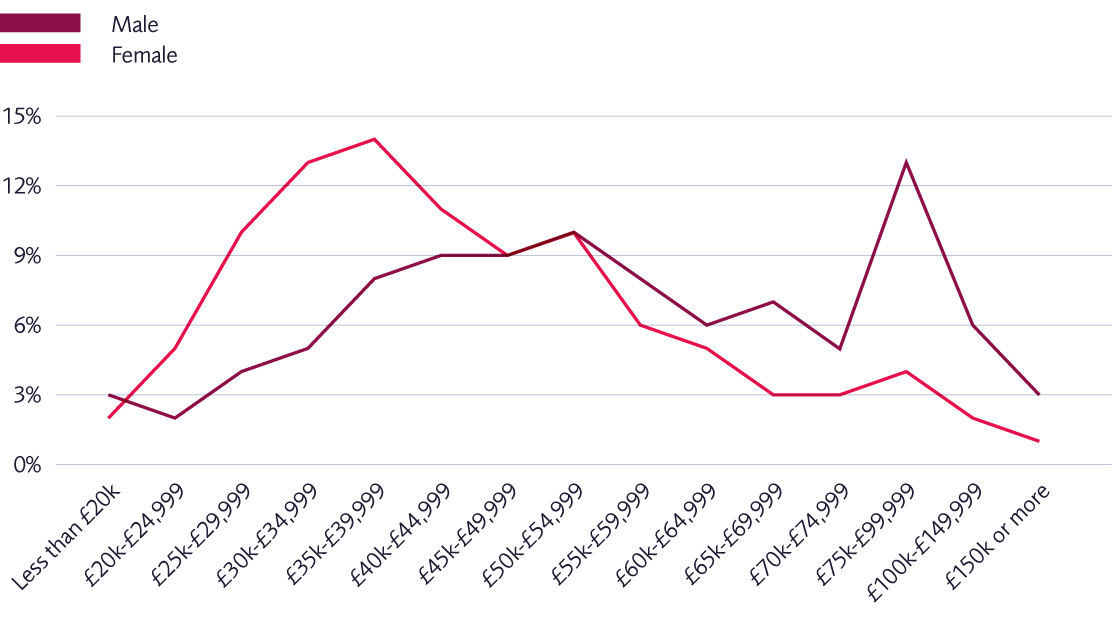 Impact of APM membership
Being one of our members clearly has its benefits: the research shows that the average salary for APM members has increased from £47,500 last year to above the profession's average to £52,500; while those without membership earn £47,500. Meanwhile, Full members (MAPM) earn £62,500 whereas non-members with five years' experience earn £52,500.
It is also worth noting that 70 per cent of Full members earn over £50,000 while 60 per cent of non-members with a similar level of experience earn over £50,000.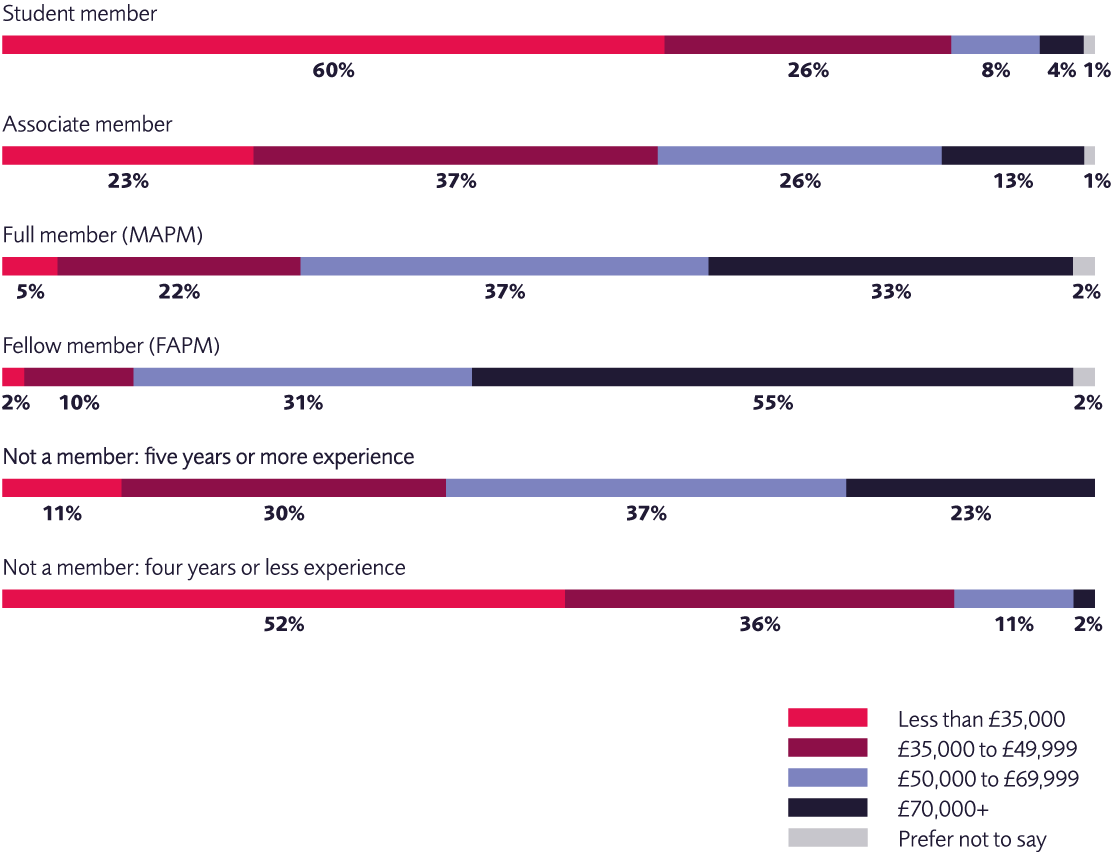 In summary: A year of resilience and growth
Viewed through the prism of salary data, it's fair to say the project profession has weathered the storm of the last 12 months well. Salaries have increased across many regions and sectors, and where they haven't increased we have at least seen them holding steady.
With almost half of all professionals now earning £50,000 or over, the rewards of a career in project management are now more obvious than ever. And from an APM perspective, we're delighted to see the value of membership validated by the salary data. While we feel there is far more to a rewarding career than simply monetary gain, seeing our members well compensated for their hard work and professionalism is gratifying.