3 steps towards minimal viable governance
When asked about governance of projects, many of us think immediately of overly bureaucratic and long processes to get approvals. Most of us will be aware of projects that, despite having large governance systems in place, grind to a halt due to an unexpected issue that had been months in development. One can only question whether these governance systems are either efficient or effective.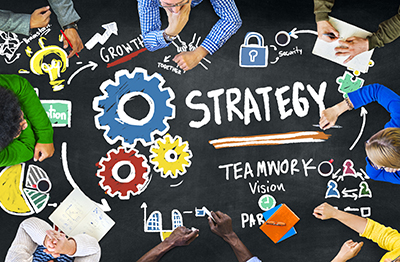 Unfortunately, the typical response to any issues on a project is to increase the governance, often adding further delays and cost to the project to deal with this additional overhead! Let's challenges this approach by applying minimum viable governance and focus on the purpose of governance. There are three key steps to helping us achieve this.
Before we talk about minimal viable governance let's first define what we mean by good governance. Good governance achieves successful delivery of change and projects with certainty and control. In the newly published third edition of APM's guide Directing Change, Principle P3 states:
'A formal structured methodology, processes and disciplined governance arrangements, supported by appropriate ethics, cultures, policies, methods, resources and controls are applied throughout the programme and project lifecycle as designated by the organisation. Where there is deviation from corporate standards, a justification shall be agreed and documented ('comply or explain')'.
Whilst a generic framework is often laid down by corporate PMOs, the crucial responsibility resides with each sponsor to make the governance framework viable for their specific project – and document it (comply or explain).
If a sponsor wants to minimise governance but still have it effective, s/he should start at the apex of organisational governance and ask what they NEED in order to make quality decisions about a project/investment. What would make them get out of bed or keep them up at night? Then in turn consider the same of the next level down and so on.
In order to implement minimal viable governance a sponsor should ensure that three key factors are in place.
1. A common and shared vision for the project
The sponsor needs to build, articulate and gain buy-in from all stakeholders to a commonly understood vision of the purpose of both the project (and its context) and the governance system. All involved need to clearly understand the vision and how it applies to their role to help deliver this purpose. Part of this is ensuring that clear alignment exists between the project vision and the overall organisational strategic objectives and direction. Thus, governance decisions can be made against the bigger picture and the project is aware of the need for collaboration with stakeholders and other projects
The senior levels of the governance hierarchy need to understand the vision from all sponsors and projects to ensure coherence - are there any barriers hindering the projects but outside their direct ability to influence? What stakeholder influence does each sponsor need to deliver the overall portfolio of projects effectively?
However, whilst the senior levels of the governance hierarchy may be able to see data from multiple projects across the enterprise (the entire portfolio) it should concentrate on the overall organisational strategic direction and performance and avoid micro-managing each individual project. It cannot hope to control individual projects other than through each sponsor – the information is too complex with the portfolio governance team too distant from the day to day interactions on each project. Therefore, specific project governance actions need to be delegated to the projects themselves with the individual sponsor providing direction.
2. Tolerance of uncertainty
A sponsor needs to evolve the governance focus as the project evolves. In the early stages of a project there is more uncertainty of both the project context and delivery, so the governance needs to cater for this and understand that forecasts will be imprecise (this needs to be consistent with the risk appetite of the organisation). I recently worked with an organisation that tried to specify delivery go-live dates at the outset – and were always surprised when a different date was eventually specified as testing was coming to a conclusion.
This is best achieved through the use of tolerance levels – which get tighter as a project matures and uncertainty decreases. At the outset a tolerance of +/- 20% on timescale and cost might be prudent, whereas approaching testing/commissioning the expectation might be more like +/- 2-5%. If a project is forecast within tolerance, then reporting should be focused on dealing with exceptions only.
This approach requires trust and an understanding of failure (if things move outside tolerances). As an organisation you will have recruited and trained staff to deal with issues. Therefore, trust them to do so and hold them to account. The delivery team needs to be fully empowered to progress without interference – but have the culture to ask for help and input when things look like they may move outside tolerances (not after they have gone beyond and are reporting red!).
3. Teamwork
Governance is regularly viewed as a policing activity but to achieve minimal viable governance the sponsor needs to work as part of the project team, understanding the issues facing the project team and helping them to overcome these. Applying further bureaucracy to a struggling project is only going to increase the amount of administrative work that the project delivery team must undertake without necessarily fixing the underlying issues. Such action typically just adds further cost, delay and demotivation. Therefore, the delivery team and sponsor must work together in uncertain conditions to figure out a way through – for the higher-level benefit of the sponsor. Effective joint problem solving will help build trust, so the delivery team can raise concerns and seek rectification early.
Achieving minimal viable governance
Of course, achieving minimal viable governance will take time and effort to build up the trust and vision across the organisation. The benefit is that the reduced cost and increased delivery success of projects will be worth the effort.
The recently published second edition of APM's Sponsoring Change guide provides more guidance and checklists to enable sponsors (and the boards that hold them to account) to improve their governance of change and projects and apply minimal viable governance.