A beginner's guide to agile – three common myths debunked

When approaching agile project management for the first time, it becomes apparent that there are two trains of thought. Some people believe it's the best thing since sliced bread, marvelling at the 'new' and exciting way to deliver change. Others are less convinced, seeing it as an excuse to wreak havoc on tried-and-tested delivery processes.
Although agile has been around for over 20 years, there's still some uncertainty surrounding agile project management – even the definition of what it is seems liable to shift depending on who you are talking to.
A handy starting point, however, is the APM definition: "Agile project management is an iterative approach to delivering a project throughout its life cycle."
So far so good – but there is clearly much more to agile than this definition suggests. So, to clear up some of the main misconceptions and give me a more holistic view of what agile project management is (and crucially, what it is not), I spoke to three agile experts. Here's what they told me.
Misconception #1 – Agile is the silver bullet for every project
Purists will tell you that agile project management can solve all of life's problems and that the sure-fire way to fix any failing project is simply to switch it to agile.
Call me a cynic, but that sounds almost too good to be true. Like skinning a cat, surely there's more than one way to deliver a project successfully?
David Aldridge is the PM Practice Technical Coach at Allianz, leveraging his 25+ years of project delivery experience to coach, mentor and educate over 50 project professionals on a day-to-day basis. I asked him for his opinion on the silver bullet misconception.
"To me, agile isn't just a delivery framework, but a complete mindset and approach – it sounds corny, but it's true. In the 90s, we recognised that with the ever-increasing complexity, size and speed of projects, we had to move beyond the iron triangle of the waterfall approach – we could no longer be constrained by just one methodology or framework.
"This forced a mindset change, shifting our focus towards the outcomes that stakeholders and customers needed and using more effective relationship-building and change management techniques to help us get there. Of course, other key factors such as technical infrastructure and operational support also influenced our delivery approach.
"I believe the above is as true today as it was back in the 90s. The factors and conditions surrounding your project are fundamental when determining the appropriate delivery method. So, I believe agile project management isn't a silver bullet, but one of many bullets in your armoury of change, but with the target to create a value and business outcome-driven delivery approach."
So, there we have it; agile isn't the silver bullet it's sometimes made out to be. Instead, it's all about picking the right approach for the project that's in front of you. The below graphic from APM's Directing Agile Change guide brilliantly shows how different factors may influence the way you approach your project.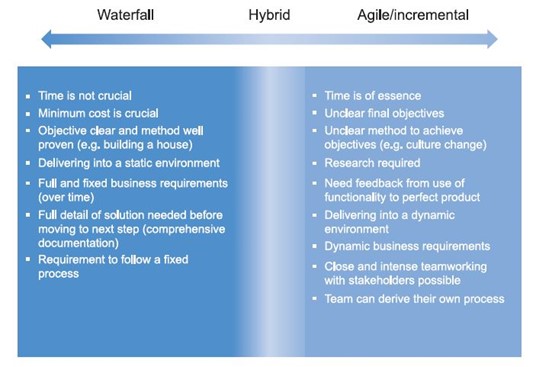 Misconception #2 – Agile is all about skipping the governance
Some believe that agile isn't as robust and stable as traditional project management approaches. After all, how can you deliver a structured project if you've fast-tracked the upfront planning and definition?
Martin Samphire is Deputy Chair of APM's Governance SIG, and he leverages his 40 years of experience to shape and implement major transformation programmes for clients in his role as Managing Director of 3pmxl.
So, I asked him, is agile governance really that shaky?
"It's easy to see why some people would think agile project management is less structured. But it's worth remembering that an agile approach is as much about learning as it is about delivering products. To succeed, everyone involved needs to shift their mindset, especially those in management and governance roles.
"An effective agile delivery still has all the hallmarks of strong governance, including clear purpose, objective setting, stakeholder alignment, transparent decision-making, controls and documentation, but strives for rapid decision-making as close to the 'coal face' as possible.
"The delivery team focuses on delivering value early and continually learning to hone each subsequent delivery towards the ultimate outcome. This requires collaboration, empowerment and flexibility from everyone."
If you want to hear more about how you can add strong governance to your agile approach, I recommend reaching out to APM's Governance SIG.
Misconception #3 – Agile only works for software development
A quick Google search will tell you that agile project management was born out of the rise of software development in the late 90s. For that reason, many argue it's an IT-only approach for delivering change.
That feels a little selfish to me. Surely, the benefits of regular delivery, enhanced customer focus and early value realisation could be shared with other types of projects?
If there's anyone that can help me debunk this misconception, it's Adrian Pyne. Alongside his many years of consultancy work, he's also a Fellow of APM, and has co-authored several APM works, including Directing Agile Change, and recently published Agile Beyond IT.
"Agility has been adapted to many work areas, including marketing, finance, engineering and, of course, project management. More importantly, it has been adapted for entire business models, too – take a look at sector disruptors such as Amazon, for example. For those businesses, agility runs through them like words through a stick of rock, with evidence showing that agile businesses are actually more profitable.
"The bad news is that agile software development approaches such as Scrum and SAFe have been misused for project, programme and portfolio management. While many bend Scrum out of shape to make it look like project management, it inevitably becomes an ugly duckling.
"So, yes, you can absolutely manage projects with agility, whether they are IT-focused or delivering quite different capabilities. Ultimately, it remains project management – just with agility applied."
So, great news for all you non-IT project managers – agile is definitely on the table when delivering your next project. But, in a similar way to our first misconception, it's all about tailoring your approach for the project in front of you – don't force it if the situation isn't right.
Summary
In 2022, agile project management still does a great job at dividing opinion. Projects are uncertain places to work, so it's no surprise to hear a mix of good and bad agile experiences along the way.
But if you're new to agile, I'd recommend taking a balanced view and being aware of the misconceptions that still exist across the profession. Ultimately, the value of the agile approach comes from knowing how to use it, when to use it and encouraging everyone around you to adopt an underpinning agile mindset – master that, and you'll be well on your way to project success.
You may also be interested in: