Artificial Intelligence (AI): Changing how we deliver projects in the life science sector

New technologies, and particularly Artificial Intelligence (AI) and Machine Learning (ML) are transforming all areas of project delivery in the engineering and construction sectors. This is becoming increasingly evident to me in my role as Director of the pharmaceutical and life science team at Currie & Brown, where we provide construction project management, project controls and other project delivery services to our clients.
It is clear that AI has the ability to crunch through enormous mountains of data at speed. When pointed in the right direction and at the correct issues and questions, it has the potential to inform better, real-time decisions, generate efficiency gains and help us deliver greater value to clients.
In fact, we are already extracting benefits from AI in numerous areas of the engineering, construction, and project delivery process. Examples include Building Information Modelling (BIM), where the team are using digital twins to help to create better visibility, improve decision-making, put forward more sustainable options, and deliver cost savings for our pharmaceutical and life science clients.
We are also applying AI to the live working environment, leading to significant advances in Health & Safety, where human error is being reduced or removed using remotely controlled, driverless or drone vehicles to complete dangerous tasks or activities. AI is also driving change in sustainability; helping our clients to achieve their BREEAM targets and assisting contractors to forecast their carbon emissions during a project's planning stage. It is also helping to identify the benefits of using different materials to realise environmental benefits and carbon reduction.
The pharmaceutical, life science and healthcare sectors that I operate in are already reputed as leaders in this area and are investing heavily in predictive AI solutions - helping to lower costs and speed up results by forecasting better outcomes and solutions. AI has already become a game-changer in the life sciences industry over the last few years. By harnessing the power of ML algorithms and predictive analytics, researchers and healthcare providers have gained insights into complex biological systems that were once impossible to achieve. This has led to more targeted therapies, earlier detection of diseases, and a better understanding of the underlying mechanisms of various conditions. Some AI methods can even generate hypotheses to test through traditional methods.
Recent success stories within the Pharmaceutical and Life Sciences sector include the high profile accelerated Covid-19 drug discovery, where computing power and AI uncovered vaccine and drug targets quickly, reducing the preclinical development of a human-trial-ready product from years down to months at a time when it was needed most during a global pandemic. IBM's Watson software has also been used recently to process up to 90 patients against three breast cancer protocols in just 24 minutes, compared to the previous 1 hour and 50-minute period required by a human clinical trial coordinator, a real time reduction of more than 75%. The OSIC Data Repository also uses AI technology to create an open-source medical imaging and data repository to provide more medical practitioners with access to lung disease data and to further improve medical access by providing them with the same diagnostic tools as those in major research centres. The platform can also significantly increase the volume and usability of critical information, allowing for quicker decisions and more accurate predictions of patient outcomes.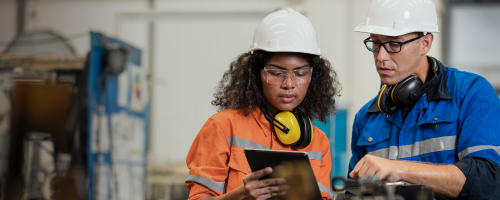 In the construction industry predictive AI applications can now forecast project risks, constructability, and the structural stability of various technical design solutions, providing insight during the decision-making phase and delivering significant costs reductions along the way. These applications can also enable testing of various materials, limiting the downtime of certain structures during inspection and quality control.
Machine-learning methods in the healthcare sector are creating breakthroughs in image recognition to support the diagnosis of illnesses (e.g., detecting known markers for various conditions). In construction, this technology is being applied through drone imagery and BIM modelling to assess clash detection, coordination, buildability, and quality control, such as defects in construction and early detection of critical events, such as structural failure etc. These techniques could help project professionals compare developing and final products against initial designs or train an unsafe-behaviours detection algorithm to identify safety risks in project sites based on millions of drone-collected images.
One thing is clear, AI is here to stay. It is now down to us to harness its potential to add value to our clients and make building a better future possible – whilst continuing to evaluate and mitigate the risks.
What are your thoughts? Are you a project professional working with AI? How are you seeing the benefits? And how do we offset any risks? Let us know on the APM community platform here.
You may also be interested in: