Consistency, visibility and collaboration
What are the largest challenges organisation face relating to project and portfolio management? The 2016 State of Project Management Survey published by Wellingtone and the APM PMO SIG provides some insight: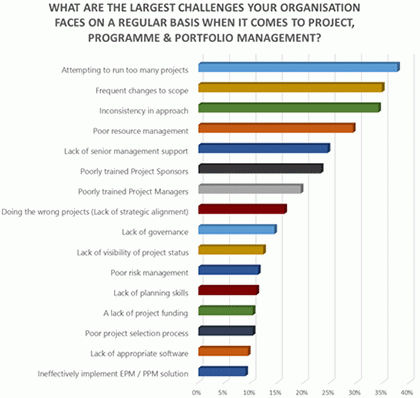 Inconsistency in approach and lack of visibility both feature. This is no surprise. Let's look at consistency first. Many organisations have defined a project management approach, their project management methodology. Often the work of a studious PMO manager or head of projects, the project management methodology should set out the agreed approach to project management.
Some of the hot topics this document usually contains, includes;
Defined approach to selecting, planning, running and closing projects
Governance
Roles and responsibilities
Approach to planning, risk management, change control and stakeholder engagement.
If you have this document, great stuff, well done. One question…is it actually used? In the real world the methodology just isn't followed, or interpreted different by project managers. Project managers tend to use what works for them rather than the organisation. They are always keen to talk about "their methods, their style, their approach". The most successful project managers are often those that have been with the organisation the longest. "Why can't the new project managers be as successful as Bob?"…well Bob has spent 10 years developing his informal network in the business and knows who to call to pull in a favour. He doesn't follow process but he gets work done. The new project managers stand no chance of repeating Bob's success as they try to follow a process that Bob blatantly ignores. He has a reputation, a certain amount of gravitas and a massive advantage.
Consistency in approach is key to moving away from the "Bob model" of project success. You will not be able to hire another Bob. It's less to do with his skill sets and more to do with his network which you just can't replicate. If you need to scale then you need a consistency, practical approach. This does not mean "one size fits all" and this is a common mistake. Projects vary in size, complexity, cost, risk and benefit. The methodology should flex to suit a range of sizes and often we define a scaled approach based on as simple a classification as small, medium, large or light, standard, complex. If you are working on a light project you do x amount of project management. If you are working on a complex project you do xyz amount of project management. Quite simple.
So this is where Microsoft Project Online can really help. Setup new project using the Enterprise Project Type feature. Think of this as a template for each type of project you undertake. For example; NPD, infrastructure, software rollout, business change project and so on. It includes:
One or more electronic forms so the right project information is captured (name your Sponsor, budget, location, priority score, customer, and so on)
Lifecycle stages and stage gate checklists to ensure projects follow the right approach and automatically get listed in the correct stage
A pre-agreed schedule of tasks…a start for 10 so all schedules follow the same structure, milestones and phases
A Project Site design (think web site) so everyone is spoon fed the right risk log, issue log, document templates, RAG KPIs and so on
The project managers can't help but use the same approach and incomplete forms, logs and documents are easy to spot.
This really helps with the second problem; collaboration. Fed up with saving your Microsoft Project plan as a .pdf and emailing it around? It's a bit of a rubbish way of working isn't it? With Microsoft Project Online everyone can see the project schedule, yes, the Gantt chart and no they don't need a Microsoft Project license. Good eh? Finally everyone can see the plan, interact with the plan and, if given permission, provide updates on their tasks straight back to the project manager to review and approve.
Also we now have a web site (Project Site) for the project team. All the logs (RAID and friends) are accessible as SharePoint lists (think Excel but with everyone being able to access at the same time with clearly defined permissions). Equally we have one central place for all those project documents. No longer lost in the complexity of the shared drive folder forest, all project documents are accessible by the project team and we can even spoon feed them the right document templates. Ahhh…consistency and collaboration.
Finally, with all this information being held in the Microsoft Project Online environment we have great visibility. See a list of all projects with their RAG KPIs. Report on ALL key milestones from across the portfolio. Report on all key risks from all live projects. You get the idea. All info in one place means we can slice and dice the data to report on anything your project management heart desires.
So Microsoft Project Online really does help drive maturity by driving collaboration, consistency and visibility. If you have already made the jump to Office365 it's a checkbox away, for everyone else it's a simple sign up with no IS/IT department involvement required.
Do watch our recent Microsoft Project Online webinars on the APM YouTube channel or contact us for a demonstration and a free 30 day trial for up to 5 users.
---
This blog is written and sponsored by Microsoft. Vince Hines is director of Wellingtone Project Management who are a Microsoft GOLD Certified Partner with Project and Portfolio Management Specialisation.