Engineers are an endangered species...
I have been a volunteer member of the APM PMC SIG since 2012, and I am also a STEM Ambassador. This article explains what a STEM Ambassador does - and why I am so passionate about it!
What is STEM?
STEM is an acronym for Science, Technology, Engineering and Maths. 
With the current acceleration in technical development, there is increasing concern at the predicted shortage of young people with these skill-sets. Industry will need up to 70,000 youngsters with STEM qualifications over the next few years.
STEM Ambassadors:
In July 2012 the House of Lords Select Committee produced a report for the government regarding STEM. This led to the appointment of STEM Ambassadors; volunteers from STEM related jobs across the UK. The last six years has seen the number of volunteers rise to in excess of 30,000.
The primary aim of a STEM Ambassador is to inspire both boys and girls aged 16 – 19 and sometimes younger to consider engineering and technology as a career option.
I joined the scheme in 2015 through the Bloodhound Project. As a World Land Speed Record car, one of the project's main aims is to inspire a generation of young people to become engineers.
Bloodhound – the Education Programme:
Bloodhound's first objective is to inspire pupils to study STEM subjects. To date, its Education Programme has reached over 6000 schools. Over the last three years as a Bloodhound Ambassador, I have given various presentations to schools, as well as representing the team at public events.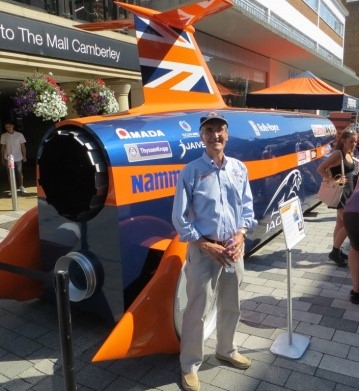 Ambassador duty, with the 'Show Car' at Camberley – August 2015.
STEM Learning is the coordinating organisation for STEM Ambassadors, and sends out regular emails with details of the schools or colleges in each area needing assistance.     
Examples of my own input include:
Mock interview techniques, or helping with CV writing
Marble-runs or bridge building challenges
Careers fairs
Whole-year assembly career presentations
Finding work experience for young people:
Work experience is a key factor in introducing engineering disciplines to students. This is an area of particular focus for me, and I have assisted two local secondary schools. After numerous phone calls and some visits, I have to date found placements for over 20 students.
HM Government Careers Strategy – Dec 2017:
Many schools have historically focused on their 'league tables' measuring the number of students that progress to good universities, so students who don't fit the academic path may fall by the wayside. They may not receive the same attention from the teachers, and could leave school feeling a failure.
The government has recognised this issue, and wants to offer alternative educational paths which are as valuable as a degree.  These other paths should not be considered inferior in any way.
To this end, the government published a new Careers Strategy in Dec 2017, followed by statutory guidance in January 2018.     
The key headlines for every school are based on the Gatsby Benchmarks, and in summary are as follows:
They must ensure that pupils are provided with independent careers guidance from year 8 to year 13
They must ensure that those in year 8 to year 13 are aware of approved technical education or apprenticeships by ensuring access to providers
It is hoped that these changes will in time encourage more pupils to consider apprenticeships or college courses without feeling that they are of lesser value than a degree.
More information on Gatsby Benchmarks.
APM and Apprenticeships:
APM is playing its part in this process, writing guidance for both employers and parents about apprenticeships. It also promotes Apprenticeships in Project Management through events and social media, using its new APM Apprenticeship Ambassador Network. To find out more about this network (and the APM Graduate equivalent) email APM's Education Manager, Caspar Bartington, on caspar.bartington@apm.org.uk.
The Level 4 Associate Project Manager apprenticeship takes two years and contains a professional qualification from the APM. The latest development will be a Level 6 Project Manager integrated degree apprenticeship. This will be offered by companies and universities for the first time in 2018.
Bucks LEP – The Careers & Enterprise Company:
In recent months, I have started assisting the Buckinghamshire Local Enterprise Partnership. These LEP's are:
Voluntary partnerships between local authorities and businesses set up in 2011 by the Department for Business, Innovation and Skills to help determine local economic priorities and lead economic growth and job creation within the local area.
There are 38 LEP's across the country. One of their roles is to promote STEM, so they use local Ambassadors or other volunteers from industry to liaise with schools. We are called Enterprise Advisors.
Inspired - why not become a STEM Ambassador?
Well hopefully this article has given you a brief insight into what a STEM Ambassador does, and made you consider becoming one yourself. It is not just about encouraging pupils to become Engineers, or getting them into project management – more importantly it is helping students find the right job for them. 
That way they will hopefully be passionate and motivated about their careers.