First steps into chaos, how to rescue a project that's falling

Most project managers want to be in control. And many projects fail because the project professional, or team, or sponsor, fails to recognise when they are not in control.
When your project is in chaos, you can begin to recover – but first you have to recognise that's where you are.
A framework that helps navigate projects
The Cynefin framework encourages conscious awareness, informed sense-making and enables navigation of a project's delivery environment. It helps the project professional or sponsor understand whether the project is (at any particular point) ordered and predictable, or complex, or chaotic.
The Cynefin framework uses five principal decision-making domains:
Clear
Complicated
Complex
Chaos
Confusion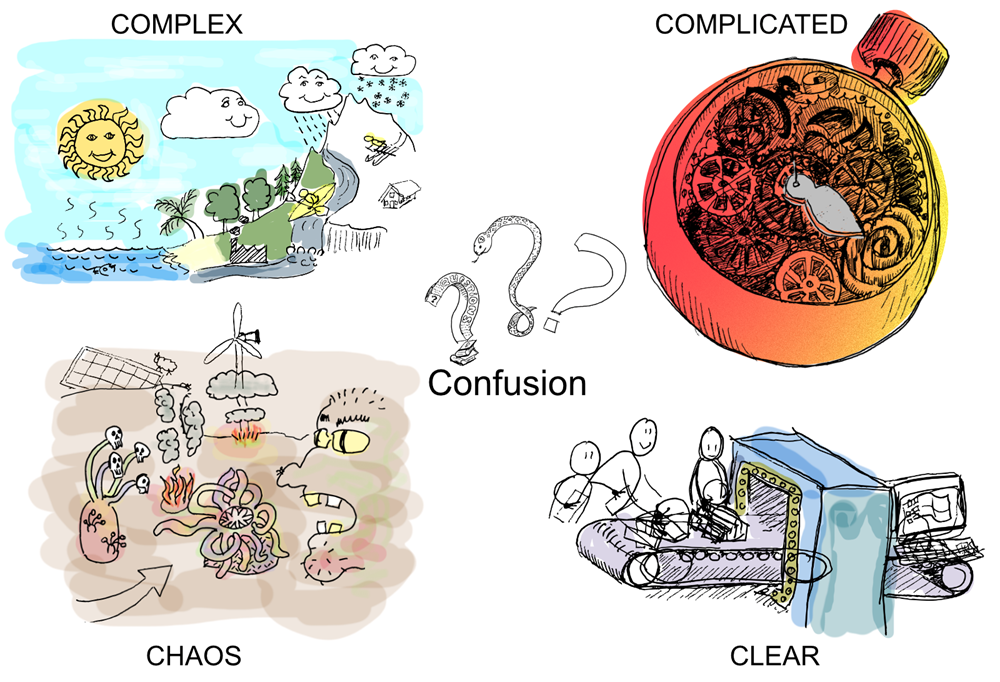 (Illustration © Hugo Minney – author, drawn from Cynefin description)
Where a project is 'clear' or 'complicated':
the project is well understood
the process of delivery is tested and repeatable
there are few if any competing agendas or unknowns
delivery is largely 'predictable'
experienced project management 'trouble-shooters' are not required, and
the project team is typified by compliance, rather than autonomy and innovation.
The difference between 'clear' and 'complicated' is the number of process steps.
The Cynefin framework offers a transit domain, 'confusion', which sits in the middle of the other four. It's where project's sit before the appropriate domain has been characterised and identified. The boundaries are indistinct – you can assume a project is clear, but it might be in chaos without anyone realising.
Let's assume that you have been assigned to rescue a project. The likelihood is that the project you are rescuing is in a complex or chaotic phase. 'Complex' stages require you to engage stakeholders to make sense of the 'emergent complexity'. As  project managers, we should seek to understand, and make changes carefully, observing the results before making the next change.
'Chaos' is much more dangerous. And much more likely. Projects that descend into chaos are often fixated on a predetermined route to a specific solution, which is why nobody recognised the gaping chaos they fell into. Wearing blinkers to reality means missing alternative solutions for securing benefits.
A chaotic situation involves many difficulties and confusions piling up at once:
Your key stakeholders might have different opinions about what they want, and be prepared to spill blood over their disagreements
The information you thought you could rely on might turn out to be fabricated
The activities being undertaken might make little or no contribution to the objectives and benefits
Politics elsewhere in the organisation might have resulted in a mass exodus of undocumented (and therefore no longer available) knowledge; and many more factors
The delivery environment might produce multiple obstacles through constraints on resource, workface access and competing interests or priorities.
When a project is in chaos, the stakeholders and their conflicting agendas often can't be brought to agreement. Time is not on your side, moving slowly and making changes carefully, just isn't an option. In the state of chaos, taking any action is better than taking no action, although taking any action will cause pain to at least one stakeholder. But when you see who squeals, you can start to pick out what is connected to what – there's a silver lining!
Disbelief, denial, guilt…
Accepting your project is in 'chaos' or 'complex' domains is the first step to doing something about it. The rulebook doesn't apply, and you need to be very good at building trust. You will need to step into the unknown and you need everyone to step with you, but it isn't going to be comfortable.
Once you accept chaos, what do you do about it?
Chaos is often associated with darkness and storms. A welcome sight in a storm is a lighthouse. The lighthouse is not the destination – (lighthouses are often built where you don't want to go) – but it's a signpost to show you the way to go! It keeps you away from the rocks, and it shines a light so you can see what you're doing.
Benefits management is a project management discipline that can be your lighthouse. It is often resisted by project management teams because the light reveals rather more than they wish to disclose. It's not an additional activity, but rather replaces many necessary activities with structured processes that deliver better results with less effort. But benefits management scrutinises whether benefits are likely to be realised, and many people resist being held to account.
Use benefits management in both complex and chaotic projects to:
Clarify the original objectives and benefits of the investment, engage with the stakeholders to understand the change in project status, expose it to scrutiny, and gain agreement
Instead of chasing performance metrics "what we've done", measure "what difference we've made" and test the future viability of the project against this. This might result in a change of direction, but by engaging stakeholders, this change of direction will be recognised and supported
Clarify the impact of the benefits from this project on the achievement of the organisation's objectives, which will settle politics elsewhere in the organisation one way or the other.
Introduce flexibility through recognition of multiple routes to the goal, and multiple end-product solutions
This might get the project back on target; alternatively it can get agreement to close the project. Either way, you have looked into the eyes of the storm and survived.
Conclusion
When you, an experienced project professional, are assigned to a project to rescue it, it's vital to apply sense-making (such as the Cynefin framework) to discern which aspects of the project are clear, complicated, confused, complex, or in chaos. The sooner you identify where the project is, the more compelling the case you can make for support and a vision for resolution.
Benefits management can be a useful tool to shine a light on the problem, and to assist in aligning the different stakeholders and agendas to make a decision. It is better to bring order to chaos, or banish it, than to deny chaos's existence and fall blindly into the waves.
You may also be interested in:
---
This blog was co-written by Hugo Minney and Gordon MacKay 

Gordon MacKay MBA, BSc(Hons), BA(Hons), MAPM, MInstLM, Author 'Practical Leadership': Pub; Institute of Leadership Management & Elsevier. Ex Royal Navy Marine Engineering Artificer. Avid MOOC enthusiast: Nuclear Engineering, Neurology, Social Psychology, Psychology, Open University D171 Intro Cert in Counselling. Uni. of Chicago Online Tutorial Assistant: 'Clinical Neurology'. Ardent believer in 'non-bonsai' leadership: transformational, empowering; 5th Level. SQA SVG Accredited Senior Management (Level 5) Assessor/Verifier.