How to unlock relational capacity
"Of course, contracts are only a rough guide," said a Brazilian contractor with a wry smile during a payment discussion. Anyone who has managed projects in South America will know that the contracting environment there is somewhat more 'flexible' than in Europe. Corruption in the judiciary weakens the power of written agreements, so that detailed knowledge about those you are relying on becomes crucial. Building strong relationships with suppliers became imperative for that project's success.
I learned my trade as a design and project engineer building glass factories around the world. When I later had oversight of multiple projects, I began to see how the quality of relationships with partners (suppliers, community groups, etc) and within the project management team correlates with project success.
So, for example, when a project in Asia experienced significant delays and cost overruns, spending a short time in the site office revealed two groups among the site management team that were highly suspicious of each other, barely talking and certainly not collaborating well. On a different project, barriers to communicating well with a main contractor meant he had to walk off the job to get the project manager to listen to the real cost increases he was facing due to changes in world steel prices. The adversarial approach to the relationship by the project manager led to a two-week delay in that project.
On the other hand, taking time to build a strong relationship with new suppliers in South Africa developed sufficient trust and transparency that orders could be placed using local, rather than national, contractors. The less bureaucratic and more flexible collaboration saved $10m on $50m of contracts.
In Poland, experienced equipment installation contractors were used to waiting for detailed instruction, rather than taking the initiative. Significant amounts of time were being lost each day because they were used to a command and control culture. By addressing this issue with their site management team, taking steps to encourage autonomy in decision making (and sharing the obligatory glass of vodka), they became a highly productive unit. Respect for their knowledge and modelling of a no-blame culture built levels of trust that they had not experienced before with a client. They said it was one of the best jobs they had worked on.
Managing your team
Within a project management team, an overbearing leader crushes both individual creativity and relational connections by controlling the sphere of influence of team members, keeping each in their role or 'silo'. On the other hand, if a project leader understands that one of their key tasks is to provide the right conditions for the team to relate well, the relationships actually create capacity. That capacity means fewer balls get dropped and less misunderstandings occur, thus creating a safer environment and delivering lower costs. Investing in the team's relationships early on means the leader has extra capacity to draw on throughout the rest of the project, especially in a crisis.
I have also found that teams with strong relationships are generally smaller for a few reasons: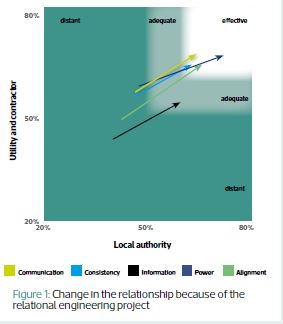 The skills and abilities of individuals and subgroups are better known and can therefore be put to full use.

We naturally try to find win-win solutions for those we have strong relationships with. 

Relationships develop opportunities for team members to contribute to the work of others, 
increasing chances of first-time success. 

Fluid communication between team members leads to lighter control structures. 
Make it practical 

Over the past few years, my colleagues and I have been investigating whether intentional improvement of relationships within teams and systems can deliver step changes in performance. We wanted to know whether focused attention on 'relational engineering' would deliver performance results.
To do this, we are working with and developing tools that measure the key aspects of relationships between groups of people – communication, consistency, information, power and alignment. Now, with case studies across various sectors, including utilities, the NHS, local government and NGOs, we have found that better relationships are a real game changer.
For example, we recently improved relationships in a street works system between a highways authority, a utility company and a civil contractor. We measured and analysed the relational dynamics prior to bringing the three teams together for two short workshops. The data showed us that there were three key relational blockages.
Using data to describe the positive and negative aspects of relationships from the perspectives of all parties in the room gave a platform for open and honest discussion. Together, the teams could then deal with the three issues during the facilitated workshops. 

Most importantly, six months later, because of improved relationships, the teams managed to clear six years' worth of critical works that had backed up due to lack of trust. The change was made without more staff, without greater bureaucracy or better IT, and led to a decrease in fines of 30 per cent. 

Project managers are used to taking care of IT, materials, energy and labour. However, those involved in delivering success in a stable workplace or project often do not realise the capacity locked up in their teams or group-to-group relationships.
Related blogs: Top 10 tips to developing a high-performing team By Richard Gedge
Are you motivating your project team? By Paul Naybour
---
This article was originally published in Project journal
---