Improving equality, diversity and inclusion of the LGBTQ+ community

Despite industry-wide efforts to raise awareness of the ethical and economic benefits of improving equality, diversity and inclusion (EDI) for the LGBTQ+ community, and results from a survey that I conducted in 2020, indicates that the population is becoming increasingly diverse, but the workforce of the construction industry has not shifted at the same rate.
The survey, which was distributed across many organisations, focused on the whole of the construction sector and therefore included a wide demographic. The research also evaluated various online articles such as construction reports, journals and previous studies.
The background research revealed that there is a general consensus to why the construction industry is lagging behind in equality, diversity and inclusion: it's to do with male dominance and the 'macho reputation' culture which can make workers feel uncomfortable and affect mental health and wellbeing. The study highlighted that the sector is stepping forward to improve the issues identified but there is much more work to do in terms of policies and schemes, to create a more inclusive environment.
The main aim of the study was to explore whether attitudes towards sexuality within the construction industry are improving because of existing policies and schemes but found there have been an increase in homophobic and derogatory comments towards LGBTQ+ employees since 2017. The survey results also suggested that senior management should lead on implementing EDI policies and not see them as a tick box exercise, helping change culture with a clear vision and tracking progress on EDI management initiatives.
LGBTQ+ organisations are working closely with the construction industry to improve equality, diversity and inclusion of the LGBTQ+ community but more needs to be done to make it a better career choice, reduce attrition, and make those in the industry feel more secure in their working environment.
Through my research I developed a framework to promote awareness with a pathway to improving EDI within the construction industry. The framework can be adapted to suit smaller and medium size businesses, creating a path to a more acceptable culture. It can also be adapted in any industry and sector of the workplace and project profession. If senior management and leaders undertake EDI training to ensure they are capable of implementing EDI policies, they can also lead by example to improve workplace culture.
The six recommended stages of the EDI framework triangle are:
Action - Companies should sign up to an equality, diversity and inclusion policy/scheme so that it can be implemented throughout the organisation.
Leadership - Management teams must complete EDI training and to follow policy/scheme rules.
Awareness - At least 90 per cent of employees should complete the EDI training, to understand what EDI is, and then follow the policies and scheme rules.
Engagement – Companies, leaders and employees should show evidence of training and the policy/scheme being implemented.
Measure - Unannounced and announced visits from an EDI awarding body to monitor whether the policy/scheme is being implemented across the organisation. They can monitor improvements in EDI, and officially sign off completed stages.
Award – Once all stages are completed and recognised and EDI improvements have been made and all criteria met, I recommend, that in order to encourage better policies for diversity and inclusion organisations that are promoting EDI should be recognised through an awarding body that is highly respected. However not many awards exist at the moment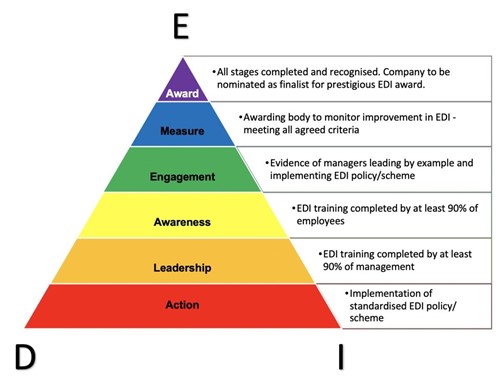 All organisations and, especially the construction industry should devise a robust and proven equality, diversity and inclusion scheme with a standardised approach for the sector to implement. This will allow organisations to feedback what is or isn't working effectively. Standalone polices are good but there are so many independent models which could be seen as tick box exercises. A standardised approach should be approved by organisations such as Stonewall, Building Equality, Go Construct and others so that there is a one format, which can be implemented across the construction industry and to other workplaces.
The LGBTQ+ community represents a huge talent pool which the project profession and particularly, the construction industry should engage with and attract to reduce skills shortage. Inclusion of LGBTQ+ means greater individual success and therefore stronger business efficiency; more diverse and inclusive businesses are better able to compete for and retain talented employees. And a diverse team enables more success.
You may also be interested in: