Planning and scheduling for a home renovation

Having lived in our 1920s semi since 2006, we hadn't really needed to do much to it initially.  Renovated by the previous owner, a lick of paint here and there was all that we did. That was until we were sat in our perfectly acceptable living room and had a grand idea to knock a wall out and make the whole of the downstairs open plan to create a modern design far from in keeping with the style of the house. 
A visit to a local DIY store kicked started our plans and boy, did we not know what we were letting ourselves in for. The next three months consisted of trying to work full-time around builders, plasterers, kitchen fitters, bricklayers and an ever-dwindling budget.  Although my job role as project manager at the Association of Employment and Learning Providers allowed me a certain degree of flexibility and the fact that I'm home-based really worked to my advantage in keeping the project on track, I realised the skills I had developed through the APM Project Management Qualification and over the past two years as a project manager were to be my saviour.
A budget spreadsheet
As in most cases with projects, like our house renovation, we had a limited budget. How often do you watch Grand Designs on Chanel 4 where the house owners start off with a budget, only to see Kevin McCloud asking them, 'so how much over budget were you in the end?' whilst the audience winces as the home owners declare, 'oh just around £50k.' As a project manager, my instincts kicked in: stick to the budget as much as possible. As quotes for our project started to arrive, I started to populate a spreadsheet, deducting the amount from the total budget – quite a scary process but essential to ensure we didn't overspend.  Costs and dates were added and the spreadsheet became my project plan.
Engaging stakeholders
A project of any nature not only requires one to manage a budget, but also engage the key stakeholders.  Builders don't just have one job on at a time, they have lots – floating between them subject to the highest demand, and probably their highest earners.  Managing this around my work and home life was essential. I needed to know when the builders would be on and off site, so I maintained contact with the building contractor lead throughout, requesting definite arrival/departure times, and any times when they might have needed the electricity to be switched off as this could have impacted on my own and my partner's workload. It was essential for the two of us to stick to the plan whilst explaining to the builders the reasons why we needed the electricity on for our work. Clear communication and a project plan helped keep them, and us, engaged in the project.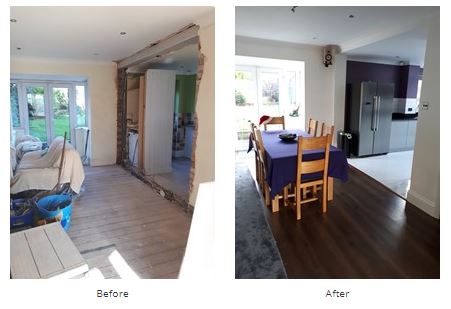 Resource management
Although our kitchen was bought from a DIY store, management of everything else that needed to be completed around this was up to me.  Making sure the existing back door was bricked up, the kitchen was fitted,  the worktops were delivered, and the plasterer was due –were all essential tasks that had to be scheduled, started and completed in a particular order, much like a project when resource scheduling.
Of course, as with all projects, not everything ran smoothly. Our pride and joy quartz worktops were cut incorrectly, so we had to negotiate with the supplier to provide free additional upstands; the oven was fitted with an incorrect fuse so kept tripping out (and it took some time to discover why); the sink arrived smashed so had to be returned and re-ordered. Not to mention the fact we practically lived in the bedroom for three months – and whilst my waistline didn't thank me I'm sure our local pizza shop noticed an increase in profits during this time. But the resource schedule and project plan kept us as on track as we could be.
To be honest the whole project was painful. As I applied the last coat of paint my words were – 'never…ever…again'.  Until we decided to completely renovate the hallway this year, knocking out a brick wall under the stairs and installing a downstairs cloakroom.  That project is still ongoing but I continue to utilise my project management skills.  When anyone asks why I'm so on the ball (probably their polite terminology for bossy) my reply is simple – I'm a project manager, it's my job.
You may also be interested in
Images:  elenabsl/Shutterstock.com; interior courtesy of Cheryl Swales