Project management – a first career choice
If you're reading this, you are probably a project professional. You won't need convincing of the fact that project professionals make things happen.
Among a student audience, the project profession has had relatively little visibility, typically being part of a STEM-related activity which, while laudable, doesn't do justice to the sheer breadth of opportunity projects offer.
If you have several years of work experience, your project life is likely to have been your second or third career stage rather than your first – or something you had previously done alongside another role. There is nothing wrong with that but there is a sense that the time has come to promote the first-career project professional.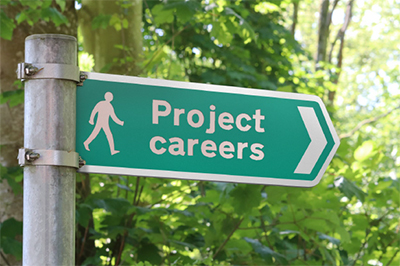 Project Manager Degree Apprenticeship, a fantastic way to gain a degree, a professional qualification and sector experience.
As the chartered body for the project profession, it is important that APM raises the profile of the world of projects with everyone, including those still in education.

The good news is that the more students understand what projects are, the more they like the idea of being part of one. We know this thanks to our recent research.
APM commissioned Opinium to undertake research among young people, careers advisers and teachers, in order to understand better the sources of careers information and guidance, to understand the appetite for a career in project management among 16-21 year olds, and to learn about what more APM and the wider project community can do to support the good work of careers staff in bringing (project) careers to life.
The report paints a positive picture overall. There is clear appetite from students to be a project professional, even if the level of understanding about what that means isn't always clear! Pleasingly, 'project manager' as a first-career choice scored more highly than careers from professions that have engaged with students more extensively, and for longer, such as law and architecture.
In fact, 'project manager' is the joint-most popular career choice for 21 year olds, with 20 per cent of students making the selection.
The word clouds that you will see in the report contain many positive messages that we can all get behind. I'm happy to work in a profession that is described as 'challenging' by ten times the number of students that think it is 'mediocre'.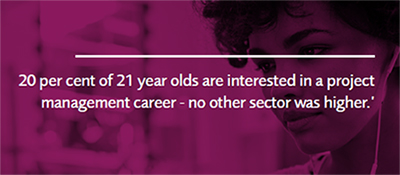 For careers advisers and teachers, the chartered message resonates well. Nearly 60 per cent see chartered status as an important factor in promoting careers to students.
Nearly 70 per cent of teachers and advisers replied that having relatable touchpoints with sectors helps to enthuse students about a particular career. At the same time, a student's key career contact is their parents.

So, what can we do to reach out even more? The key words are 'information' and 'opportunities' – together can we drive interest in our profession and celebrate the growth of a younger workforce.
APM is putting the finishing touches to a new guide to project management for students, which will be available in the new academic year. We have also built two networks comprising more than 100 relatable advocates. To join either network please email me: Caspar.Bartington@apm.org.uk.
We continue to support apprenticeship growth through parent and employer guidance, and we will be embarking on our most extensive school, college and university engagement campaign from September, building a talent pipeline to help companies from all sectors recruit tomorrow's project professionals – as well as revealing the practicalities of good project management in everyday life.
Join us as we shine a light on the project profession – and, through a range of opportunities from insight days to graduate schemes, help us convert the high levels of student interest into tomorrow's project professional.