Strategy 2020 - the future of Project magazine
Over the years Project magazine has played a number of roles in APM. Originally, it was called Bulletin and was a communication tool to inform members of the association's events, meetings and other activities.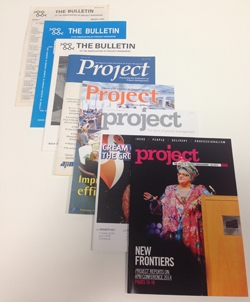 This was pre-internet and print was the only effective way of communicating with members when it could no longer fit the whole association into one room.
Eventually Project magazine evolved as a way of promoting ideas about project management itself. In the last 15 years its focus has been wholly in this area with email and the web keeping members informed of APM activities.
We are now in the process of preparing the next phase of Project's evolution which will see it change from a 36-page monthly magazine to a 100-page quarterly journal supported by more online and digital content.
The change is the culmination of nearly two years work into how members want to receive information from APM. It was triggered by our annual readership survey which showed that although the magazine was highly regarded by those who read it, the numbers who read it were falling.
When we spoke to members, the key message was about time, or more specifically; a lack of it. The intention to read every copy was there, but the ability to do so wasn't. As a result, copies would pile up, unopened and unread, something I think many of us will empathise with.
Members still wanted a printed magazine, which is common across many professional bodies. While commercial titles are closing their print versions and moving wholly online, it is clear there is still a role for a print in the membership offering.
But, Project needs to be a useful resource if readers are going to break the seal on the cellophane wrapper. As project professionals you wanted more in-depth features focussing on professional practice, a subtle shift away from simply showcasing the biggest, fastest and most unusual projects.
The new approach will offer the same amount of content over the year as the monthly, but with more in-depth focus on project, programme and portfolio management practice. It will become a comprehensive reference resource of technical advice, cutting edge ideas and real-life case studies.
The first step in this process has been to bring in Sally Percy, an experienced business journalist, as editor of Project alongside Think Publishing, an award winning content and publishing agency who specialise in professional body publishing.
Along with the change to the print journal, there will be an increase in digital content delivery. The internet allows us to address another piece of feedback we often receive; that we focus too much on particular sectors and specialisms. Within the limitations of a 36-page printed magazine it isn't possible to satisfy everyone. With digital delivery we can offer a much broader range of content. We will also continue to build the online archive of Project magazine articles available to members, along with more news and articles and a regular newsletter.
The new look Project is a key deliverable in our Strategy 2020 and an exciting change in the way we provide content to members. If you have thoughts on what you'd like us to address in the future, let us know.
---
More information: