5 common project management issues... and how to fix them
Got a project on shaky ground? We've all been there...
We've all had those situations where we had one too many projects and one of them seems to be slipping into troubled waters. Or the customer is nowhere to be found and you need sign off on user acceptance testing (UAT). Or very few stakeholders seem to be on the same page in spite of your best efforts to keep them there. Or possibly the budget or timeline is beginning to go out of control.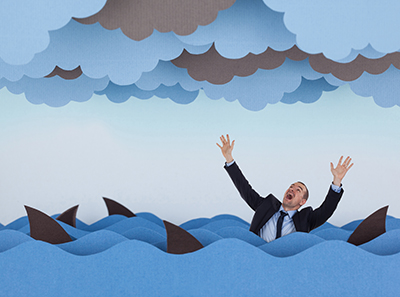 There are a hundred different reasons, excuses, issues, causes, risks, behaviors, and 'out of your control' problems that may arise that can cause one of your projects to start to spiral downward... and you need a quick fix to get control back in your hands.
Let's consider some thoughts on how we might take some of the more common of these scenarios and address them. Please share your thoughts on my list and add your own by commenting here – you'll be helping everyone!
1. Communication breakdown
If communication is the problem, it may be the meeting schedule and the way meetings are handled. To rectify, incorporate a daily project status/summary email that goes out to the team, the customer, all stakeholders and senior management. To improve the meetings, be sure to plan well in advance, send info in advance so participants can prepare and participate effectively knowing what will be expected of them, and followup after each meeting with notes to ensure everyone is on the same page. Ask for feedback if individuals are thinking they had a different understanding. You can't allow things to continue down that path.
2. Financial troubles
My stance has long been that if you stay on top of the project budget weekly and re-forecast every week with the overall project financials reflecting the current actual charges as well, it is very difficult to ever go more than ten per cent over on the budget without knowing it. No surprises – and no one likes financial surprises that don't involve scratch off lottery tickets. So if you are experience some financial troubles on your project right now and you're over ten per cent off budget, you'll need to take whatever corrective action you can to try to get back at least to that ten per cent bar, if possible. First, figure out the leak. It may be incorrect charges or even your own project team putting too many hours of labour against your project. If they don't know how important the financials are to you and how closely you are tracking them – make them aware now. Everyone has those "grey project hours" that they know they worked on one or more of the projects they are assigned to, but didn't track till the end of the week. If they think you aren't the project manager watching financials closely, you may get those grey hours. Don't let that happen. Fix them going back and stop them going forward. It can make a huge difference.
3. Timeline off track
If they project timeline is going off the rails, it may be time to step back and look at what could be moved around on the project. Is there a project deliverable or phase that could be moved out or is essentially non-essential to the initial delivery of the solution. Probably not, but if there is something that can get you closer to the point of delivering the necessary functionality on the due date, that would be worth taking to the negotiating table with the client and probably eating the costs to make that happen. It will mean more work, re-work and post-implementation work you probably won't be paid for unless the delays can be traced to the client. But happy clients are priceless, so it may be worth it.
4. Resource issues
If the project is experiencing resource issues that are causing delivery issues with the engagement, then those need to be resolved as quickly and smoothly as possible. It doesn't matter if it's resources that need to be replaced, added, removed, retrained or reprimanded...- whatever needs to be done should be done as much out of the client's site as possible. They will know, but the less you let it become a project-wide event the better as that would only serve to affect the confidence of the customer in you to control your resources and deliver a successful project.
5. Where's my customer when I need him?
The customer disappearing sounds like a luxury, right? No overbearing customer micro-managing you and asking questions at every turn. But in reality, we need our project clients throughout the project to give and receive information, aide in certain decisions and provide approvals and sign offs. So, if your project customer is prone to disappearing for long periods of time to work on his day job – meaning everything else he had going on before this project was dumped in his lap – then you may have to think creatively to keep him involved. For me that usually means keeping some tasks assigned to him at all times so he needs to be present at weekly project status meetings to discuss and provide updates. But watch out, he may try to delegate that.
Summary / call for input
There are no one-size-fits-all fixes. Sometimes tweaking the status report can make the customer change their feelings about the engagement give them a better outlook overall. Sometimes replacing a vendor can change the supply or service availability necessary for the project. But, in generally, if the project needs help, there isn't a solution that will help every scenario or even every similar scenario – it will always be case-by-case on projects.
Readers – what are your feelings about this list? What would you change or add to it? Please share and discuss.