Using visualisations to engage stakeholders in large-scale projects


Jonathan Whelan discusses how visualisations can help galvanise stakeholders, especially on large-scale projects


Large-scale projects invariably involve a significant number of people, each with their own view of what the current problems are, what the project aims are and what the landscape will look like after completion.

But the latter may not be known at the outset. A lack of clarity of purpose, future uncertainties and differences of opinion can all pull against the intent and momentum of a project.

Visualisations – pictures, diagrams and models – can play a significant part in getting everyone on the same page. Take, for example, the metaphor shown in Figure 1 – feeling the road crumbling beneath your feet as you try to innovate new solutions based on out-dated IT systems.


The visual aspect of the metaphor helps because people can see what is being talked about, especially since our perception of the world is overwhelmingly visual.

However, visual representations are not intended to replace words – change is fundamentally about people talking to and understanding each other, and making sense of what's going on. What we strive for is shared understanding (or meaning), which is essential on projects.

It's not just about having a picture – it's about using it to get a dialogue started

In the early stages of a project, an impromptu whiteboard session, with people each having the chance to hold the pen, can really be inclusive – although some people are not so comfortable doing that, as they think that they are not good at drawing.

Or perhaps a facilitated workshop, where the facilitator is an artist (illustrator or designer) creating a rich picture with the freedom to present information in a way that resonates more directly with the mental models of those present.

In other words, visual representations increase shared meaning and help to get people on the same page.

Give stakeholders a reason to engage

In contrast to large-scale projects, small-scale projects, with much smaller teams, tend to be able to get much closer to the customer. They have more of a shared understanding of what is to be achieved and why, and so they are already galvanised.

Visualisations and their accompanying dialogue fail to truly engage stakeholders if you don't address what they care about. You can have the most accurate, elegant, powerful model, but if it doesn't speak to your stakeholders' concerns, they have no reason to engage.

Marketing – the industry of engagement – always starts with the needs of the customer. When you are creating a model to discuss with an audience, it's useful to think how much of the model reflects your concerns, and how much theirs.

The focus of a meaningful discussion will be the overlap in the Venn diagram in Figure 2, so whatever the content of this overlap is, it should be reflected in the content of your visuals.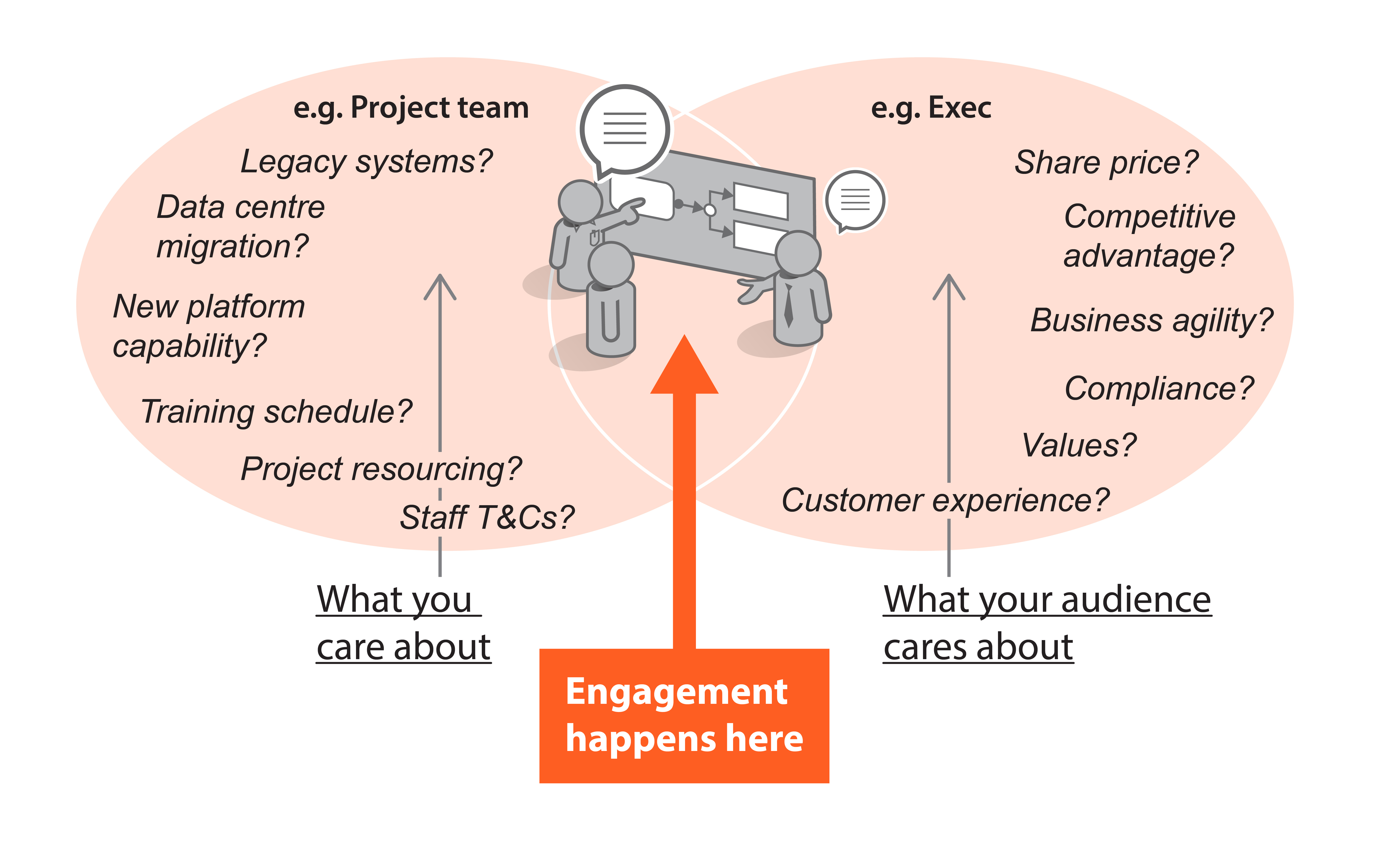 Unfortunately, too often, visuals do not resonate with stakeholders, either because they don't address what stakeholders care about or they are represented in a way that stakeholders can't relate to. Take, for example, Figure 3, in which the abstract representation on the left has little meaning in comparison to the real-world representation on the right.

This is particularly prevalent in IT projects, where visualisations are often constructed using a formal, standards-based notation, such as the Unified Modeling Language. However, to really understand the notation of a standards-based visual, the standard needs to be understood, which most stakeholders don't have the time or inclination to do. The result is that the meaning of the model is lost beyond those that know the standard.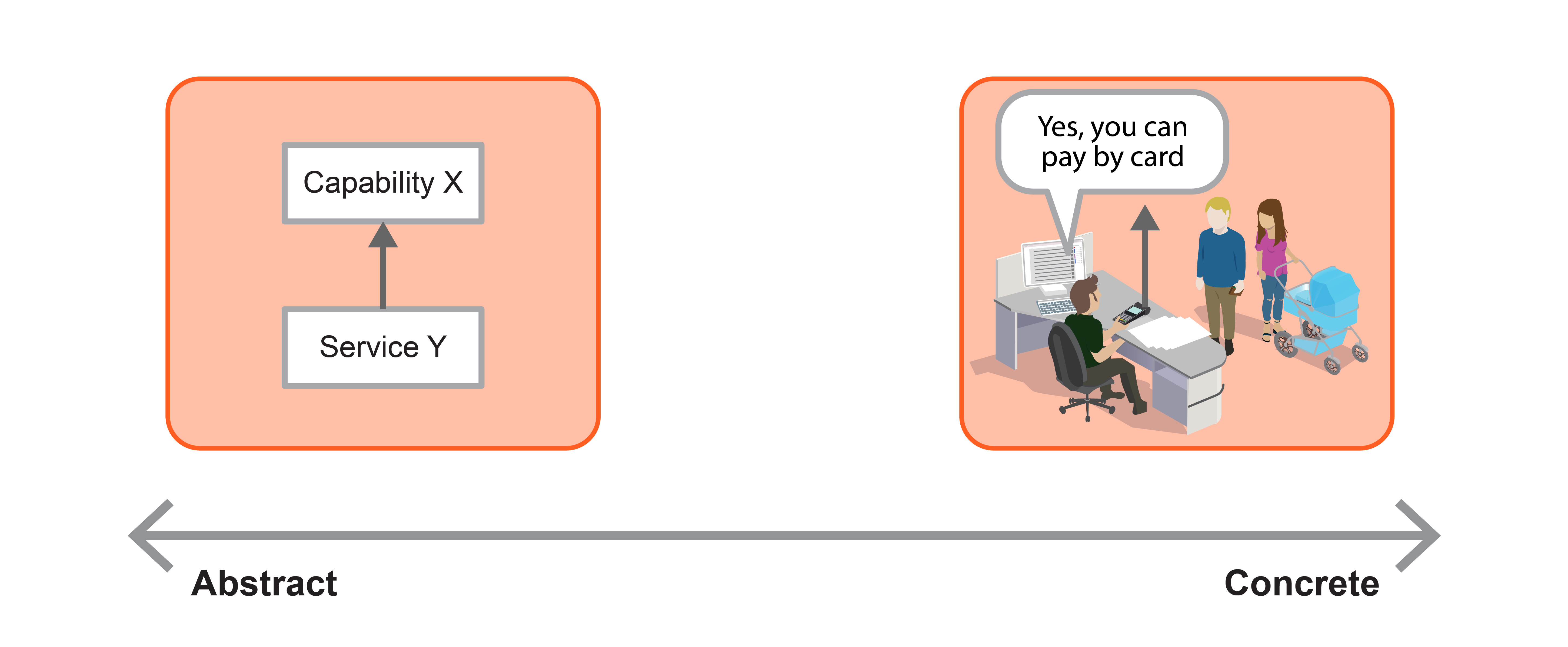 Sometimes, words alone fall short

Of course, visualisation is not the only way to engage stakeholders. If a project can be communicated by just changing the way we use words (e.g. telling stories, giving examples, using metaphors, etc.) then that will usually be more efficient. However, as the focus here is on large-scale projects (and the associated large-scale change that they usually aspire to bring about), the complexities of the inter-connected, non-linear, systemic concepts that form the landscape are almost impossible to communicate using words alone.

So how can organisations learn to make better use of visuals to improve engagement on projects? Other than choosing books and training courses aimed at getting people to draw more pictures, or engaging illustrators or other specialists (which is not a sustainable option ), a great place to start is to help people get over their fear of drawing and start a cultural shift designed to promote dialogue and to engage and galvanise stakeholders – and perhaps even to have a little fun along the way.

Can you draw that for me?


Image: Steve Heap/Shutterstock