What is leadership? The big debate...
Leadership is such an interesting and evocative abstract noun. It conjures up a variety of different expectations, experiences and contexts. Despite the enormous amount of literature about leaders and leadership over the ages, there is still much debate over the essence of leadership.
'What is leadership?' is such a simple question, yet it continues to draw extensive debate. My favourite definition of leadership is: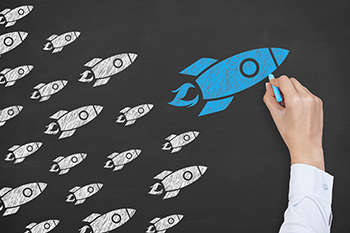 A set of skills enabling an individual to have followers. This individual may or may not have formal authority or a hierarchical position, but they are highly visible and set a positive example.
Traditional views of leadership tend to focus on a formalised role, title or hierarchy – on centralised command and control. These views often emphasise the 'lone' hero or maverick. More recent views of leadership have introduced an emphasis on social and ethical behaviour: Richard Greenleaf (1970) has given us the concept of servant leadership; Rosabeth Moss Kanter (1994), David Chrislip and Carl Larson (1994), David Archer and Alex Cameron (2008), and Ken Blanchard (2015) have developed the idea of collaborative leadership; Daniel Goleman (2003) has given us ideas around emotionally intelligent leadership, Bill George (2004) authentic leadership, and Deborah Ancona (2007) incomplete leadership.
Leadership and change
In today's context – think climate change, disruptive business models, refugees and economic migration, artificial intelligence, globalisation, extended supply chains, data harvesting, exploiting new energy sources – leadership is about change. And this is how it connects strongly with the project world. We recognise that projects introduce change, especially those major complex projects involving infrastructure, digitisation and organisational transformation.
At the same time, we're moving away from a preoccupation with project planning and control tools as the keys to success, and towards the management and leadership of people and their performance. This is not an 'either/or' scenario, but rather a rebalancing of the capabilities needed. Providing leadership capability is not just left to 'leaders', as the project community is discovering, and every project manager needs elements of leadership capability to be effective.
This focus on the human factors underpinning success comes at a time when project leadership is becoming a strategic issue for businesses and government, and when the pool of people with the necessary experience and behaviours needed to run complex, multifaceted and interconnected projects isn't expanding at the rate required to keep up with demand.
Meanwhile, organisations that recognise the value of the project leadership capabilities in their project community have varying responses to it. For some organisations, individuals moving into project leader roles are supported by in-house academies or by development programmes working to educate and support project leaders over a period of time until new patterns and behaviours are established and successful. For other organisations, there seems to be an expectation that simply anointing an individual with the title 'project leader' will automatically endow them with the required knowledge and expertise, leaving the individual to battle through and find their own best way forward.
What should we now be highlighting as important and core project leadership capabilities? Which core competencies do project leaders need to meet the significant asks being made of them?
We live in a time when project leaders are being asked to exceed expectations that are already high; when they are being given high levels of delegated executive power and then expected to hand it back at the conclusion of the project; when they often lead multicultural, multidisciplinary, multi-geographic, multi-time-zone virtual teams and are asked to be visible.
Having worked in the project space for more than 25 years, my top three competencies for project leadership over and above project management would be:
Setting the tone: establishing the culture and environment, as well as the structure, within the project organisation and defining how it connects to the outside. This includes setting out expected behaviours and standards, such as collaborative working and co-creation, and being able to role-model these.


Judgement and decision-making: recognising that decisions often have to be made within defined time constraints and with limited information. This is about making reasoned decisions with the information available, although this may be incomplete, and being comfortable with that decision.


Dealing with ambiguity: plans are never guarantees, however much we try to control the unknowns. Anticipating and scenario planning; working with emergence; building personal and team resilience; and articulating what you do know, what's not changing and what your team can count on all help to reduce uncertainty and the problems it creates.
What would be your top three competencies for project leadership? Comment below...
---
Sarah Coleman is a Fellow and former non-executive director of APM
APM research
Sarah Coleman works with cross-sector multinationals and government and non-governmental organisations in the UK and internationally, helping them improve project, programme and transformation performance. She is also a published author and visiting fellow at Cranfield University. Coleman is currently co-leading research into project leadership capabilities with the university and multinational industry partners as part of the APM Research Programme.
She explains: "The research aims to identify, highlight and share project leadership competencies at a time when projects are becoming a strategic issue for organisations, and for mega-projects commissioned by government. With projects representing high costs and increasingly using extended supply chains and multi-geography virtual teams, they also represent high risk. This matters. The government, for example, calculates that over 90 per cent of policy, and over £500bn of spend, is now delivered through major projects."
Coleman adds: "The identification of particular competencies leading to an improvement in project leadership capability will have a significant impact. Project leaders have typically come from the STEM fields through technical career routes, and understanding project leadership capabilities that 'make the difference' can support organisations in widening the pool of future project leadership capability in line with predicted need through recruitment, retention, learning and development."
Find out more here, the research is due to be published later this year.