APM needs your feedback on CPD
With the advent of APM becoming a Chartered body comes an increased focus on continuing professional development (CPD). Compulsory CPD is already a component of APM Registered Project Professional (RPP) standard. It is proposed that it is a requirement both for applying for the Chartered standard, and for the ongoing maintenance of the Chartered Project Professional (ChPP) designation [subject to the forthcoming consultation on Chartered confirming this).
The provision of relevant content to allow our members to undertake appropriate CPD, resulting in meaningful change, is also essential in achieving all five of the objectives set out in the Inspiring positive change – APM strategy.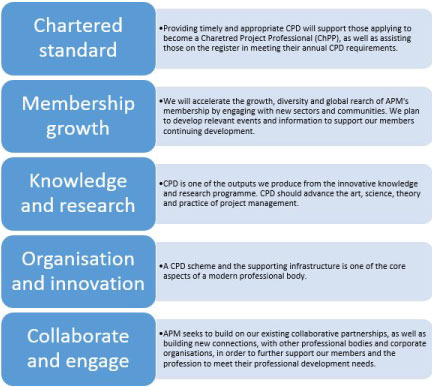 Find out more about the APM CPD scheme.
Enhancements to the APM CPD offering are being planned into work for the next few years using phases, and are currently being scoped. Both content and the infrastructure that sits around this, allowing members to record and monitor their CPD, are core aspects that are to be factored in, following consultation with the membership, corporate organisations, as well as other professional bodies.
Call to action - you
Continuing to build on our collaborative partnerships with both other professional bodies and employers will help to identify key areas for developing CPD offerings that meet the needs of industry and are relevant to our members. We will also be welcoming feedback from individuals on CPD.
To begin with, we welcome any feedback that you have on the latest in our Road to Chartered series on CPD, and the reflective questions contained on page 21. Please email your feedback to cpd@apm.org.uk.
Download the latest Chartered paper
---