APM collaborates on City AM's first project management report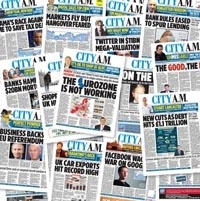 APM has collaborated with City A.M. on their first special report on project management that will be published in the London business newspaper on Wednesday 23rd October*.
Reaching 275,000 readers throughout London and the Home Counties the report will feature current trends in project management with the aim of highlighting the importance of having well trained and qualified project managers. By focusing on training and development the report hopes to move away from project managers accidentally falling into project management as a career.
The report will go on to explain how APM have created a new pathway into the profession with the recent launch of the Higher Apprenticeship in Project Management. The scheme, co-created with Skills CFA, will embed vital project skills in organisations throughout England and Wales therefore raising the bar of project management professionalism.
The industrys most prominent thought leaders will feature within the report, with APM president Tom Taylor contributing to an expert panel. The report is specifically designed to engage key business decision makers with the importance of project managers, and the tools and training they require to deliver on time and on budget.
It follows on from APM featuring in two other special reports that were published in the national press. The Times published a report in June where APM chairman Mike Nichols explained the idea behind the associations ambitious vision. Before that, APM supported the Daily Telegraphs special project management edition of The Business Reporter that came out in April.
If you dont manage to pick up a copy on Wednesday 23rd October APM will publish a link to an online version of the report that will cover*:
Change management 68% failure rate isnt acceptable, could outsourcing be the answer when undergoing organisational change?
Risk and regulation Do your team have the tools and software they need to deliver a successful project?
The dangers of the accidental project manager How a well qualified project manager could benefit your business in the short and long term.
Looking beyond the numbers An insight into the importance of human capital management.
Crossrail A current analysis of the 14.8 billion project and how it is being managed.
City A.M. is distributed at more than 250 carefully chosen commuter hubs across London and the Home Counties, as well as 1,600 offices throughout the City, Canary Wharf and other areas of high business concentration, giving it a daily readership in excess of 275,000 professionals.
*Publication date and editorial subject to change.