APM collaborates with the Institute for Government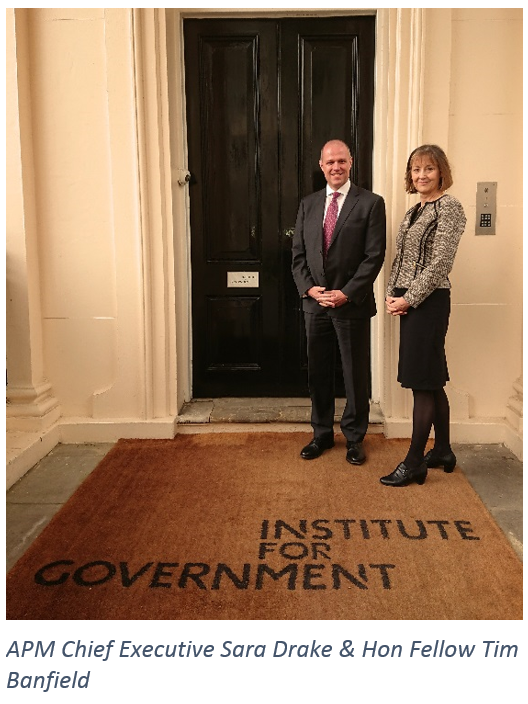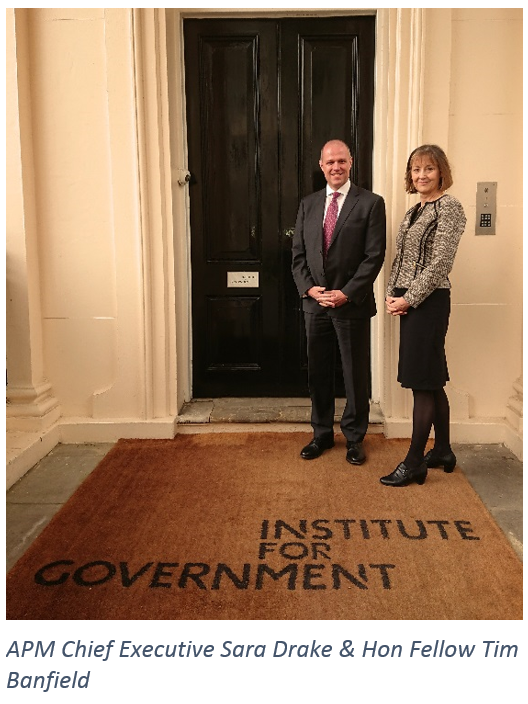 APM is collaborating with the Institute for Government (IfG) on a future report highlighting how to be an effective infrastructure minister.
"APM has many members in central government and values its partnership with the IPA, so we are delighted to work with the Institute for Government on this issue." Said Honorary Fellow Tim Banfield who gave the opening statement at the event held today (24/04/2018).  
Twenty-six ministers across eight departments are responsible for making decisions about economic infrastructure in the UK.  They are crucial to delivering high-quality infrastructure to help tackle the major challenges facing the UK today, such as lagging productivity and regional inequality.
Chaired by Bronwen Maddox, Director at the Institute for Government, the event explored the challenges ministers face when making infrastructure decisions, drawing upon the Institute for Government's Ministers Reflect Series and research into how government can make better decisions on infrastructure.
"Ministers need to create a climate in which they can be challenged and told bad news by officials. Otherwise they make bad decisions and don't find out what's going on."  Commented the Rt Hon Patricia Hewitt, Former Secretary of State for Trade and Industry who was joined by the Rt Hon Sir Patrick McLoughlin MP, Former Secretary of State for Transport on the panel.
"The setup of the IPA within government and the creation of the NIC to oversee a longer-term pipeline of major projects are important building blocks in developing a more effective central government project management and infrastructure capability, to support the administration of the day.
"But the political process remains a vital part in this wider process. The government of the day brings the ferment of ideas and the political drive yet we expect a lot from individual ministers with big decisions to make but often with little experience - so today's session and the subsequent report will hopefully shine a light on how we can better support incoming and transferring ministers". Concluded Tim.  
Watch out for: 
Report: The lfG will produce a report in May 2018 which will draw upon the findings of the panel debate, existing IfG infrastructure research and the 'Ministers Reflect' archive, to provide recommendations on how to be an effective infrastructure minister.
The lfG will host a high-profile panel debate following on from the publication of the first National Infrastructure Assessment.
Further Reading
Ministers Reflect – An interview with Patrick McLoughlin
IfG – How to improve infrastructure decision making in the UK