APM forum highlights the value of volunteering
Members of APM's volunteer community gathered in Bristol for the organisation's summer forum to discuss strategy, chartered status and new ways to share knowledge with the project profession.
The event, held in Bristol on Friday, 8 June, was attended by nearly 100 volunteers who joined face-to-face and virtually. These included – for the first time – participants in APM's mentoring programme.
APM volunteers provide vital expertise and commitment to the project profession through the organisation's branches, Specific Interest Groups (SIGs), mentoring and other initiatives. This supports the development and promotion of project and programme management.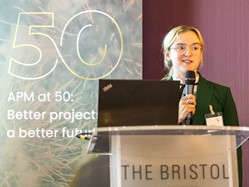 The forum was preceded by a formal dinner, where the guest speaker was education outreach volunteer Bel French, the youngest ever Chartered Project Professional (ChPP).
Bel (pictured opposite) shared inspiring accounts of her journey from apprentice to ChPP at just 22.
The main event took place the following day, opening with a presentation on APM's refreshed strategy from Chief Executive, Professor Adam Boddison, and Board Chair, Debbie Lewis. The pair also answered questions from attendees. The event programme also included networking sessions, workshops and a discussion around content creation, to help APM create the right resources for its diverse audiences.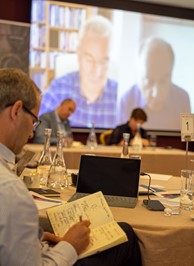 Caspar Bartington, Head of Volunteer and Education Engagement at APM, said: "This year's forum had arguably the largest number of emerging professionals, which bodes well for the future of APM volunteering. There were excellent opportunities to share knowledge with other members who people are unlikely to meet outside of the forum."
"Volunteers play an important role in supporting the development of the profession. We look forward to the next forum where we'll be once again announcing the winners of the Volunteer Achievement Awards."
There are several ways to become involved with APM as a volunteer. You can see some of the current opportunities here.