APM – helping research to speak your language
The Association for Project Management (APM) is pleased to launch its latest research initiative the APM Research Summary Se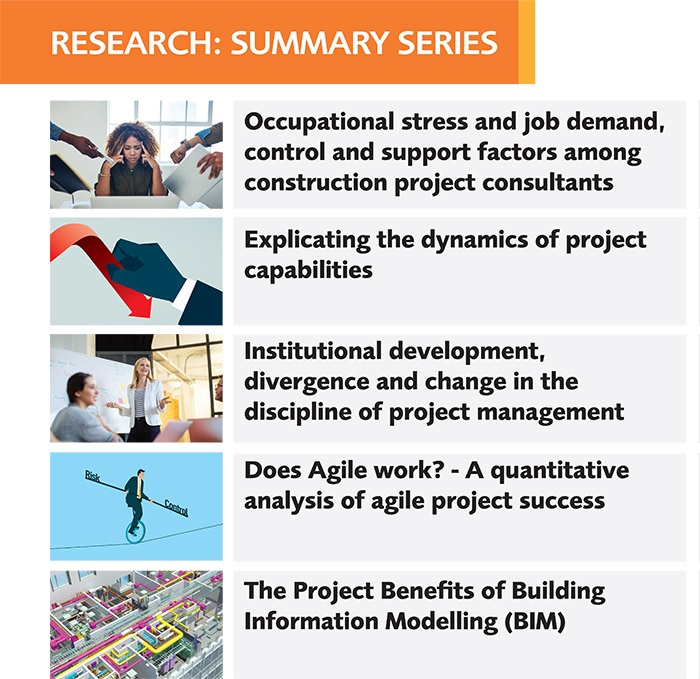 ries
which will see the production of practitioner-focused summaries drawn from published articles within the International Journal of Project Management (IJPM). The initiative follows on from APM's research consultation of 2014-15 which highlighted the need to disseminate cutting edge research for practitioners by repurposing existing research into a practitioner-ready format. 
Vicki Wetherell, publisher of Business & Management at Elsevier said, "Elsevier is delighted to support the APM on this initiative, taking scholarly publications from the International Journal of Project Management and adapting them for practising managers in a translational way, making the research more accessible."
The initial launch will comprise five summary papers featuring diverse subjects from agile to occupational stress and BIM and institutional development. The concept behind the series has been well received by leading thought leaders within project management, including Professor Mike Bresnen at The University of Manchester. "It looks like a really excellent way for the APM to disseminate research more widely to have greater impact and I appreciate my work being seen as valuable enough to be included in the launch of the series," enthused Professor Bresnen.
Summary papers have been produced by experienced technical writers who have worked alongside the original authors to include the latest developments on the subject matter in question. Papers are selected based on their pertinent subject matter, links to APM research themes and priorities and their interest to practitioners. APM also hope that its members and the wider project management community will play an active role in identifying which papers may be included in the near future.
APM CEO Sara Drake said: "We are delighted to welcome this initiative as part of APM's growing research programme. We hope that by repurposing leading research we will help the original authors to reach new audiences, enhancing research impact and encouraging interest in the original paper from practitioners and students alike."
For more information on the APM Research Summary Series please click here.
---