APM Thames Valley branch AGM and Transportation change practitioner
21st June may have been the longest day and the hottest in that month since 1976, but this didn't prevent a packed house attending the "Changing Transport" event in a beautiful location at British Airways' Waterside Headquarters near Heathrow.  Held in conjunction with the Thames Valley Branch AGM, the occasion showcased the work of the Enabling Change SIG's Transport Change Practitioner Group and brought it to life through a fascinating case study and interactive group discussions.
Following the AGM and a welcome from Robbie King, Head of Business Transformation at British Airways, Simon Williams, Head of Business Change Project Management at Transport for London and Enabling Change SIG Committee Member, introduced the work of the Transport Group. He explained that as part of its mission to "improve the change capability of organisations, teams and individuals," the SIG had established a number of industry sector specific practitioner groups to focus on best practice and common challenges for implementing change in different environments.  Currently covering Public Services, Financial Services and Utilities as well as Transport, the groups typically consist of a number of senior change practitioners along with an academic and author working in the field.  The Public Services group's recent research report was also highlighted, available at https://www.apm.org.uk/news/research-report-change-in-the-public-sector/.
Simon explained that the Transport group had been formed in January 2015 under Chatham House rules, with objectives including thought leadership, knowledge sharing, identifying issues and constraints and advancing practical solutions. They had produced a map of sector challenges, shared insights of good and bad practice via case studies and exchanged research and frameworks.  Key challenges identified include:
The speed of technical change compared to long lead times for transport infrastructure
Network complexity
Lack of integrated transport policy
Political and regulatory environment
Organisational and individual capabilities
Safety and security issues
Rising customer expectations
High public profile
Role of trades unions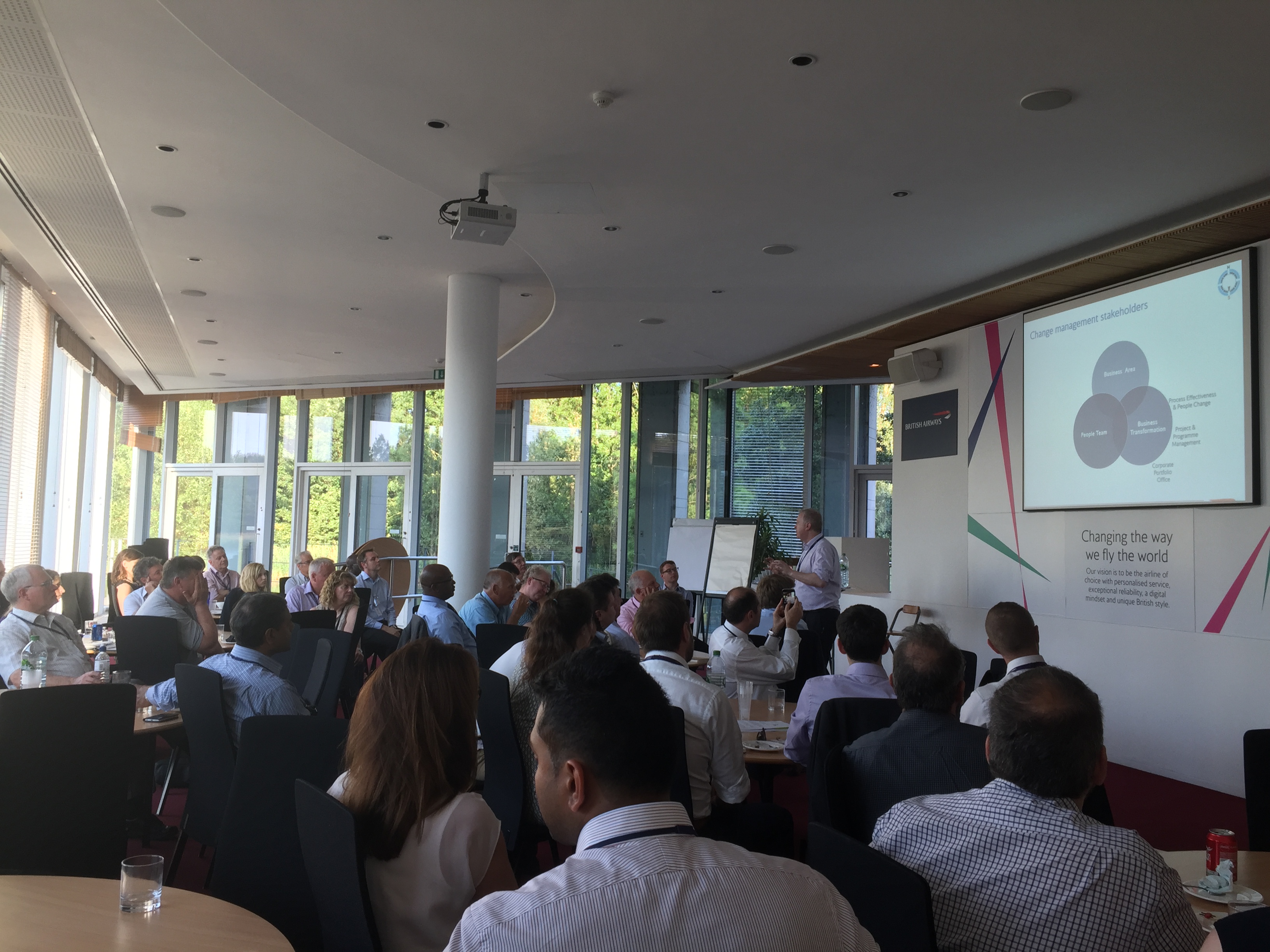 The group had developed a number of recommendations which were compiled in a report in Autumn 2016. These covered four themes: 1) competence, rules and training; 2) methods, tools and terminology; 3) business cases and measures; and 4) stakeholders and requirements.  The group was now keen for more people to become involved to help take forward the next phase of its work.
Following this, Sam Pritchard and Jason Smith from British Airways introduced the case study explaining the airline's move from the North to the South Terminal at Gatwick Airport.  The programme objectives were to move the operation safely, at no additional cost and with equivalent or improved levels of infrastructure.
There were a number of significant challenges relating to governance and structure, regulations, safety and security and operational readiness, not to mention a critical move window with two competing airlines also moving terminals simultaneously. To deliver in this environment with a complex change narrative, a substantial package of change activities was put in place, bringing together the central Business Transformation and People teams along with the affected business areas.
The Prosci ADKAR model was used to drive the change, with a strategy based on four key themes of inform, involve, familiarise and embed. A multi-channel approach was used to provide information, whilst change champions and workshops were used to facilitate genuine involvement.  Familiarisation included a video based on "Location Location Location" as well as highly regarded site visits, whilst the strong focus on embedding incorporated tests, trial flights, e-learning and migration support.
Jason highlighted that particular successes included the way change management was integrated into programme delivery, with close 360° stakeholder collaboration.
Following the presentation, table groups were given the opportunity to discuss the following three questions:
What approaches are most effective in managing handover from a programme into business as usual operations to ensure change is successfully embedded and the customer is the end beneficiary of change activities?
 What strategies and approaches are most effective for engaging colleagues who are remote from our businesses as well as trades unions in our change initiatives?
3. How can we best collaborate with multiple stakeholders with differing views and manage and mitigate dependencies from other change initiatives in order to successfully deliver people change?
Some of the key themes in the responses included the importance of allocating sufficient resources to the change effort, the need for genuine engagement and buy-in, knowledge of the different channels which are most likely to reach particular groups, and the importance of making the change compelling and maximising the use of informal interactions. A prize was presented for the best overall contribution in the feedback session, which reflected the need to involve stakeholders through the whole of the change journey from the earliest stages onwards.
A copy of the slides from the event is available on the APM slideshare page.  If you are interested in becoming involved in the work of the Transport Change Practitioner Group please contact simon.williams@tube.tfl.gov.uk
The branch AGM took place prior to the session and following nominees were unanimously elected to serve as the branch committee over the coming 12 months: Dr Steve Walters, Greg Krawczyk, Sally Andrews, Kathy Stevenson, David Coombes, Peter Walters, Daren Evans, Heather Williams, Paul Neale, Nnamdi Obienu and Carol bell