Research report: Change in the public sector
APM has launched its latest research report The successful delivery of change within the public sector: getting it right.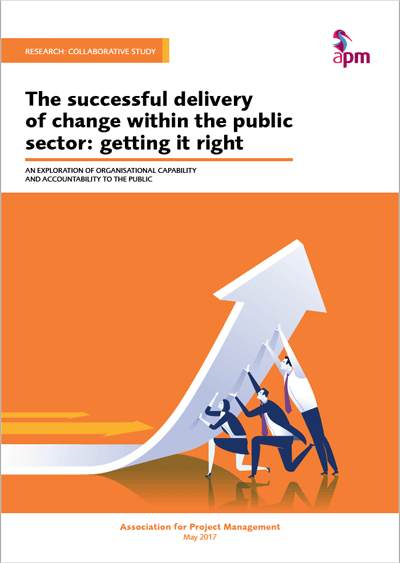 Commissioned by APM's Enabling Change SIG Public Sector practitioner group in conjunction with APM Research, the report seeks to promote new understanding of change in public-sector organisations while triggering new discussions on how delivery can be improved.
Commenting on the importance of the research, Dr Andrew Schuster (PWC), research project lead, explained: "Every segment of the public sector appears to be undergoing enormous change in response to near cataclysmic shifts in technical, economic, social and political pressures. The pressures can be expected to increase in coming years. This study explores the distinctive nature of the public sector and how it enables to change, providing relevant and practical insights. I hope it will help organisations to cope with the current changes and to prepare for those in the future."
The research project considers criteria that contribute to the successful delivery of change in the public sector and was designed around two key concepts: organisational capability and accountability.
The study found six criteria (below) were critical to improving the delivery of public-sector change. If one or more of the identified criteria were absent, the change largely resulted in failure.


Becci Bryant, chief executive of Staffordshire Fire and Rescue Services, who participated in the research, commented: "I was very pleased that the fire service was invited to support the development of the APM report as the work that has been undertaken to ensure effective change management at Staffordshire Fire and Rescue Service has been substantial over the last five years."
Participating organisations also included:
Animal and Plant Health Agency
Department for Business, Energy & Industrial Strategy
Her Majesty's Revenue & Customs
London Borough of Hackney
Ministry of Justice
Independent consultants experienced in working across public-sector organisations
Further information on APM's research can be found HERE
---