APM welcomes local MP Greg Smith
Association for Project Management (APM) welcomed Greg Smith MP to discuss the impact the organisation and the project profession are having locally and across the UK.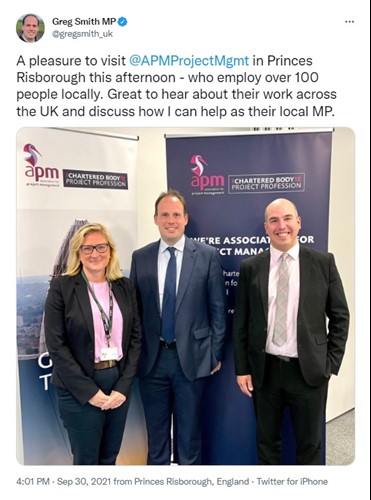 Mr Smith is Member of Parliament for the Buckingham constituency, which includes the town of Princes Risborough where APM is based. He was greeted by APM's chief executive Adam Boddison, director of membership Rebecca Fox, and head of public affairs Andrew Baldwin, who gave him a tour of APM's office and introduced him to members of staff.
The group discussed the positive social and economic contributions of project work and how Mr Smith may be able to help raise awareness of the profession's importance.
"As our local MP, we were delighted to welcome Greg Smith," said Rebecca Fox. "He was very interested to hear about the work APM is doing in our local community, as well as nationally. It was a positive meeting and we look forward to opportunities to work together to raise the profile of APM and the project profession, including our 50th anniversary next year.'"