Attendees to the Association for Project Management Conference London 2019 show a real appetite and desire to move forward as a profession
At a time of great change – on a domestic and global front, the theme for this year's APM Project Management Conference London, was 'Power of the Profession: delivering value in a transforming world'. Sponsored by Hyde Park Solutions, the event - with over 450 delegates from the project management world in attendance - took place on Thursday 2 May at the Westminster Park Plaza Hotel.
With the demand for skilled project professionals increasing, along with the challenge for projects to be successfully delivered, the event theme was reflected in the agenda with three supporting streams:
Adapt - exploring the ways project professionals can develop their careers using skills that are transferrable across industries and adapt to different environments.
Work smart - challenging professionals to approach projects to work not just harder but by using innovative methods and new technologies.
Perform – discussing how project professionals can improve their performance and delivery of projects and talking about the value of diversity and how this can be developed in the profession.
Kicking the day off bright and early Rebecca Fox, head of membership at APM hosted a corporate partner breakfast briefing with guest speaker Gemma Tetlow, chief economist from the Institute of Government. Covering off the hot topic of Brexit, Gemma revealed important factors that could impact the economy in the long-term which included: what happens with rules on immigration, non-tariff barriers to trade and whether any reduction in trade/migration/investment have a knock-on effect on productivity.
Opening the main conference later in the morning, APM chairman John McGlynn discussed how projects are the vehicle for economic growth in the UK and talked through the recently launched chartership status and asked them to stand and be recognised.
The first keynote of the day was a powerful one. Baroness Eliza Manningham-Buller, a former head of MI5 gave a fascinating speech detailing how she led substantial organisational change in the wake of 9/11 and the threat from Al-Qaeda. During her time at the helm (2002-2007), MI5 doubled in size, opened eight new offices and altered its approach to the professional development of staff with the establishment of a training academy.
Eliza talked through the period of substantial change for the national security agency and explained how they adapted to new approaches quickly, whilst under enormous pressure. She went on to share key advice on leadership – more details of which you can find on the APM blog.
Next up was the panel debate with David Sillito, media and arts correspondent from the BBC steering the conversation on challenging the conditions for project success with participants from NATS, Nationwide Building Society and Faithful+Gould. Competing priorities and defining success factors were highlighted as key challenges.
Before breaking for lunch, keynote speaker - cognitive neuroscientist and science communicator from The Centrica Lab - Araceli Camargo, took to the stage and talked to attendees about how the world is changing and what we are going to need to adapt. She cautioned that fatigue (due to longer work days and other factors) can affect the way we make decisions but encouragingly added that newer technologies such as artificial intelligence (AI) would start to do repetitive machine work, freeing us up to act in a distinctively human way. "This," she said, "will result in more time for hypothesis, thinking, reflection, problem solving, communication and collaboration – all of which is good news."       
A break at lunchtime gave delegates ample opportunity for networking, to speak with exhibitors and event sponsors and order/pick up a copy of the new APM Body of Knowledge 7th edition, which launched that day If you weren't able to attend the conference, you can get your copy here.
First up after lunch the three stream sessions – Adapt, Work Smart and Perform – kicked off. Audiences were full and in some cases, standing room only. Delegates listened to presentations from Raki Nikahetiya - operations manager Asia at ZSL, Andrea Winders, CEO at Disruptive Ltd and Neil Crewdson, head of project management functions at Sellafield.
Raki drew attention to extreme poverty in some of the world's poorest countries and subsequently shared some great tips on what he wished he'd known in more detail when working on projects – more background context and needs, inception – reviewing logic and assumptions and above all, that it's never too late to make a change. He encouraged delegates to look at the bigger picture and risks.
How to create a great place to live, visit, invest and stay was covered off by Andrea. She talked through the projects happening in Whitehaven and stressed the importance of respecting nature and surroundings – "the future of citizen-centred living," she said.  
Neil talked about the need to invest in the next generation of project professionals and talked through Sellafield's Project academy programme. He introduced three of their project management apprentices who talked through their journey as well as the opportunities and challenges they've faced so far in developing the culture of such a large, concentrated organisation.
The second wave of afternoon sessions included presentations from Suresh Sadanandan, head of project & programme management at HS2, a joint presentation from Imogen Farhan, researcher at Reform and Adam Altoft, programme director – Smarter Ways of Working at HMRC and finally Dee Tamlin, head of client and legal project management at Pincent Masons LLP.
The focus from Suresh was highlighting the benefits that the HS2 project will deliver, in addition to stressing the importance of professional development, innovation and collaboration for those involved.
Speakers from the civil service - Imogen and Adam made it clear that the sector is determined to change the way it works. In particular Imogen discussed the benefits of smarter working, which included improving collaboration, empowering staff members and implementing better productivity and efficiency. Following up on this, Adam acknowledges the positive changes these can bring and revealed that HMRC are now offering 20 different types of work space for their employees – generating opportunities for flexibility and improving employee experience.  
Focusing on the hot topic of Diversity, Dee flagged how clients in the legal sector are driving change and the role of project management being a differentiator. She talked about the need for diverse teams – each person bringing something different to the table and how being themselves, people's productivity in the workplace changes. She gave some great tips on how to attract and retain the best people in an inclusive environment.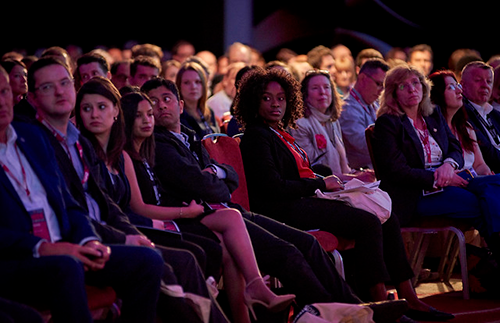 To a packed room, the final keynote late in the day was given by Tom Ollerton, CEO and founder at Automated Creative. He inspired delegates to 'imagine' just like John Lennon did (and yes, he started off with a video of the song 'sang' by world leaders) – to see what's possible with AI. Over time, he predicted that the complexity of AI required will increase: From descriptive (what has happened), to predictive (what should happen), to prescriptive (what will happen) to autonomous (make things happen) to finally sentient (where anything could happen). He encouraged the audience to speak to AI project management providers: "The technology is capable of more than you think," he said, "After all, we've seen it get a record deal and even make David Beckham sound reasonable in an advert. Anything is possible." After his presentation Tom received a sea of questions from the audience members demonstrating the interest in AI right now.    
Tim Banfield, conference chair closed the programme at the end of the day commenting that he's never known so many questions to be asked by delegates during presentations, nor discussed in the break sessions. He said: "It shows the real appetite and desire to move forward as a profession and much like Eliza mentioned in her keynote, we are changing the profession from the ground up. I actively encourage everyone to be a part of this and get involved." He then extended his thanks to the headline sponsor - Hyde Park Solutions, to all of the exhibitors, venue and APM team who made the day a real success.
The next APM Conference takes place in Manchester on Wednesday 26 June. We'd love to see you there.