"Being on APM's Branch and SIG Committees opens up opportunities"
The nomination window to be part of our Branch and Specific Interest Groups (SIG) committees is open. This is the chance for you to join our volunteer community and shape the project profession. We're the only chartered membership organisation representing the project profession in the world and our Branch and SIG Committee plays a pivotal part. Learn how you can get involved. Find more information by visiting our dedicated page.
James Lesingham (pictured)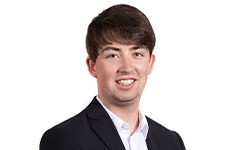 started volunteering as a Student member with the APM Programme Management SIG when he was a Junior Project Professional. Now a Senior Project Manager, he reflects on his project journey.
"Volunteering with APM is a great way to give back to the project profession but also has many benefits too.
"Volunteering has helped me understand the profession from the very start. For example, working within the APM Programme Management SIG has helped develop my fundamental understanding of programmes, and now being able to actively contribute to wider programme management knowledge sharing.
"Volunteering really has touched on a lot of areas and has helped build my fundamental understanding of the project profession.
As a committee member I've had the pleasure of working with and learning from other fantastic project/programme professionals from a wide range of backgrounds and areas of expertise. These connections have not only been invaluable in building my knowledge of the profession but also helped to broaden my network and even, on occasion, opened the door to other opportunities."
"Being linked to the volunteering community and APM has supported my knowledge of emerging trends and being on top of the game in terms of best practice which puts me in a really good position.
"I've supported a range of activities such as planning and organisation of SIG annual conferences and other virtual events. I've written and published blogs and supported the creation of new knowledge content, all of which I'm very proud to have contributed to and pleased to see they're helping others to also develop and better understand the subject matter.
"As a volunteer I've had the opportunity to get involved in several events such as the volunteer's forum, some of which have lead to other opportunities such as speaking events but each providing a great networking opportunity. Being able to meet and get to know other project professionals from varying industries and background has been great in supporting my understanding of the profession but has also been key in helping me to understand what I need to do to get to where I want to be with my career development.
"I think there's so much opportunity to volunteer within APM. Whether that is from writing blogs - which is very much something you can do in your own time if you've got a really good thought or idea that you can put down on a piece of paper or a computer screen - or supporting a committee for one of the SIGs or branches and volunteering some of your time to joining and being part of the wider APM activity. I think there's something for everyone, so I definitely encourage others to get involved.
To find out more, visit our Branch and SIG committee nominations page. Applications must be submitted by 20 June 2022.