Benefits and Value, branch corporate event
On Friday 25 October in a packed Cotton Room at the Cloth Hall in Leeds, the APM Benefits & Value (BV) SIG presented a guide to Benefits Management Frameworks at the APM Yorkshire and North Lincolnshire branch of the APM's latest half day branch Corporate Event. These free events are specifically designed for experienced project, programme and portfolio managers from APM's Corporate Partners.

Following a light lunch, the attendees congregated to hear Hugo Minney present his guide on Benefits Management Frameworks in two parts, with David Golding also there for assistance.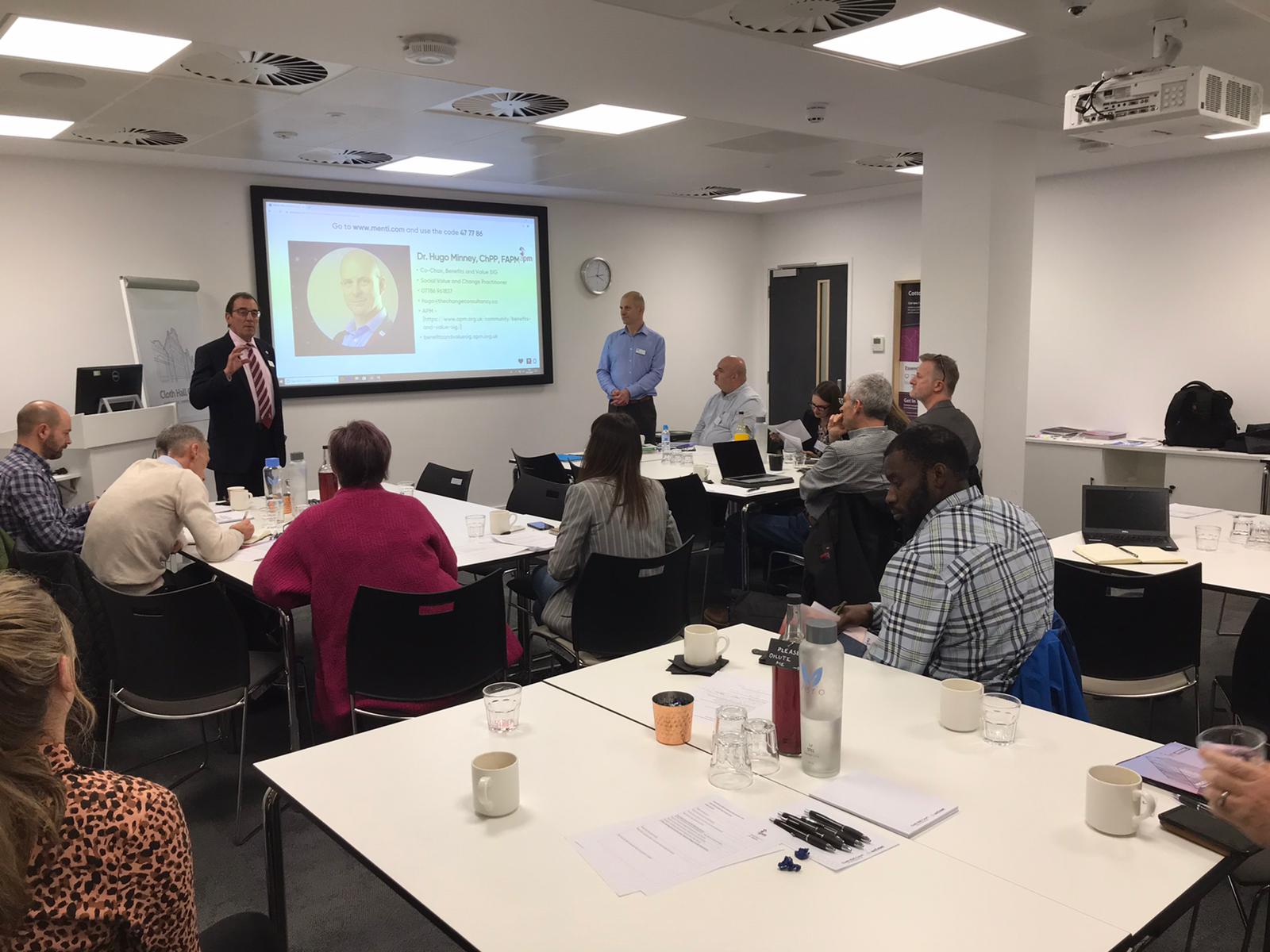 The first session used Mentimeter to bring out and share the audience's knowledge and expectations of the day. It looked at how Benefits & Value can help the P3's within an organisation, by Focusing on Real World Problems, Engaging with Stakeholders (What Benefits for Which Stakeholder), Making better Decisions & Plan, Track and Report all forms of Value.

This session also mentioned Social Value and Social Return on Investment, and the use of Benefits Mapping, Amplify™, Value Delivery, the Lifecyle of Identify, Plan, Monitor and Evaluate, and the Strategy Execution Management Life-Cycle.  HM Government, which is a major client for most APM corporate members, mentions Social Value a lot in the Treasury Green Book.

Following a break, allowing the delegates to network, the next session discussed "Prioritise Your Portfolio Using a Benefits Management Framework".
It picked apart some old favourites – benefits management in Projects, Programmes and Portfolio, how to align benefits to each area of your organisation's needs, differences between Benefits Management and Benefits Realization Management, and using Benefits Mapping and using Amplify™. It also highlighted the differences between Projects, Programme and Portfolio's enabling the point at which Benefits can be aligned to each area of Organisational needs.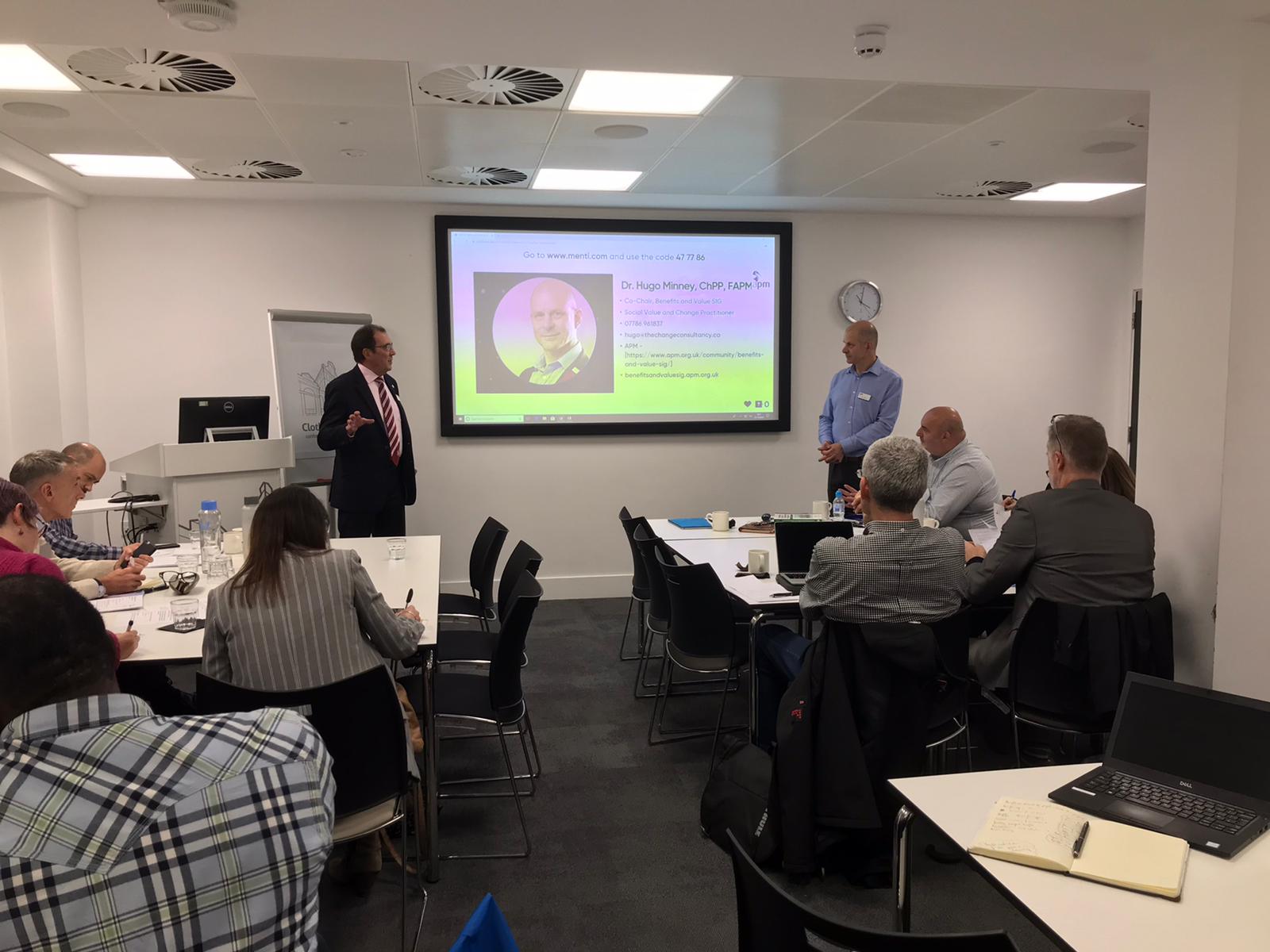 A particular challenge, but so important when justifying investment in £GBP, is the use of a common currency for benefits.  With a common currency, benefits can be added together.  This means that we can prioritise Enterprise, Portfolio, Programme or Projects Objectives, compare value and ROI, and understand dependencies and their actual impact.  Benefits management may lose the nuance of a delay if the benefit will still be ultimately delivered – by setting a time window for Return on Investment, the impact of a delay can be better understood (less of the ROI is within this time window) which gives a clear direction on where to focus scarce resources.

During a final round of feedback, Corporate Delegates were asked what would best describe the Benefits Maturity within your Organisation, and How it could be improved.  All of these answers are in the Slide Pack available on this page.

"What have we learned? / What will we do differently as a result of attending this workshop?" was shared, which made instructive reading.

Throughout the afternoon delegates engaged in lively discussion and as much as possible has been captured in the slide set.