Call for applications for IJPM editor-in-chief
The International Journal of Project Management is seeking a new editor-in-chief to provide strategic vision and future improvement to one of
the profession's leading publications.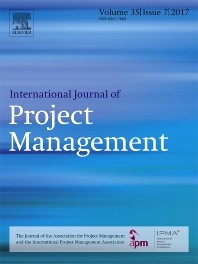 The International Journal of Project Management is published in collaboration with the Association for Project Management (APM) and the International Project Management Association (IPMA) and offers wide-ranging and comprehensive coverage of all facets of project management.
It provides a focus for worldwide expertise in required techniques, practices and areas of research and covers all areas of project management from systems to human aspects; links theory with practice by publishing case studies and covers the latest important issues.
With a 2016 Impact Factor of 4.034* and CiteScore of 4.58, the International Journal of Project Management is the leading journal its area and receives on average 1,000 submissions per year.
The current editor is stepping down at the end of 2017 and we are seeking applications for a new editor-in-chief, for an (initial) term of 3 years to start 1 January 2018.
Each nominee should have the following qualifications:
Strategic vision and an ambassadorial and collaborative attitude for the positioning and further improvement of the journal
Prior involvement with the journal as author and/or editorial board member
Strong research record and evidence of leadership and networking in the field
Adequate support from applicant's institution
Ability to dedicate a substantial portion of annual workload to managing journal activities and familiarity with online submission systems
Affinity with social media and the role it plays in the current scientific climate
Willingness to implement non-traditional  approaches to publishing content
Applicants should provide the following:
A 5-10 page proposal, outlining a strategic vision for managing the journal
A full CV
A letter of support from the dean of each applicant's college 
Letters of recommendation
If available, metrics on previous editorial experience (i.e. papers handled, special issues overseen, etc.)
Applications will be reviewed by the publisher, APM and IPMA, with the final decision being made by the journal publisher - with the goal being to notify candidates
by 17 November 2017.
Key Dates:
30 September 2017 - Full application package due
October-November 2017 - Applications reviewed
17 November 2017 - Successful applicant advised
For application or further information, please contact Vicki Wetherell (Publisher) v.wetherell@elsevier.com
*2016 Journal Citation Reports© published by Clarivate Analytics 2017