Dealing with Difficult Stakeholders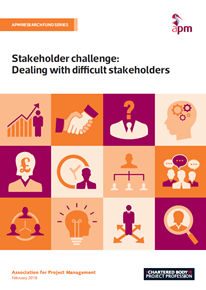 Most project professionals encounter stakeholders, but how they manage the difficult ones can make the difference between success and failure.
Whether faced with apathy or open hostility, guidance and a framework to help can be found in a new report from the Association for Project Management (APM).
Dealing with Difficult Stakeholders is the result of research into how project managers actually cope and the impact on their own role and well-being as well as on their project.
It is an area of stakeholder management that had been neglected until now, according to the research lead, Dr Christine Unterhitzenberger, Senior Lecturer in Project Management at Liverpool Business School.
"The well-being of project managers is crucial for the successful management of projects. They need to develop strategies on how to cope with the impact difficult stakeholders can have on them.
"This work is of high importance for everyone who is working with stakeholders in projects and who is struggling to find strategies to deal with them."
The research was commissioned and funded by APM and included interviews with project professionals with at least five years' experience.
It looked at areas both within the project environment and outside, such as whether a stakeholder is difficult because of their personality or because they want to make things difficult for the project manager. The report suggests coping strategies depending on the factors involved.
Welcoming the report, Benedict Pinches  of  APM's Stakeholder Engagement  Focus Group, added: "The importance of engaging with people and the impact it can have on a project or programme is under-appreciated. Typically we dive into controls and reporting and do not take enough time to think about human beings."
The study revealed that project managers often were not aware of their coping strategies they had subconsciously developed over the years to fit to their environment and personality.  Dr Unterhitzenberger says this has opened up a new avenue for further research.
APM's Research Programme supports projects that address key issues related to the management of projects, programmes and portfolios. Said research manager Daniel Nicholls: "It is exciting to see the result of this first research in 2018 as we prepare to launch the next round later this year."
For more information on Stakeholder Engagement visit www.apm.org.uk/stakeholder-engagement
Dr Christine Unterhitzenberger will be talking about her research at the upcoming APM North West Research Symposium: Project Management Research - where does the journey take us? held at the Liverpool Business School.