Developing our Project Management Careers webinar
Designed for project professionals who are seeking to develop their project management career, as well as managers who want to explore the development of project managers, a project management team or even a project management community or practice. This webinar was held on 4 August 2021.
By joining this event as project professionals can understand how you can further develop your own project management career.
Through joining as a leader, director or manager you can gain some insight towards the development of project managers, building a project management team or a project management community or practice within your business.

Richard Tulley discussed established learning and development best practices and the foundational elements for project managers' career development.
Richard shared his experience and insight from his role at Sopra Steria and its approach to developing a community of over 400 project professionals.
Richard has very kindly allowed his presented material to be made available for viewing.
The slides on Slideshare and the webinar recording on YouTube is now available in our APM resources area and also embedded below for reference.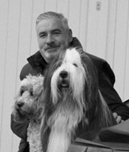 Richard Tulley
Richard is an APM Fellow who has enjoyed a long and rewarding career in project management, from software development in the mid-1990s and forged since 2002 in the leadership and delivery of complex programmes, largely within the Public Sector. Some examples include:
the NHS National Programme for IT
the London Cycle Hire Scheme ("Boris Bikes") and
Transforming the Rehabilitation Service within the Ministry of Justice
Richard has contributed towards the delivery of complex I.T. and business transformations within Financial Services, Logistics, Manufacturing and Defence.
He has also taken leadership roles in both the sales/bid phase and through the full delivery lifecycle with well-established organisations such as Hewlett Packard, EDS, BT Global Services, Serco, Capita and Sopra Steria.
In his current role, Richard focusses on enabling a sustainable, predictable, and profitable business through the development of an industry-recognised programme and project management (PPM) capability. Using his expansive knowledge of the industry, Richard has also coached colleagues in programme and project delivery.
This event is suitable for professionals with any level of experience.
Previous presentations and webinars can be viewed on the APM Slideshare and YouTube Channels.
Follow @APMEvents for upcoming event information.
APM Body of Knowledge 7th edition reference

Section
Description
3.3.6
Continuing professional development (CPD)