Eighth SWWE Project Management Challenge Competition: Finals and Awards Night 2021/22
On the evening of 5 May 2022, around 70 excited sponsors, customers, mentors and team members attended the eighth South Wales and West of England (SWWE) Project Management Challenge Finals and Awards Night, with four down-selected teams competing for the Winner's trophy.
This year, the event was held physically at BAWA in Bristol rather than virtually and at the end of the night after four remarkable presentations, the Winners trophy was awarded to Team Fusion from Atkins who are based in Bristol. Team Fusion delivered a project to their chosen charity, Teenage Helpline. The focus of the project was the provision of a Professional Development Training Syllabus (PDTS) to support the professional growth of their volunteers. Teenage Helpline said that Team Fusion were a pleasure to work with, and that they got to the heart of what they needed as well as being extremely impressed with the quality of the PDTS, and that the project has been a 'win-win' for them, and will hugely benefit their valued volunteers for a long time to come. Teenage Helpline (THL) is a Bristol-based charity that provides support to young people with the primary services of putting young people in contact with peers and providing peer-to-peer mentoring. The charity is led with a youth focus to ensure they remain connected with young people's wants and needs. THL is heavily reliant on the support of volunteers to provide these vital services. THL's mission statement is "to provide all young people with a safe space to work together to achieve their own best potential." THL aims to support its users in a vast range of topics from mental health, relationships, education, life skills and career development. The winning Team Fusion is shown below.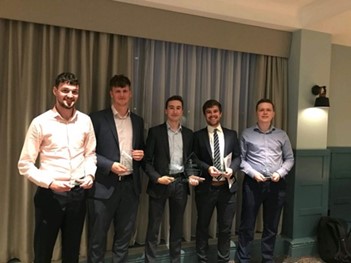 The other Winners award of the evening went to AIRBUS, Team Dynamic. They won the Best Storyboard award for delivering a project to their customer, Headway Bristol, who is a charity that provides support for people affected by brain injuries. They provide a wide range of services from on-ward crisis support to their day centre where service users come for cognitive therapy. Team Dynamic were able to work with Headway Bristol to deliver a new website, a user testing template to assure quality of new content, and a user guide so that the charity can make further additions and improvements.

The standard of the presentations on the night was, yet again, astonishing. All of the 10 teams competing in this year's competition have obviously worked extremely hard, and have gained lots of valuable experience and knowledge. All teams were asked to deliver outputs and benefits to deserving projects across the community and, importantly, were able to demonstrate and develop their own professional project management competences, understand critical success factors, develop their own personal behaviours and learn from their mistakes, as well as get a taste of what it feels like to be part of an integrated team delivering a very real project.
The other finalists competing in the competition were; Team Bravo from Babcock, who worked with the charity 'Devon and Cornwall Food Action' to help develop a specialist software platform to improve business efficiency; Team Keyn to Glean from Babcock, who worked with their charity 'Avon Gleaning Network' to develop income opportunities, develop business plans, research networks and look at social network options; and Team SGS Recovery from Bristol City Council, Babcock and South Gloucestershire and Stroud College who worked with their charity Feed The Homeless to create a digital platform and a volunteer hub.
The runners up who also competed in the Best Storyboard competition were; Team AirBlaze from AIRBUS who worked with their charity Ablaze, to provide support for a new Customer Relationship Management platform, an event plan and a small-scale funding event; Team Blueprint from AIRBUS who worked with their charity FACE helping to create a new website; Team Dynamic from AIRBUS; Team Worker Bees from Babcock who worked with their charity PATH to improve data management and training; Team Footprint from Turner and Townsend who worked with their charity Action for Children to develop an appropriate marketing framework and Team Together from Turner and Townsend who worked with their charity Great Oaks Hospice to enhance their digital presence and impact.
The Project Board consisting of competition leader and Branch member Bruce Phillips, Branch co-chair Martin Gosden, Branch co-chair Paul Johnson, South Wales Chapter Chair Allan Reid, John Bone Senior Lecturer, Aimee Avrill Head of PMO at Gregory Distribution and Sarah Halstead Managing Consultant from Atkins, managed three key assessment stages:
Provision of a project plan in December 2021 that identified smart outputs and benefits to be delivered, associated resources, costs and key risks;

Provision of a final report in March 2022 which demonstrated how the teams delivered the project outputs and benefits defined in the original project plan using a range of competences defined in the APM BoK; and

The delivery of a 15 minute presentation at the Awards and Finals Night.
Bruce Phillips, the SWWE Branch co-chair who managed the competition overall, said "The project board was unanimous in its praise for the significant effort shown by all entries in the SWWE branch's eighth and very successful PM Challenge competition. Recognising the current strange circumstances that we all find ourselves in and the associated challenges that this inevitably brings, it is astonishing to see such a high standard from such young professionals and that their outputs are actually being used for very worthy causes indeed. Whilst winning the competition is the 'icing on the cake' every member of every team is a winner as the competition is all about individual and collective learning and development. Every single member of each team should be justifiably proud of their achievements in delivering real benefit to the wider community and, equally as important, the development of their personal and professional competence for their future careers in the project profession. I would urge you all to keep that thought at the front of your mind and to build upon these experiences – both in terms of success and in failure – as you develop your careers further."

There was one other award – a 'special commendation' award - which went to Team Worker Bees from Babcock, along with their chosen charity, PATH. At the height of the pandemic, the charity's assets doubled practically overnight and a huge concern for the charity is safety, as they are struggling to update compliance certificates within the properties. This meant that PATH could not fulfil their mission to provide housing to rough sleepers. Team Worker Bees were a small team who lost resources during the course of the competition. Despite this, they continued to work stoically and with huge personal commitment and going the extra mile under difficult circumstances and completed their deliverables against the original baseline schedule. Team Bravo and their client can be seen below.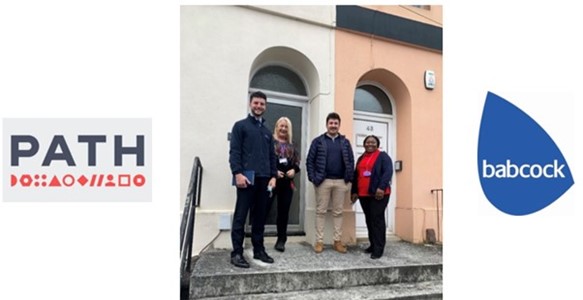 All participating teams, mentors, sponsors, corporate organisations, charities and supporters were thanked and congratulated on their excellent contributions towards another successful Challenge competition which would simply not be possible without their support and motivation. The SWWE Challenge competition has really blossomed over its eight years existence which has been fundamentally achieved through both the sustained contribution of our corporate communities in the South West and also the realisation that having a career in the project profession can bring huge opportunities to our project professionals of tomorrow.
Bruce Phillips