Establishing the Programme Delivery Arrangements for a Major Infrastructure Programme webinar


North London Heat and Power Project – Establishing the Programme Delivery Arrangements for a Major Infrastructure Programme webinar

This webinar presented on Thursday 11 March explored the challenges of developing a programme to deliver a Nationally Significant Infrastructure Project by a client organisation where major infrastructure delivery is not business as usual.

The existing North London Heat and Power (NLHP) facility has served north London well for nearly 50 years and has diverted more than 21 million tonnes of the non-recyclable waste which would otherwise have gone to landfill. It has had multimillion-pound investments over the decades but is reaching the end if its useful life and the Authority is investing in a replacement.

Over the next ten years the NLHP programme will build:
Energy Recovery Facility to generate low carbon energy from waste, in the form of heat and power.
Resource Recovery Facility with an area to process bulky waste and prepare materials for energy recovery.
Reuse and Recycling Centre, for use by the public, and
EcoPark House on River Lee Navigation including a visitor and education centre.
The programme incorporates construction of these facilities along with many enabling works projects necessary to create the environment for construction in a constrained operational site without disruption to ongoing waste management operations.


Webinar resources

James, Douglas, David and Edward have very kindly allowed their presented material to be made available for viewing.
The slides on APM Slideshare and the webinar recording on YouTube is now available in our APM resources area and also embedded below for reference.


This webinar is suitable for professionals with an intermediate level of experience.


Presenters
James Allen

is a Chartered Civil Engineer with over 20 yrs experience in the design and implementation of waste infrastructure schemes. This includes acting as Owner's Engineer for Waste Authorities – Isle of Wight, Bucks CC. In addition he has managed the design, procurement and delivery of Household Recycling Centres, Waste Transfer Stations, Material Recycling Facilities and Energy Recovery upgrades for Southend CC, Essex CC, London Energy Limited, Western Riverside Waste Authority. He has also successfully supported Waste Management Contractors bidding Build Own Operate contracts – Glasgow CC, West Sussex CC, Plymouth City Council.

Douglas Chisholm

has a broad range of engineering and project management experience over 35 years in consultancy, construction and client side programme management. He currently leads the Arup project and programme management team that is delivering a £1.13bn capital investment in energy from waste in north London. Previously Douglas has a led a leading consultant's account with TfL overseeing a £20m p.a. portfolio of consultancy, design and construction. He has also led road and rail business units in a major international consultancy. During this time he directly led teams engineering and planning services to Highways England and Network Rail.

He is skilled in programme management in infrastructure and industrial development and has a collaborative leadership style used to great effect in mobilising joint project and programme teams with leading consultant and contractors. Douglas is also experienced in the management of engineering consultants offshore design centres. His career has spanned roles in contracting, client-side project management and consultancy.

David Cullen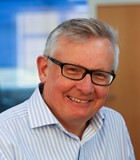 has forty years' experience in delivery of major infrastructure projects in the energy and defence sectors. Over the last twenty years he has provided programme, project and commercial management expertise in leadership roles to clients such as the MOD, Statkraft and National Grid, most recently on projects such as the Devoll Hydropower Project in Albania and major defence facilities around the UK for the Defence Infrastructure Organisation. He is leading the NLWA's delivery of the new energy recovery facility to provide a long-term sustainable solution for disposing of 700,000 tonnes of waste for 2 million North London residents.

Edward Brown
is a relative newcomer to the waste sector but has a background in organisation design and transformation across private and public sectors having arrived at LondonEnergy Ltd from PwC. Prior to this he served in the Army. As Head of Strategy and Transformation Ned is leading LondonEnergy's engagement with the NLHPP, focusing on maintaining existing operations on the site, enabling programme activities and also designing the future business which will be running the facilities under construction.



Previous presentations and webinars can be viewed on the APM YouTube Channels. 
Follow @APMEvents for upcoming event information.
APM Body of Knowledge 7th edition reference

Section

Description

1.1
2.1.2
3.2
Implementing Strategy
Programme Shaping
Leading Teams