Evolving project leadership from command and control to engage and empower – the story webinar
The recently released APM book by this same title is the result of a journey of discovery to answer a deceptively simple question, "How would you assess leadership"? This webinar was held on 30 September 2021.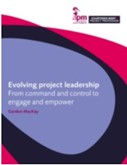 The author believed that, of course, they intuitively 'knew' what leadership is. How hard could measuring it be? Yet, scrutinising what leadership 'is' and how it differs from 'managing' projects, exposed startling insights. Drawing on leadership stereotypes from many fields of human endeavour, reasons emerged to explain why they are now failing, redundant, and even counterproductive.

What has changed? What now, then, is the function and form of behaviours required of the effective project leader?

Presenter :

Gordon MacKay MBA, BSc(hons), BA(Hons), FAPM, MInstLM
Author: Evolving project leadership From command and control to engage and empower (APM 2021).
Sellafield project management capability lead': 250+ Project Management Assessments (and Process), all levels, plus training in Leadership, Sellafield Project Management 'Fundamentals', APM PMQ coaching, and ChPP development.
Volunteer: Nuclear Institute(NI) and APM Special Interest Group(SIG) Board Member and APM Cumbria.
Other Interests include: avid Massive Open Online Course participant inc.: Coursera 'Mentor':- Uni of Chicago 'Clinical Neurology', John Hopkins Uni 'Psychological First Aid'. Sea kayaking, hill walking, mountain / e-biking, plus compulsory Japanese Akita Inu walking.
Gordon has very kindly allowed his presented material to be made available for viewing.
The slides on Slideshare and the webinar recording on YouTube are now available in our APM resources area and also embedded below for reference.
Previous webinars can be viewed on the APM Slideshare and YouTube channels. 
Follow @APMEvents for upcoming event information.


APM Body of Knowledge 7th edition reference

Section
Description
3.3.6
Continuing professional development (CPD)