Force Atlantic – project managing the adventure of a lifetime webinar
More people have climbed Mt Everest than rowed across the Atlantic. How do you plan and project manage such an undertaking full of risk, uncertainty and danger! This webinar was held on 3 December.
In 2019, serving soldiers Richard, Chris, Alex and Kian rowed 3,000 miles across the Atlantic Ocean in the Talisker Whisky Atlantic Challenge 2019 in 37 days, 13 hours and 53 minutes.  Private Kian Helm has become the youngest person to row across the Atlantic as part of a team aged 18!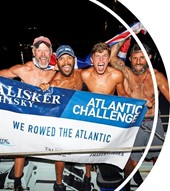 The "world's toughest row" departed in mid-December taking the team across the North Atlantic Ocean in an 8.5m long rowing boat, unsupported. This is be the ultimate test of physical and mental endurance. Rowing in gruelling two hour shifts day and night, the team battled their way through the waves from La Gomera in the Canary Islands to the beaches of Antigua. Sleep deprivation, blisters and salt sores were just a few of the treats that the team endured.


Lt Col Richard Hall led the team in the planning and preparation of this epic adventure.  Lt Col Richard will share how you project manage such an undertaking and what skills you need in leadership, risk management and many more.
Richard has very kindly allowed his presented material to be made available for viewing.
The webinar recording on YouTube is now available in our APM resources area and also embedded below for reference.
Lt Col Richard J Hall MBE YORKS 
Educated at Loughborough University, Lt Col Hall commissioned into the Duke of Wellington's Regiment in 1997 – later to become part of The Yorkshire Regiment. In his junior officer appointments, he undertook Ceremonial Duties in London and qualified as a Jungle Warfare Instructor in the tropics of Brunei and Belize. His first taste of overseas operations was during the Kosovo campaign where he was employed as a communications officer, but ended up developing a hearts and minds strategy that saw him with an weekly slot on a local radio station called "an afternoon with Captain Rich!" (in rough translation).

After staff college, he deployed as a Company Commander to Iraq and led his 110 strong band of brothers through what he describes as the toughest, grittiest period of time. He conducted hostage rescue raids, protected convoys, trained the local army and police, searched for illegal weapons and even established boat patrols on the Shatt Al Arab river with the Royal Marine Boat Squadron. Under fire in Basra on a daily basis, he lost 10% of his company to enemy action and was very relieved to bounce, in short order, from Iraq to a sub-unit exercise to the Northern Cape Province of South Africa. 

In Kandahar, Afghanistan, he worked as a planner to Gen Sir Nick Carter, now the head of the Armed Forces, and returned Afghanistan as Deputy Chief of Staff with 7th Armoured Brigade – the famous 'Desert Rats'. For this period he was awarded an MBE for his endeavours in helping plan the drawdown and extraction from the country.

On promotion to Lt Col, he remained in a logistic focussed role as Chief of Staff 101 Log Bde, Aldershot, and rewrote the doctrine on sustaining an armoured Division. Fun times.

In September 2017 he assumed command of the Army Foundation College, Harrogate and focussed his efforts on championing the opportunities afforded to young people on enlisting in the Army – developing a 'world class' narrative. In his tenure the College was declared Ofsted 'Outstanding', delivered record low wastage rates, became the first smoke free site in the British Army, broke the record for the most amount of money raised for charity by a unit, and secured two civilian leadership qualifications for its trainees. In Dec 2019 he skippered the Army's first team to row the Atlantic Ocean – qualifying one of the College's recent graduates as a double world record holder and raising £40k for ABF The Soldiers' Charity in the process.

This event is suitable for professionals with any level of experience.
Previous presentations and webinars can be viewed on the YouTube channels. 
Follow @APMEvents for upcoming event information.
APM Body of Knowledge 7th edition reference

Section
Description
3.3.6
Continuing professional development (CPD)