Hon Fellow and speedster to test supersonic car project
The Bloodhound supersonic car made its first ever public run at Cornwall Airport in Newquay last month, setting a peak speed of 210mph under the direction of APM Hon Fellow and project director Richard Noble.
The successful test took place in front of 3,500 spectators and was live streamed around the world. The test comes 20 years after Thrust SSC, also under the guidance of Richard Noble, set the current land speed record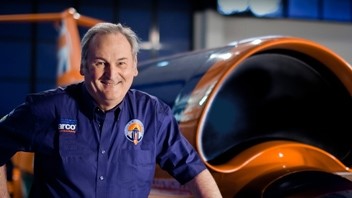 of 763.035mph.
Project director Noble called the Newquay runway trials "the biggest milestone in the history of the project so far", because they provide the team with its first opportunity to rehearse the procedures that will be used for Bloodhound's serious record runs.
The test runs are in preparation for launching an attempt on the world land speed record in South Africa either next year or in 2019.
In a TV interview (26 October) Mr Noble told Sky:
"It's been an enormous grind, an unbelievable grind, to get to this stage." The Bloodhound project has cost more than £40m. The vehicle is propelled by a Rolls-Royce Eurofighter Typhoon jet engine loaned from the Ministry of Defence, three Norwegian Nammo hybrid rockets and a supercharged Jaguar V8 engine.
"Some 300 people have spent the last four years clearing stones from a 20 million square metre area of the Kalahari Desert to make the attempt on the world record as smooth as possible."
Named the 'King of Speed', Richard Noble OBE was named APM Honorary Fellow in 2013 and was a keynote speaker at the 2012 APM Conference, where he presented on his Bloodhound SSC project.