Improving the effectiveness of communications webinar
Stakeholder communications can be complicated and challenging. However there are tools that can help to bring order and clarity to the process, enabling you to plan and deliver communications that are effective, efficient and evaluated. On Tuesday 11 July, Fran Bodley-Scott from the Stakeholder Engagement Focus Group, and James Francis from the Government Communication Service, presented a webinar about the OASIS 5-step model that can help make communications easier and more effective.

What is 'effective communication'? For many people, the word 'communication' conjures up the process of sending an email, writing a newsletter, or delivering a presentation. For the Government Communication Service (GCS), it means a planned sequence of communications and interactions to achieve a purpose; creating a compelling narrative over time, and telling the elements of the story at the right time, in the right way, to the right people; and by doing that, delivering a defined and measurable outcome.

GCS is the professional body for people working in communication across government, responsible for delivering communications that support government priorities, enable the efficient and effective operation of public services and improve people's lives. The purpose of this webinar was to learn from the expertise of the GCS: how they design, plan and deliver world-class public-facing campaigns, and how project managers can apply tools and techniques to improve stakeholder communications.


OASIS 5 step campaign planning model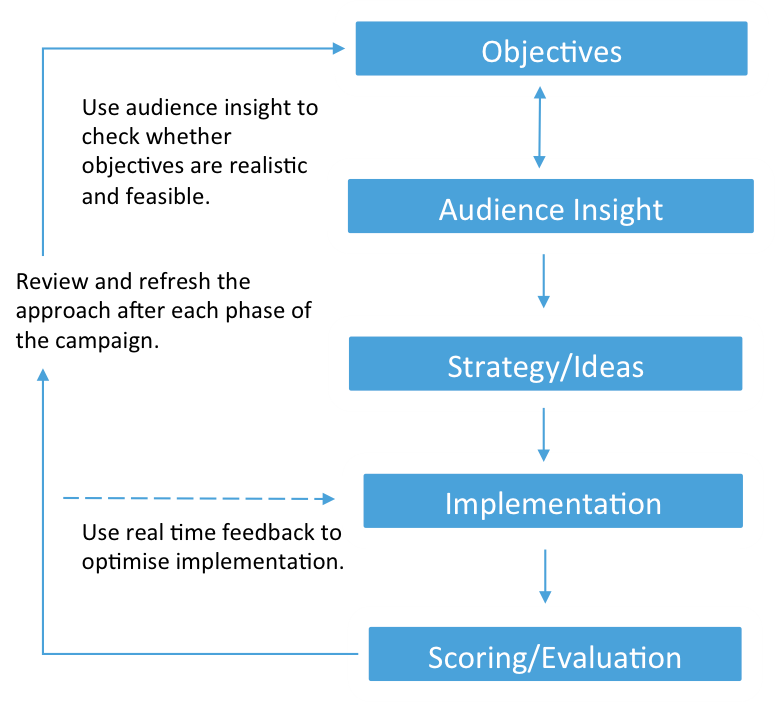 The OASIS framework is at the heart of the GCS approach to delivering effective communications. James Francis, Head of Campaigns for the Prime Minister's Office & Cabinet Office gave an informative and insightful presentation about how OASIS works in practice. OASIS helps to structure the planning approach so that you have the necessary information up front before staring to design outputs and activities. The result is more impactful communication that is:
part of the overall narrative
tailored to the target audience
designed to achieve a particular outcome
delivered with efficient use of resources
monitored to enable change or action is required
evaluated to demonstrate progress and inform future investment decisions.
An important aspect of GCS's responsibilities is using government resources effectively to ensure value for the taxpayer, and James provided several suggestions for low cost approaches and channels that can deliver the required reach and influence.


Further information about OASIS
Information about the OASIS framework is available on the GCS website. James highlighted two website where you can download guidelines:

Answers to questions
There were more questions than we had time to answer during the webinar. If possible we will update this article with Q&A's as soon as possible.


Communication and stakeholder engagement
'Communication' is the first of 10 Key Principles of Stakeholder Engagement. To find out more about effective communication and the other key principles, visit the APM's stakeholder engagement resources, which have been redesigned to provide more guidance and links to useful tools.

The resources are available to all project management practitioners, you don't have to be members of the APM to access the information.

The web pages are managed by the Stakeholder Engagement Focus Group, part of the APM People SIG. If you have any questions about stakeholder engagement or can contribute useful resources, please contact the SEFG: SEFG@APM.org.uk


James have very kindly allowed his presented material to be made available for viewing.
The slides APM slides on Slideshare and webinar recording on YouTube are available in our APM resources area and also below for reference.
This webinar material is suitable for professionals with any level of experience.