Members' Review: An impressive start for ChPP standard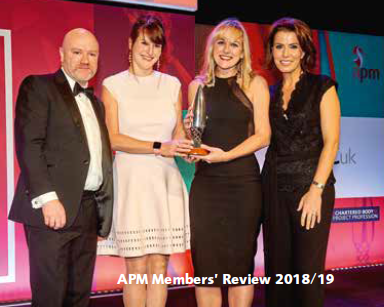 Chartered Project Professional (ChPP) standard is off to a flying start with almost 800 individuals achieving ChPP status, including 495 within the first five months of the standard being announced in October, according to the newly published APM Members' Review for 2018/19.
The report charts the progress of the organisation in the 12 months to 31 March 2019. The period saw a 16 per cent increase in membership and a 17 per cent increase in revenue. More people are achieving APM's qualifications and standards, and Student members have gone up by 79 per cent. Individual membership now stands at nearly 30,000.  
"We've made an excellent start in our goal to create an 'army' of Chartered Project Professionals," says APM chief executive Debbie Dore. "Numbers have continued to grow in the months since March 2019 and the momentum shows no sign of fading. It is a welcome acknowledgement of the key role that APM's members play in the development of the project management profession. The Members' Review paints an encouraging picture of an important year for APM and sets out, in broad terms, our ambitions for the strategy and milestones ahead."
The promising progress in the Members' Review is being released as APM announces the appointment of Sue Kershaw, UK managing director of Major Projects Advisory and the UK head of infrastructure programme and project management at KPMG, and an Honorary Fellow of APM. Sue is taking over from David Waboso as president and will advocate for the project profession, host the association's high-profile events and engagements, and champion important industry issues like driving gender diversity in project management.
Former president David oversaw four momentous years for the project profession – in particular, the granting of the Royal Charter to APM. His contribution will be remembered for years to come.
Download the APM Members' Review 2018/19 to read more on APM's successes and future aims. The annual report and accounts will be available shortly.