PMO newsletter March 2017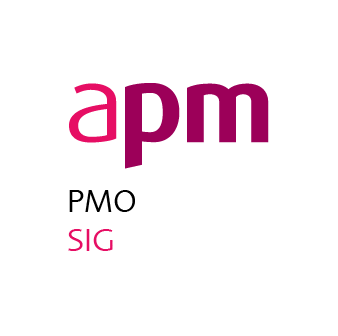 Welcome to the Spring edition of the APM PMO SIG Newsletter!
In this issue of the newsletter we share our Machiavellian plans for PMOs to dominate the world (oops, we meant "for PMOs to become critical in the project management world!"). All wrapped up with a dose of the hot topics from around the industry, including books you should put in your holidays' to-read list and events you should attend.
If you have any comments on the newsletter or would like to contribute an article to a future edition, please contact us.
---
A word from the PMO SIG Chair
Well, what a few months it has been!
Our long term goals have been under scrutiny this quarter. One of the key elements for us to focus on has been the refresh of the Registered Project Professional (RPP) standard. The first iteration did not lend itself easily to those that don't work directly in the delivery space.

Over the coming weeks we will be reviewing and testing the refreshed version so that you can go into the application with confidence that it's OK to be a project professional and a PMO person. Keep your eye on our microsite and groups for the blog to follow this process.

In terms of our events, 2016 was a great year. We used the data from feedback and our survey to define a topic that focused on new PMO people coming into the industry. In addition to our PMO and Value conference, we included a PMO 101 series of webinars, and lessons learned roadshow, all of which were full to the brim.

What about 2017? In addition to our #PMOWisdom series which we are continuing with at least one interview or article each month for the foreseeable, 2017 is for those that need to mature elements of their PMO.

I am pleased to tell you that after discussing the value of PMOs at last year's conference, and from what you've told us in our latest State of Project Management Survey, we want to bring you a pragmatic topic that addresses the key challenges that PMOs face in their day-to-day - from resource management to benefits realisation.

The PMO this year is literally Going Hands On – we've started as we mean to go on with a unique training event on a new to the UK PMO methodology. You can read more about this and other events below.
 
Read our latest and newest announcement

---
What we have been up to
State of Project Management UK survey 2017
The only non-salary survey intended for PMO professionals in the UK, from the APM PMO SIG and our friends at Wellingtone Project Management, has now come to an end.
Are you as curious as us to know the results for this year? The report is now published for you to read.
The PMO Value Ring, March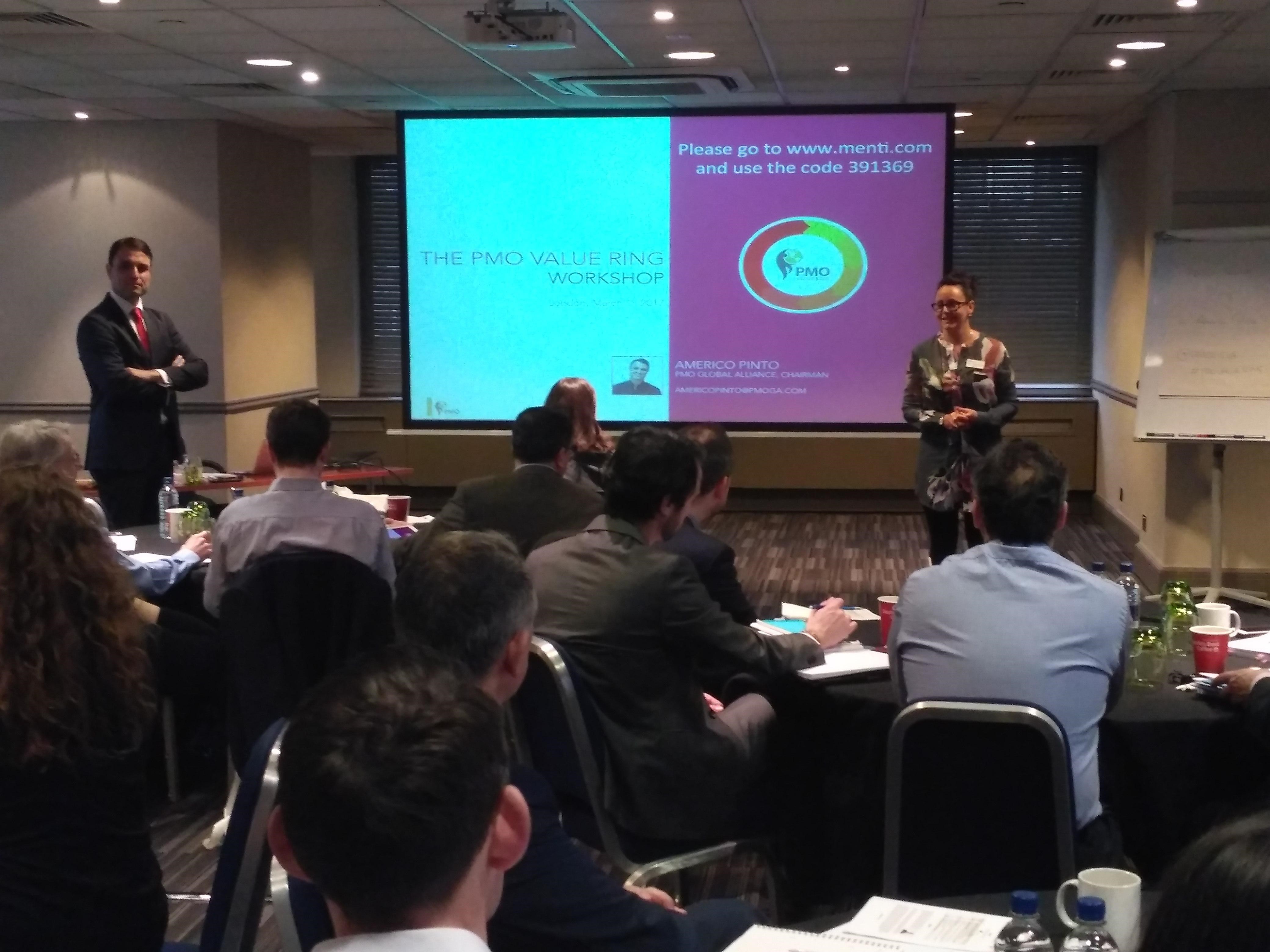 We had the privilege of having Americo Pinto, a renowned expert in PMOs, flying from Brazil to present us the PMO Value Ring methodology. If you attended our conference last year, you probably remember Americo – we gave him more time this time and he really made a good use of it!
Delegates, most of them in the early stages of building their PMOs, learned the main steps in a PMO setup and how to mature and measure its success. Americo definitely challenged the mindset and busted some common myths in the PMO space (both theoretically and practically).
Current PMO Challenges taken from the beginning of the day: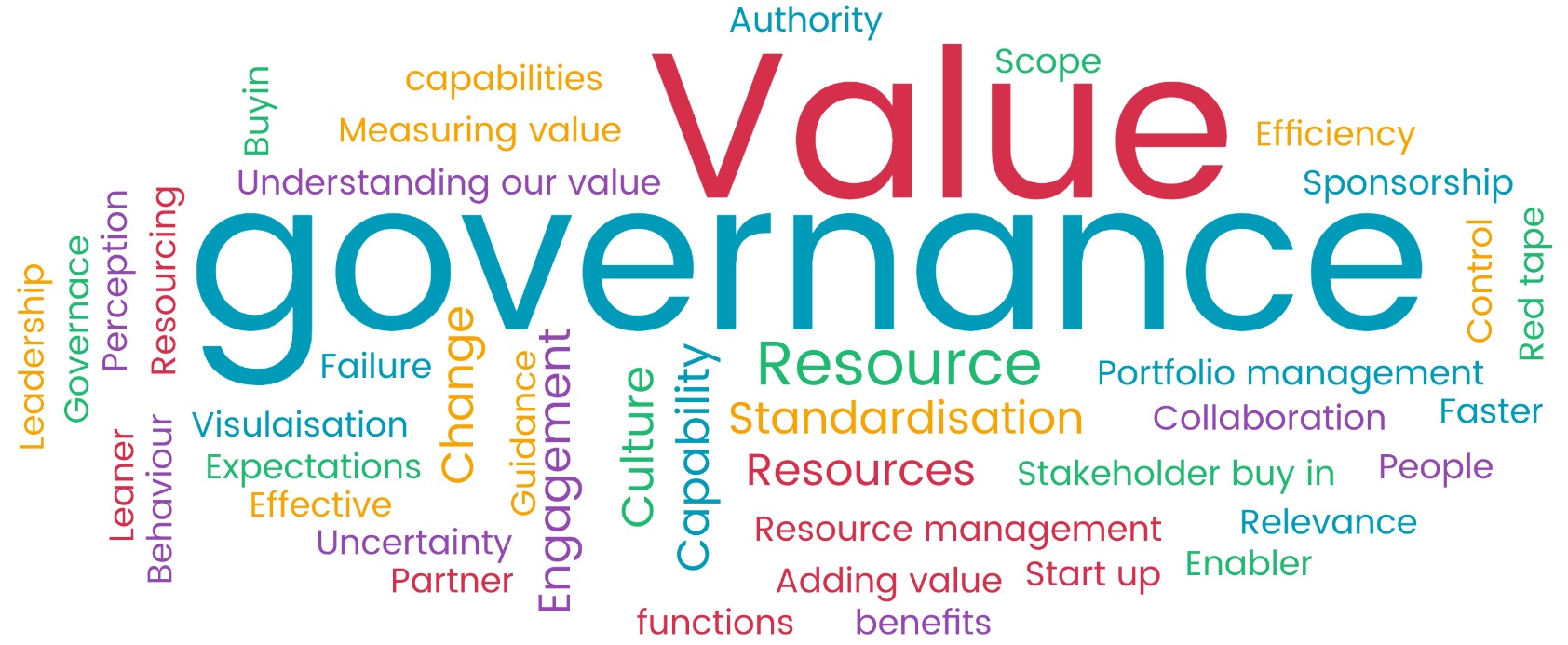 Who would have thought that PMOs do not fail due to lack of sponsorship or that there are no PMO types, after all?
---
Our upcoming events
19 October, London
PMO Goes Hands-On
We are excited to inform you that preparation for our annual conference has already started.
We will provide a small number of speakers with a whole lot of practical workshops that ensure you take something away from the day that you can implement into your world.
Covering topics such as risk, maturity, benefits, prioritisation, performance management and project culture – if your PMO could be better, this is the conference for you.
Real PMOs. In practice!

November, London
PMOs and Organisational Change
We are joining up with the Enabling Change SIG to bring you some insights into the world of organisational change and how PMO's both affect and are affected by it.


As well as some other secret stuff for now, we are working on three webinars for you this year as well as our continuing #PMOWisdom series, bringing you words of wisdom from PMO people and their supporters from all over the world!
---
LinkedIn hot topics


Been out of the LinkedIn loop recently? Here are some of the conversations we felt would be valuable if you could give your opinions/experiences.
The PMO Value Journey
Marisa Silva
Maturity is a journey of delivering value and in this article, Marisa describes how your PMO can succeed in it. As the saying goes, "if you don't know where you're going, any road will take you there," so find where you are, determine the road you want to take and, most importantly, have fun along your journey!
Project Management: Strong Tailwinds for 2017
Mark Langley
The PMI's President highlights the main findings from PMI's annual Pulse of the Profession® report and suggests a positive outlook for project management professionals.
Project managers are a waste of space. So are PMOs
Stuart Easton
If the mere idea of the title makes you want to scream in horror, you should read this article. Seriously.
---

Are you a tweeter?
Little known fact. PMO SIG have the most twitter followers of all the APM SIGs!
We currently stand at 3,426 followers and are looking for the elusive 3,500... follow us @pmosigUK
So, if you ever needed an incentive to keep up to date with us in real time, here's one.
Our 3,500th follower will receive a free ticket to our 'PMO Goes Hands On' conference on 19 October!
Now that's not to be sniffed at...
The small print: We will ask you a few questions to get to know you and your PMO story; this is your chance to share some PMO Wisdom!
---
PMO Wisdom Series
Book review
Book: Bedtime Stories for Project Managers (and others with trouble sleeping)
Author:  Marisa Silva
Reviewer: Simon George
Summary
Once Upon A Time …… Don't we all remember these words from our childhood or from reading fairy tales to our own children. Often this was the best part of the day.
This is a nice 'shortish' book that sets out eleven fairy tales, or fables. You will recognise most, if not all of them from your own childhood, then from your kids, and each one concludes by highlighting key project management concepts as the morals, or lessons learned, from the stories. The one thing it will not do is put you to sleep as the stories are kept as a précis in most cases with, appropriately, the lessons from the stories being the meat of the book.
Plus, it's got some nice illustrations. You could actually use the book with children as long as you re-word the morals/lessons in a more child-like way!
Content
Amongst others the following fairy tales are discussed:
Emperor's new clothes
Haven't we all met this one where Senior Executives have almost too much self-belief and push forward with a very weak business case?  Influenced by people who should have no say in the matter or to be 'one-up' on others in the organisation. Here is where an objective portfolio management process is paramount to ensure things only get done which are in the organisation's best interests (in this case the king(dom)).

The wolf in sheep's clothing
Another one which we all should recognise – the PM always making out in the project reports that the project is more complex/risky than it actually is and requires more money/time but on analysis, often in hindsight, that isn't proved to be the case.  If a project is simple then we shouldn't over-complicate it. Similarly, light touch governance and assurance is the key, along with confidence in the PM, to deliver quickly, efficiently and realise the benefits. Eventually that PM will have a more complex/risky project than at first assessed but will have lost credibility with senior management and possible the sponsor and will not be given the help required. If a PM is straightforward and honest in project reporting, then they will be believed when there are real issues.

The others tales covered are:
The old man, the boy and the donkey
The stone soup
The three little pigs
The chicken and the pig
The little red riding hood
The six blind men and the elephant
The boy who cried wolf
The bed of Procrustes
Some of these were new even to me.
Project (and life) best practice says that during and especially at the end of the story (project) we reflect with the listeners (key stakeholders) on the morals (lessons learned) so we can pass on the 'words of wisdom' (solutions) or warnings (flag up possible risks in the future). This book raises some of the solutions and possible risks, treating each story as a project. I'm sure that after reading each one you will perhaps see other best practice / lessons to be learned that could have been included. Of course, that is the purpose of the book – to get you thinking on some of the lessons that could be relevant to the project you are managing or working in?
Of course, being a 'proper' reference work it also highlights some key publications so that you can follow up on the best practice/lessons.
Conclusion
What initially seems like a 'lightweight' and 'fun' book contains some real nuggets of wisdom and would be especially useful as a taster of project management for those newly indoctrinated into the world of change.  The book, of course, aligns with the PMO Words of Wisdom PMO SIG interviews that have been on-going through 2016 and into 2017, and similarly provides some 'heavyweight' morals.
I thoroughly enjoyed reading this and will be following up on some of the more academic papers referenced.
---
PMO Wisdom Interviews
Have you seen our new microsite within the renewed APM website? If you are on the look out for great pieces of wisdom for managing your PMO, that's the place to go - you will find all the PMO Wisdom Interviews we conducted so far.

Latest in our series, is the interview to Mike Webb. Mike passionately describes what makes his PMO special and shares his views on what high-performance PMOs look like. Check it out!
And… we are now planning to have international correspondents for our interviews. With so many good PMOs out there, it's time to walk the talk and share lessons with each other, enabling a worldwide PMO community of practice to become a reality!
---
Events and dates for your diary
Learning from Crossrail - meet the people delivering Europe's largest infrastructure project, London, 28 March
An inspiring event covering an inspiring project, nothing more nothing less than Crossrail, Europe's largest infrastructure project and a key project for the future of England!
APM Project Management Conference, London, 27 April
The award-winning conference from APM is back, this time to the Barbican Centre. This year, the theme of the conference is "Making the Mould", something PMOs surely know a bit about. See you there?
Balancing your change portfolio, London, 11 May
For 2017, our fellow Portfolio Management SIG will look at the challenges that face organisations in balancing their change portfolios, including the management of key risks, prioritisation of scarce resources, and optimising investment to meet business objectives in their annual conference.
EVA22, 17 May
Brexibility: This year EVA focuses on the New Normal. A fantastic place for a kick-start and a reboot of Project Controls in your career, your projects and your life.
The APM Benefits Summit 2017, 22 June
Our friends at the APM Benefits SIG are putting together a great line-up of speakers for their annual summit. This year, the summit will cover the challenges and opportunities of "Realising Benefits in a Changing World". Certainly, one to attend!
APM Presents: Professional Development, London, 7 July
With speakers drawn from committee member representatives from the APM Specific Interest Groups (SIGs), including yours truly, alongside expert advisors and professional development specialists, APM Presents is a uniquely interactive event which will provide those across the profession with unrivalled insight into real projects.
---
Volunteering
PMO SIG Volunteers
Our AGM is coming up, so now is the time to get involved with the SIG who needs new long term goals!
Becoming a volunteer is very rewarding! With access to like-minded individuals, the PMO SIG (and other) events and opportunities to drive the PMO industry forward, it can help to increase your knowledge and expertise and will do no harm to your personal career path!
You will need to commit some of your spare time when you volunteer to be a committee member, but there are plenty of things to get involved with of all shapes and sizes; from contributing to the newsletter to helping to develop best practice and organising events.
If this sounds like you then it starts with just one step, contact a committee member today, and submit your application for the annual AGM in the Spring.
Want to check us out first? Alternatively, you can join as a member to receive news and information on PMO SIG.
Use the Link on the APM Website (you may need to login or register first) and clicking on the "Join this Group" button.