Project managing Love Island: all in a day's work
We tend to think of project management as primarily construction or IT-related projects, however, project managers are required in all industries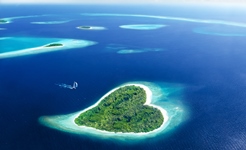 - no less the production sector. We had a chat to a TV production project manager, Jason Spencer, who has been working on the Love Island series.
So Jason, what does a standard day look like for you at the moment?
A normal day doesn't really exist – we have such large complex projects underway that everyday seems to be quite unique.
In the mornings I tend to go through my inbox and scan for things that are of a priority or a time sensitive nature and deal with those immediately, following that I then catch up with production teams to see what the schedules are for the upcoming day. I schedule calls to discuss and then work out how that effects engineering and crew.
Once the above is done, I'll email and speak to the various departments and disseminate information where needed. Having such a large crew does mean that there's a large people-management effort on site.
I also look at developing upcoming projects and take qualitative and quantitative research into previous jobs to see where I can make improvements.
Technology is changing all the time; what are the benefits and challenges this brings for your role? And what benefits and challenges does it bring to your project?
Technology is a strange but interesting one, if its brand new and unproven (which does happen!) it brings its own challenges as it can affect how streamlined some of our workflows are. On the other hand, some changes allow us to further refine and streamline how we work.
For me, technology changes are a benefit, it helps remove any type of complacency (with technology) and brings new challenges to look at the project as a whole, sometimes, however, new technology isn't always better.
What is the biggest challenge to delivering Love Island?
The project is delivered from Majorca, so we need to ensure we have the exact amount of kit and the correct skillset of personnel. There's an element of trying to guess what the client will ask for above and beyond the actual spec. This is normally based on snippets of conversation and experience of production and technology trends from previous year and how we can use experience learned elsewhere on this project.
It's a fantastic project to work on as it's ever changing, the production effort is massive and this shows in the final output. 
All of this is delivered on a 24-hour turn-around, so any challenges have to be rectified in a time-sensitive manner.
In such a fast paced project; how important is it that you and your team can work in an agile way?
It's vital. The end of the show wouldn't work without it. There's a number of department heads and therefore being able to turn around people's ideas into workable practice and pass that onto various teams in a time-sensitive manner is a challenge on any show, doing it on one that's so fast paced, with the values they have, just makes it a little more challenging - but that also brings a real, fun element to it.
For you; what is the most important project management skill to have while working on such a high profile show?
For me, on this project it's the human element - having to challenge yourself and asking your crew to do the same; the constant requests to push things a little further, refine a little further, create innovative responses, while also needing near-instant results. We all get a lot from a project like this, however ignoring all the technology it is still a very human response, particularly the way changes and/or developments get delivered between the team has the largest impact on the overall result.