Q & A with Neil Crewdson, Head of Project Management and Capabilities for Sellafield Ltd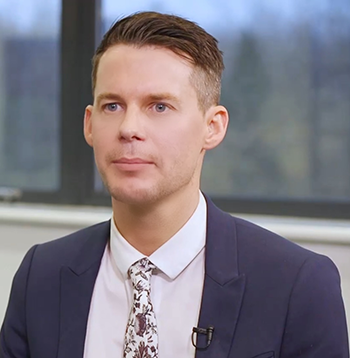 Neil is head of project management and capabilities for Sellafield Ltd. He is responsible for approximately 2000 project professionals across the project life cycle including project management, project controls, risk, estimating, construction, commissioning and pre operations and the Sellafield Project Academy.   A key part of Neil's role is to ensure Sellafield has the right people, in the right place at the right time. He has previously won the APM young project manager of the year and two APM HSSE awards for projects he was leading, the Sellafield capability he leads was also awarded the Contribution to the Profession award in 2019 recognising the work Sellafield Ltd does to support the project management profession.
Neil will be speaking at APM's Power of Projects Conference in Edinburgh on Tuesday 17 March 2020 about managing stress in the project environment and Sellafield Ltd's journey in bringing mental health to the forefront and helping to remove the stigma associated with mental health.
APM talks to Neil about his career in the project profession, his experience in delivering projects in high hazard environments and the importance of managing stress and mental health in the workplace.
What inspires you about your job?
I'm very fortunate to be in a role where I can lead circa 2000 exceptional project professionals who are delivering some of the most complex projects in the UK. As Sellafield has a long term mission, it's very inspiring to work for an organisation which has a 100 year plan meaning we can make long term decisions and investments. The creation of our Project Academy also means I can lead the development of the best and brightest people to work in project management for us.
What skills do you need to be a successful project manager?
Being a successful project manager relies on a few different things. Firstly, I would say that you need a good knowledge of the discipline of project management and the tools, techniques and experience to deliver the work. However most importantly you need to have resilience, enthusiasm and dedication. Projects aren't just about delivering work; you need to be able to effectively lead a team of people.
What is the most challenging aspect of your job?
The nuclear industry is in itself a complex area to work in. Often there can be competing and challenging stakeholder requirements, and having a large number of senior stakeholders can make alignment quite difficult at times. However despite these challenges this is often what makes a role more interesting!
What has been your favourite career moment to date?
Reflecting on my career, I would say my favourite moment would be when I led the Infrastructure Strategic Alliance (ISA) contract. Being in a position to lead three parent companies was an incredibly challenging and rewarding experience. During my time we grew the ISA from a start-up position to a successful organisation with growing delivery capability. We successfully became a £150m business with improved cost and schedule performance.
What do you most enjoy about your job?
As an apprentice I was incredibly fortunate to be given responsibility and opportunities by my managers and leaders in the business. Now I am in a leadership role I enjoy being able to provide guidance and opportunities to colleagues who are starting their careers.
One of my favourite times of the year is being able to see our apprentices and graduates complete their qualifications, it's very rewarding to see the change as they grow in experience and confidence.
The development of our Project Academy with the University of Cumbria has seen Sellafield recognised as setting the standard for the profession and driving project management forward to become industry leading.
What advice would you give to someone looking to get into the project management profession?
If you're interested in a career in project management I would do your research and see what the profession involves. Although it's important to have the right qualifications and experience, one of the most important aspects is your people skills and understanding of those you work with. From experience, the best project managers have good people skills and a high level of emotional intelligence. You need to be able to understand how to deliver a project successfully but inspire and lead a team which is all working towards one common goal.
Sellafield Ltd has been praised for its campaigns to help raise awareness of mental health issues, what schemes/initiatives does Sellafield currently have in place to help manage stress and support the mental health of its project professional employees?
Sellafield Ltd is making a real difference through the way we're approaching the mental health and wellbeing of our employees.
We offer a range of schemes and initiatives including: health and wellbeing forum, EDI hub, dedicated mental health campaigns, guidance documents for line managers and team leaders, employee assistance programme and we're a corporate partner of the Mates in Mind organisation.  We also recognise Mental Health Awareness week by doing dedicated campaigns for our employees to try and break down the stigma.
One day we hope all of our employees will feel able to talk about their mental health as openly as they can with their physical health – and we will do everything we can to support this.
APM's Power of Projects Conference in Edinburgh takes place on Tuesday 17 March.